At a glance
Expert's Rating
Pros
Tech tool for cleaning electronics and screens
Real-time remaining time display
Can switch between hard and soft floors easily
Cons
Heavier than previous Blades
Multiple tools require storage
Tricky to navigate around some furniture
Our Verdict
Even if you find vacuuming a chore, it's hard not to like Vax's Blade 5 Dual Pet & Car cordless vacuum cleaner. From its reassuring real-time battery life display to its easy-to-use controls and myriad collection of tools, it feels as if every aspect of dust busting has been considered. The only downsides are finding storage for its kit and manoeuvring its less agile floor head.
Price When Reviewed
Not available in the US
In 2017, Vax launched its original Blade vacuum cleaner. Six years on, and Vax's Blade 5 Dual Pet & Car shows how the range has come of age. There are plenty of clever features, such as a real-time display of remaining cleaning time, a generous up-to-90 minutes of runtime thanks to twin detachable batteries, and tools for almost every job around your home and for your car.
There's even a tech tool for those dusty but delicate electronics and screens. Plus, unlike many cordless vacs that only run the suction – and not a brush bar – when on hard floors, potentially leaving dust and debris behind, Vax's Blade 5 Dual Pet & Car comes with a soft roller to boost its performance. This helps to lift larger particles so there's no need to sweep up after you clean up.  
Design & Build
Cleaning head has carpet and hard flooring mode
Dual model comes with two batteries
Vacuum weighs 3.85kg
The bigger floorhead of the Blade 5 Dual Pet & Car holds the secret to its success. Billed as 'VersaClean' it's designed to be able to tackle hard and soft flooring effectively. To which end, it comprises a velvety roller at the front to lift dust and large debris on hard floors, with a line of soft bristles dividing it from a firm brush bar, which is only activated in the carpet mode, and lifts stubborn dirt and pet hair. All of which is whisked towards three-stage filtration and the 0.7-litre dust bin, which attaches at the top.
The vacuum can also dip low, although you'll have to crouch down with it as the tube isn't jointed.
Visually, the Blade 5 Dual Pet & Car looks similar to previous Blades except for the larger floorhead, meaning that it measures H104 x W27 x D26cm. The overall feel is robust with a slim blue metal tube, chunky plastic parts and a headlight at the front of the floorhead. However, it does weigh more, coming in at 3.85kg as opposed to the 3.1kg of the Blade 4. This, plus the larger head, can make it less nimble in smaller, crowded or awkward spaces.
It's also worth noting that like previous Blades, it doesn't stand unaided so may need laying down or propping up when you pause during cleaning.
Accessories are where it shines though: there are two 4.0Ah (amp hours) capacity batteries (each recharging in around 3 hours), a wall mount, a powered hose, converting it into a handy lightweight handheld vacuum when paired with its motorised pet tool, a tech tool with soft bristles and a 2-in-1 crevice and dusting brush. Plus, when bought from Vax, a box of even more tools.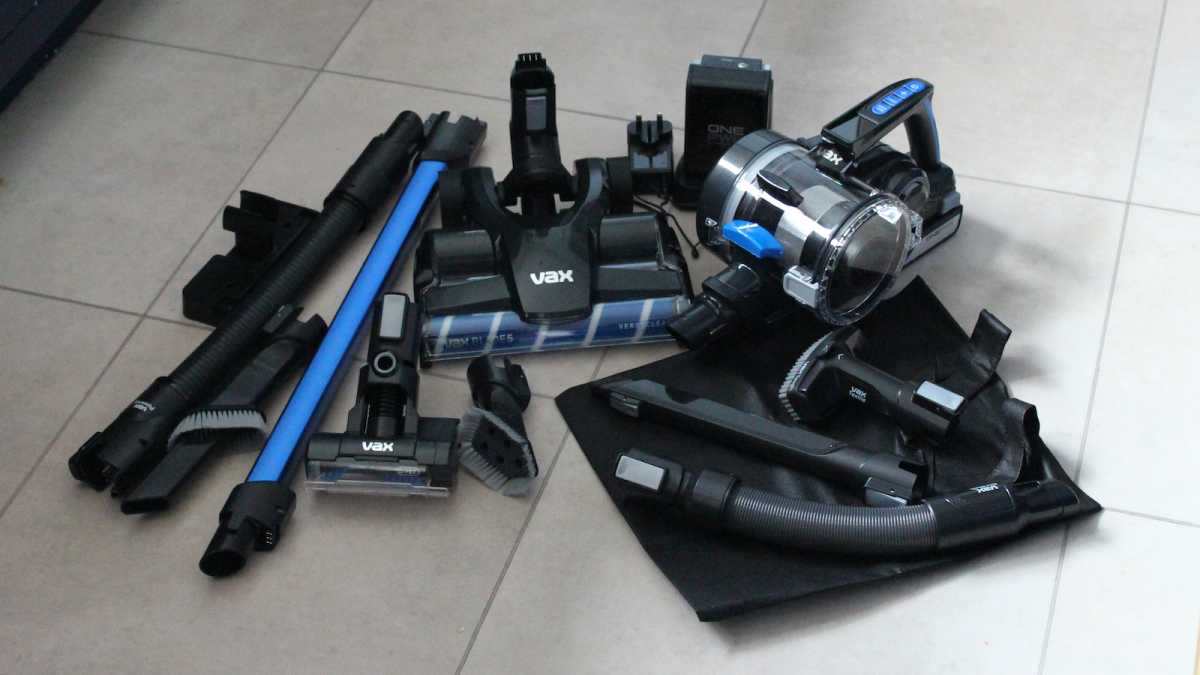 Rachel Ogden / Foundry
Performance & Features
45-minute max runtime (without brush bar)
Countdown timer in minutes
No storage solution for accessories
For the cordless vacuum cleaner owner, the question of 'how much cleaning time do I have left?' is a perpetual one. While many vacuums supply this information in decreasing indicators, the Blade 5 Dual Pet & Car shows it more exactly in minutes with a digital display. And, as you change the mode – there are three, which can all be augmented with boost: suction only, hard floors and carpet – the minutes either go up or down. This means you can plan your cleaning effectively, without worrying about the power running out as you've started vacuuming another floor.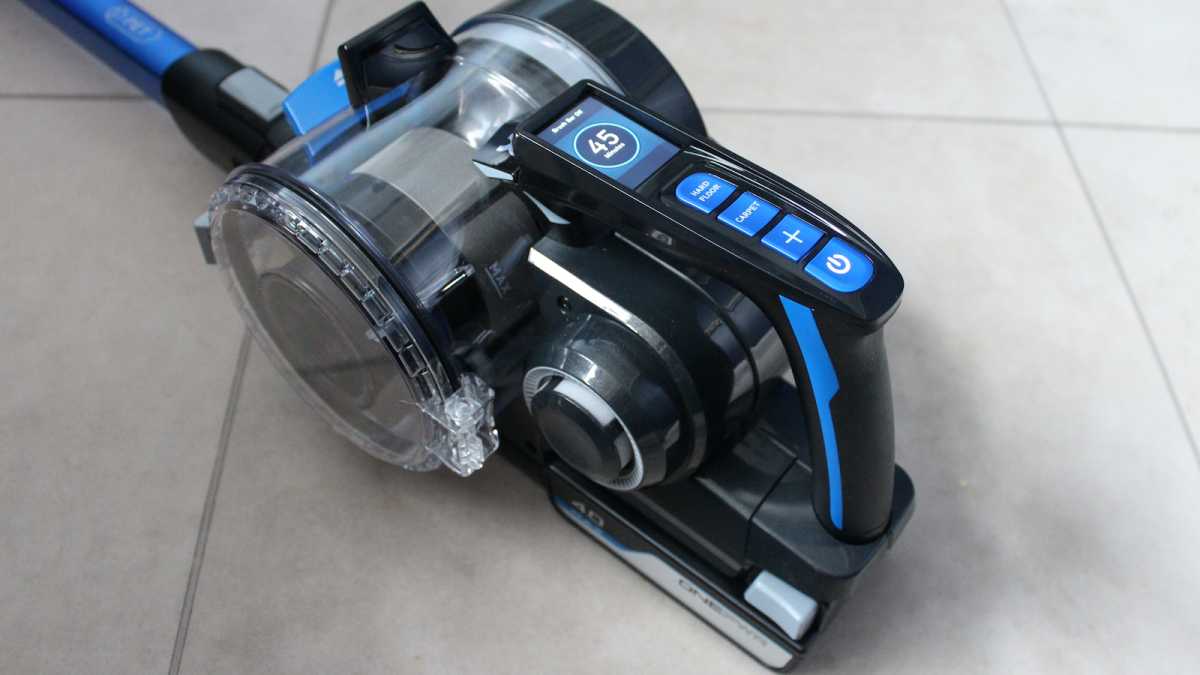 Rachel Ogden / Foundry
Using the boost – neatly represented on the controls by a plus sign – does run the power down quickly however, so if you feel it's necessary for long periods of time, don't be surprised if your 45 minutes of run time (the maximum a battery offers with the brush bar off) decreases to a skimpy 12 minutes.
We tested the Vax Blade 5 Dual Pet & Car on both hard floors and mid-pile carpet, using flour sprinkled across them to represent dust, and oats as large particles of debris. While we found it slightly more difficult to steer and push around than our usual cordless vac, over the course of several days' use, we felt it offered a good amount of flexibility for a household with mixed flooring types.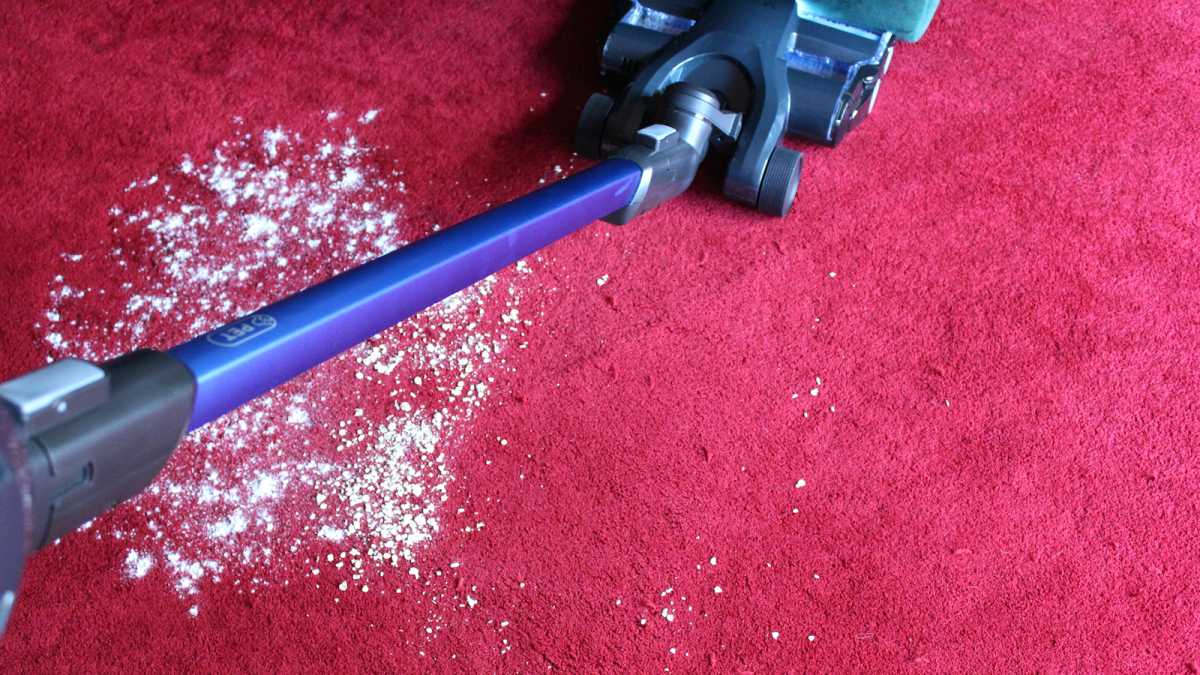 Rachel Ogden / Foundry
The pick-up on hard flooring was excellent for both flour and oats when in the relevant mode, and reasonable when using suction only. Flour was easily picked up on carpet when in the corresponding mode, and although oats required the boost turned on for a more efficient clean, this was mostly to suck up the last few particles that had spun away from the brushes. The carpet mode also worked well when vacuuming up pet hair, although this required a few passes.
Rachel Ogden / Foundry
As a pet-owning household, we especially liked the motorised hose and pet tool: this was great at vacuuming up pet hair from a velvet sofa, where it usually clings on, without being harsh on the fabric. The only criticism of all its accessories is that there's no real storage for them, either on the wall mount or onboard the machine. The extra tools come with a bag, but there's no space in it for those that are standard.
Emptying the bin was fairly straightforward, although unlike some vacuums, it does need to be detached to be emptied. Most of the contents dispensed easily into the bin, but long hair had a habit of clinging onto the filter, so needed to be pulled out manually.
Price & Availability
If you're interested in the Vax ONEPWR Blade 5, you can either buy the Pet model or the Dual Pet & Car model, which we tested. The Dual model has an RRP of £449.99 but is currently available for £279.99 from Vax.
The difference between the Dual and the Pet is that the Dual comes with an additional battery, power hose and tech tool. If you don't want these extras, you can buy the Pet model (which has an RRP of £379.99) from Amazon for just over £235 at the time of writing, or from Currys for £249. We think that both models represent great value at the current price.
Should you buy the Vax ONEPWR Blade 5 Dual Pet & Car?
Whether you have hard floors, carpeting or a mixture of both, Vax's Blade 5 Dual Pet & Car should handle them easily, as well as convert into the type of handheld vac you need it to be. Being able to see how long you can clean for without dashing off to find a socket or second battery is a gift.
However, it does feel like tool storage has been overlooked: a larger, sturdier wall mount with slots, or even a box, could help keep the kit all in one place, so you don't have to play 'find the attachment' when cleaning out the car or tackling dusty curtains.
In an ideal world, it'd also be lighter and more agile: its extra features are invaluable but they appear to have come at a cost of less ability to whizz around. Despite these quibbles, it's a good all-rounder cordless that's versatile, reliable and gets the job done, and who wouldn't want that?
Not the perfect vacuum for you? Have a look at our round-up of the best vacuum cleaners we've tested for alternatives among our top recommendations.