Dexter Wade, the Black man fatally struck by a Mississippi police vehicle and secretly buried in a pauper's grave, was finally laid to rest by his family nine months after his death. Rev. Al Sharpton delivered a eulogy calling for justice and demanding accountability from the police department.
Small Town Horror Story: The Killing of Aiyana Mo-Nay Stanley-Jones
"I wanted to give words of comfort to the family, but I wanted to give words of discomfort to the state of Mississippi," said Sharpton during the eulogy. "It is, in my opinion, one of the most disgraceful things I ever heard. I've been in this a long time but I've never heard one like this…"
Wade's homegoing service was held at the New Horizon Church International in Jackson, Miss. The funeral and previous exhumation of Wade's body was paid for by Campaign Zero, according to attorney Benjamin Crump. The civil rights giant declared that giving Wade a "respectable funeral" was just the first step toward justice.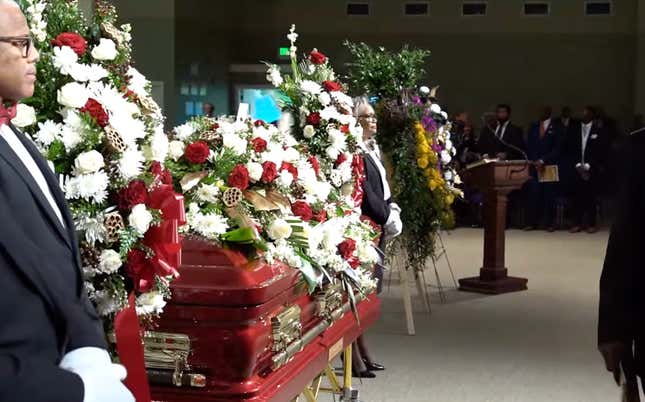 Sharpton said he was told the officer who fatally struck Wade with his vehicle was a Black off-duty police officer. However, he suspected more cops were involved in allegedly concealing the events of the incident.
"The off-duty officer that drove – you didn't go back on duty to and do your job of identifying something you did or did you decide it was a hit-and-run?" Sharpton said in the pulpit.
Wade's funeral comes nine months after he was fatally struck by a Jackson police vehicle. Authorities say shortly after, he was buried in a pauper's grave unbeknownst to his family who had been looking for him. The initial report from the pathologist hired by Crump's office found Wade's body was "completely run over" by the vehicle and that Wade had identification in his front pocket at the time of his death. Yet, his mother didn't discover he was dead and buried until August, reports say.
"I appreciate everybody's help because when this battle started, I started by myself," Bettersten, Wade's mother, said at her son's funeral. "I begged Dexter to come home. Dexter, you made it home. I am sorry that I wasn't there but baby, you told mama, 'Don't stop, 'cause I'm out here.'"
Crump said the full autopsy report for Wade is expected soon.