Social media platform X, formerly known as Twitter is abuzz as Ghanaians voice their discontent with the coaching prowess of Black Stars' coach, Chris Hughton.
The national team has faced challenges in scoring goals, failing to win over the hearts of many Ghanaians.
In a recent closed-door meeting earlier this month, the Executive Council of the Ghana Football Association (GFA) deliberated on the future of Coach Hughton.
The decision to reconsider the relationship with Hughton stemmed from the Black Stars' uninspiring performance against Mexico and the USA in last month's international friendlies.
The leadership of the football governing body was unconvinced that Hughton could lead the team effectively in the upcoming 2026 World Cup qualifiers against Madagascar and Comoros.
Despite initial doubts, the national team secured a victory in their first 2026 World Cup qualification match against Madagascar, instilling some confidence in Hughton's abilities.
However, the optimism was short-lived as the Black Stars suffered a 0-1 defeat to Comoros in their second World Cup qualification match.
This loss has cast doubt on Hughton's coaching capabilities and the team's prospects for qualifying for the 2026 World Cup.
In response, Ghanaians have taken to social media to express their disappointment with both the Black Stars' coach and the team's defeat to Comoros.
Some comments on the micro-blogging site suggest that Hughton lacks essential coaching skills and may not have a promising future with the national team.
Chris Hughton and CK Akonnor… the value is the same. pic.twitter.com/U97mqWKIa6

— Highest Majesty (@kwaku_majesty_) November 21, 2023
Chris Hughton is just the foreign version of CK Akonnor. Nothing special pic.twitter.com/WXs22ZTyOB

— KWASI GAZY (@Kwasigazy) November 21, 2023
Chris Hughton needs to leave, bring us Herve Renard

— Sharyf (@__Sharyf) November 21, 2023
Chris Hughton is too headstrong.

Asuoden paaa

— Saddick Adams (@SaddickAdams) November 21, 2023
Chris Hughton doesn't risk Mohammed Kudus who is on the bench for the game against Comoros. The West Ham player didn't train yesterday due to a back injury which he complained of whilst running. pic.twitter.com/wH1W4Bmq0T

— Owuraku Ampofo (@_owurakuampofo) November 21, 2023
Majeed Ashimeru should be starting ahead of Dede Ayew, Chris Hughton wants to be sacked I guess. pic.twitter.com/J8bW48yWtQ

— Sharyf (@__Sharyf) November 21, 2023
Mohammed Kudus benched in an important World Cup Qualifier for Ghana and Dede Ayew starts? Chris Hughton is a Disgrace to the world of Coaching pic.twitter.com/3qMR8do4vp

— Twilight (@the_marcoli_boy) November 21, 2023
Bringing Barack Obama and disguising him as Chris Hughton. I don't blame him for Ghana's loss. pic.twitter.com/dY8LGAItHk

— 〽️aster (@_jeyso) November 21, 2023
Chris Hughton and his assistants, planning what exactly?? huh

8 goals in 9 games, a goal scored against Madagascar and Comoros pic.twitter.com/2CXJJqiTFB

— The thinker man (@kwekuedilson) November 21, 2023
Sack Chris Hughton now!!!

— TWO TERTY (@TwoTerty_) November 21, 2023
I just hope and pray this is Chris Hughton's last match in the 2026 World Cup qualifiers as our Coach. pic.twitter.com/sokN9rGfRO

— Mohammed Awal Hudu (@AwalMoHudu) November 21, 2023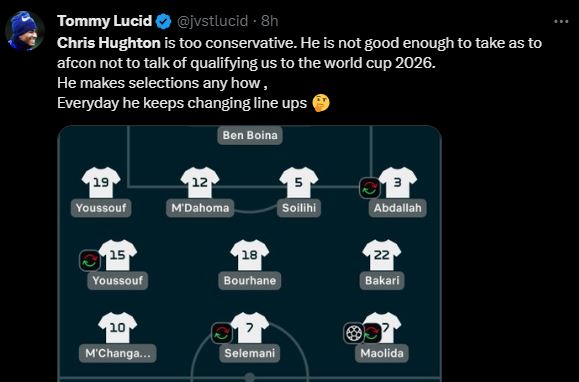 In as much as we talk of Chris Hughton's poor spell, we can't exonerate Kurt Okraku and his Exco for disastrous appointments from one disaster to the other. They are our biggest problem. pic.twitter.com/wIwqcF78DR

— Mohammed Awal Hudu (@AwalMoHudu) November 21, 2023
After all Ashimeru did the last time, Chris Hughton still benched him and allowed Dede Ayew start lmao pic.twitter.com/2bEo5Voltz

— Frederick Nortey (@thatnueteiguy) November 21, 2023
DISCLAIMER: The Views, Comments, Opinions, Contributions and Statements made by Readers and Contributors on this platform do not necessarily represent the views or policy of Multimedia Group Limited.
Source link