If you're considering buying a new tablet, an iPad is probably top of your list.
And while there are plenty of great Android, Fire and Windows tablets, it's easy to see why.
The iPad remains the gold standard, blending premium hardware with the most advanced software on any tablet. iPad OS is slick and intuitive, and supports a wide range of dedicated apps that make the most of the large displays.
However, deciding which iPad to buy is a tricky decision. There are four core devices to choose from, but that's only the latest generations. Older models, which are still available from third-party retailers, are still worth considering and sometimes have different screen sizes.
That's before you even get on to factors such as colour, RAM, storage, cellular connectivity and accessories.
In this article, we'll help you decide which to buy. We can recommend all five of the devices shown below, each with its own unique sets of pros and cons. And at the bottom of the page, you'll find detailed buying advice to help you narrow it down.
With no new iPad models in 2023, earlier models remain the latest and greatest.
Best iPad 2023
1. iPad Air (2022) – Best iPad overall
Pros
Premium design
Great accessory support
iPad Pro-level performance
Price When Reviewed:

$599(64GB) | $749 (256GB)
The latest iPad Air is undoubtedly the best iPad for most people, and it's not just down to the modern look, complete with a full-screen display and angled edges. 
The key feature of the iPad Air is that it boasts the same Apple M1 chip as not only the iPad Pro range but some older desktop devices, meaning significant gains in both the CPU and GPU department. That makes it ideal for content creators, students and gamers that need laptop-level power on the go.
It's much more powerful than any other non-Pro iPad, and it leaves the Android competition in the dust. 
There's also the bright and detailed 10.9-inch display to consider, and although it doesn't offer the 120Hz ProMotion refresh rate technology of the Pro range, it can make use of the Magic Keyboard and second-gen Apple Pencil – something that can't be said of any other non-Pro iPad.
There's also 5G connectivity and a 12Mp Center Stage front-facing camera this time around, two of the biggest omissions from the 2020 model, making it easy to recommend to most everyday users. 
Read our full
Apple iPad Air (5th gen, M1, 2022) review
2. iPad mini (2021) – Most portable iPad
Pros
Portable design
Apple Pencil support
A15 Bionic smarts
Cons
More expensive than predecessor
No Magic Keyboard support
60Hz refresh rate
Price When Reviewed:

$499 (64GB) | $649 (256GB)
The sixth-gen iPad mini ditches the old form factor for something more akin to the iPad Air and iPad Pro range, with an angular design, stereo speakers, Center Stage technology and much smaller bezels than before.
The iPad mini's 60Hz display has jumped to 8.3-inches, but without changing the physical size of the tablet, allowing for more display real estate without affecting its portable nature. It's a gorgeous display too, with the highest pixel density of any iPad right now, though it is a bit on the small side for true split-screen multitasking.
It's powered by the same A15 Bionic as the iPhone 13 range, so you'll still get excellent performance for many years.
The Touch ID sensor has been moved to the Power button as with the iPad Air, and there's support for the second-gen Apple Pencil to boot. But the lack of a Smart Connector on the rear means that it doesn't have its own Magic Keyboard – a real boon for the iPad Air and Pro range, and the only real chink in the mini's armour. 
Read our full
Apple iPad mini (6th gen, A15, 2021) review
3. iPad 10.2-inch (2021) – Best budget iPad
Pros
Affordable
Large display
Great performance
Cons
Dated design
1.2Mp camera
Downward-firing speakers
Price When Reviewed:

$329 (64GB) | $479 (256GB)
It might've been superseded by the redesigned (and much more expensive) 10th-gen iPad, but there's still very little to complain about where the 9th-gen iPad is concerned – so much so that Apple is still selling it as the true entry-level tablet.
If you've got the seventh- or eighth-gen iPad, there might not be enough to tempt you, but there's a lot to love here if you're coming from an older device or want to dip your toe into the iPad experience. 
The 10.2-inch screen offers TrueTone tech that'll automatically adjust the colour balance based on your environment, and there's improved colour accuracy too. There are also improvements to the software with iPadOS, an upgrade to the A13 Bionic (the same as the iPhone 11) and most importantly, upgraded the base storage from an unusable 32GB to 64GB, and there's a 256GB model for those that need a little more storage too.
Considering the affordable price, that's an impressive feat for the budget iPad. Sure, it doesn't have a laminated display, ProMotion 120Hz refresh rate or an updated design like others in the iPad collection, but we can't expect these things without a higher price and blurring the lines to those premium models.
If you don't care about the latest specs and just want an iPad to use for gaming and social media, this is a great entry point that won't break the bank.
Read our full
Apple iPad 10.2in (2021) review
4. iPad Pro (2022) – Best iPad hardware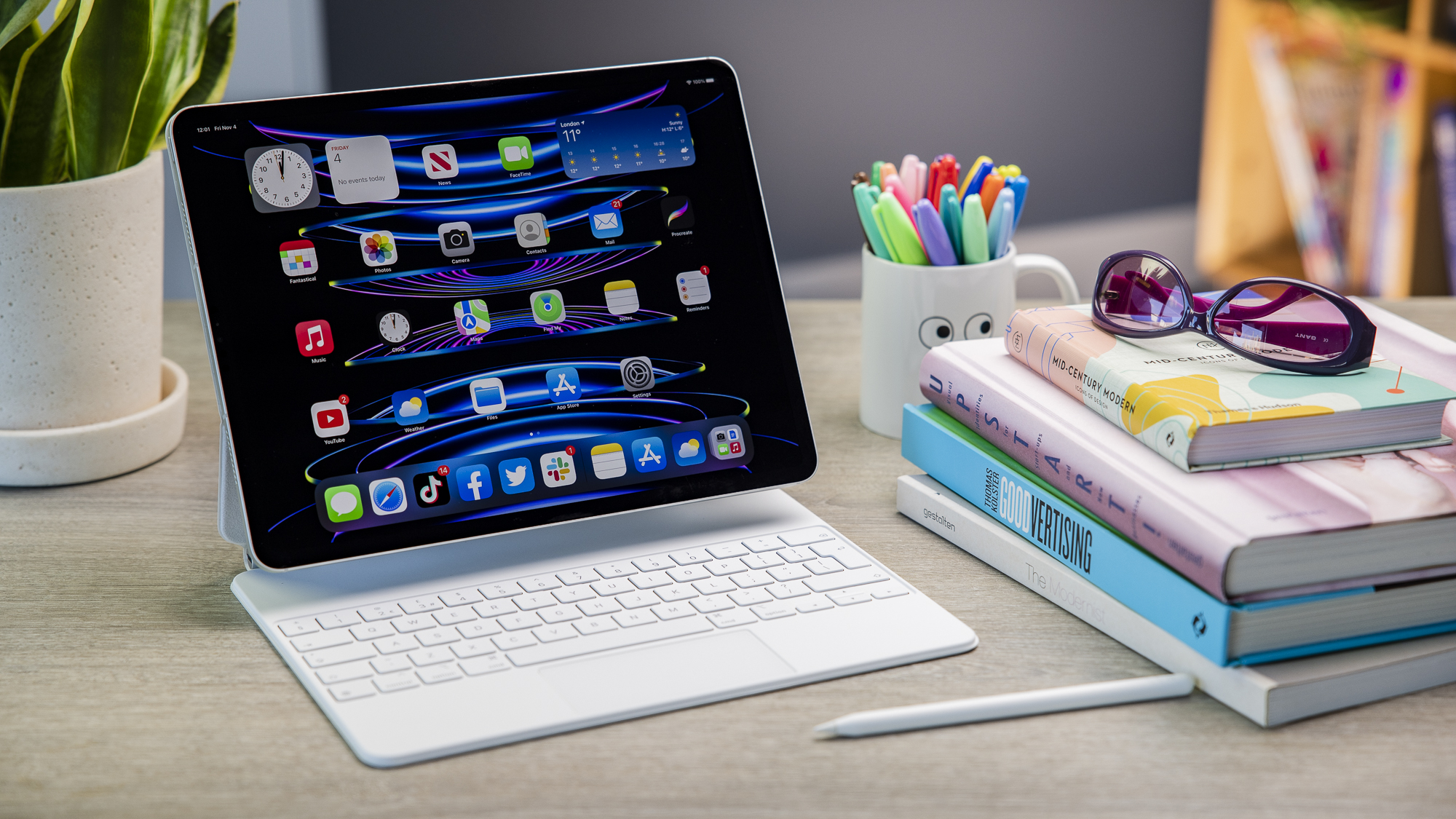 Pros
Best-in-class display
Mac-based M2 processor
Upgraded front camera
Cons
More expensive than ever
iPadOS can't take advantage of M2 power
Price When Reviewed:

$1,099 (128GB, Wi-Fi only)
Apple's iPad Pro is undoubtedly the most powerful and capable tablet on the market right now, but it's also the most expensive – especially in the UK.
That said, the cash will get you an iPad with Apple's latest M2 chipset with plenty of power to handle whatever you throw at it, even when it comes to demanding graphics design and video editing apps.
The catch is that the M2 is simply too powerful for any iPad app at the moment, and while that guarantees great performance, it can be a bit overkill for most tasks on an iPad. We need more apps designed to take advantage of the M2 power, and those are very slow to arrive.
The accompanying 120Hz mini-LED display (available on the 12.9-inch but not 11-inch models) model exclusively) is perfect for graphics design, watching movies and browsing social media. Elsewhere, the 12Mp front-facing camera with auto-tracking tech is ideal for those working remotely – though it's not placed on the long edge like with the 10th-gen iPad.
Paired with the Magic Keyboard it has the potential to be a true laptop replacement, but it's a very pricey one, matching the asking price of a MacBook Pro. 
It's undoubtedly Apple's most capable tablet, but if you're not going to get full use out of the large display and powerful internals, you'd probably be better off with a different iPad. 
Read our full
Apple 12.9-inch iPad Pro (6th gen, M2, 2022) review
5. iPad 10.9-inch (2022) – A decent modern iPad
Pros
Modern design
Great performance
Switch to USB-C
Cons
Not an entry-level tablet like previous-gen
Doesn't do anything the older iPad can't
Price When Reviewed:

$449 (64GB) | $599 (256GB)
The 10th-gen iPad is a tough one.
If you look at the tablet by itself, it's a great upgrade: it boasts the same modern look as others in the iPad collection, there's a boost in power using the same A14 Bionic as the iPhone 12 and the new colour options are the most vibrant we've seen. It's a good-looking, capable tablet that's hard to complain about.
There's a catch though; it's much more expensive than the entry-level iPad from 2021, starting at an increased £499/$449 when paying full price. That muddies the water somewhat as it's no longer the ideal entry-level tablet – that's still the iPad 10.2in from 2021 – and it brings it closer to the iPad Air and iPad mini. The Air, in particular, offers quite the upgrade with support for the improved second-gen Apple Pencil and Apple's M1 chipset, and it doesn't cost that much more in the grand scheme of things.
There's also the fact that, while better-looking, it doesn't really do anything that the old, cheaper iPad can't do. So, while it's a great tablet in its own right, it struggles against the rest of the existing iPad range.
Read our full
Apple iPad (10th gen, A14, 2022) review
What should I look for when buying an iPad?
---
1.
Form factor
iPads come in all shapes and sizes, and it's more of a question of preference than simply going for the biggest tablet you can get your hands on. Bigger isn't always necessarily better, especially if you're looking for a portable tablet you can use on the go. 
In terms of screen size, you've got five options available:
iPad mini (2021): 8.3-inch
iPad (2021): 10.2-inch
iPad (2022): 10.9-inch
iPad Air: 10.9-inch
iPad Pro 11: 11-inch
iPad Pro 12.9: 12.9-inch
Of course, a larger screen is going to provide a more immersive entertainment experience, whether you're watching movies on Netflix or playing Call of Duty: Mobile, but as the screen size increases, so does the weight.
While the iPad mini weighs only 293g, the iPad Pro 12.9 weighs a whopping 682g – over double the weight – although the iPad Air strikes a nice balance with a 10.9in display and a weight of only 458g. It really does depend on your preferences and how you intend to use the iPad.
It's also worth noting that the iPad Pro, iPad Air, iPad mini and the latest 10th-gen iPad feature the best screen-to-body ratio in the current collection, ditching the chin and forehead present on the entry-level 9th-gen iPad, but whether that's worth paying a premium for is up to you. 
2.
Performance
The level of performance varies among the current iPad offering, with the entry-level iPad 10.2in featuring the A13 Bionic chipset – the lowest in the current range. That's bumped up to the A14 Bionic on the newer 10th-gen iPad, and the iPad mini takes it a step further with the A15 Bionic. However, those looking for the most power should opt for the Apple M1-based iPad Air or the even more powerful M2 found within the latest iPad Pro range.
What does that mean? If you're looking to use your iPad for work and intend on editing videos and creating graphics, you'll benefit from the M1 or M2 chipset of the iPad Pro range or the most recent iPad Air. If you're only looking for an iPad to browse the web, use your favourite apps and play games, the standard iPad 10.2, iPad 10.9 or iPad mini should suffice.
3.
5G or 4G
All of the iPads come with a choice of Wi-Fi-only or cellular models, but not all offer 5G support.
If you want to use the fastest networking speeds, you'll need to steer clear of the entry-level 10.2in iPad – it's the only tablet in the existing collection that's still on 4G. The latest iPad, Air, Mini and Pro models all offer super-fast connectivity. 
4.
Accessories
Consider the accessories available for each iPad, as it's not a uniform offering: the Magic Keyboard with a built-in trackpad and innovative cantilever hinge that turns the tablet into a true laptop competitor is only compatible with the iPad Pro and iPad Air. It's a similar story with the second-gen Apple Pencil too, though that's also supported by the 2021 iPad mini.
You do have a Smart Keyboard and first-gen Apple Pencil available for other iPads, but it's not the same experience as what you'll get from Apple's latest Magic Keyboard and Apple Pencil. If using Apple's high-end accessories is a key part of what you'll be doing with the iPad, you should consider an iPad Pro or Air. 
5.
Price
Most importantly of all, you've got to decide just how much you want to spend on a new iPad. The good news is that Apple has expanded its iPad portfolio in recent years, with options to suit every budget.
The 10.2-inch iPad is the cheapest in the range at only £369/$329, and it goes all the way up to £2,499/$2,199 for the 2TB variant of 12.9in iPad Pro.