I was in college when The Roots dropped their 1995 studio album Do You Want More?!!!??! and changed how I would listen to hip-hop forever.
This Is The Moment Questlove Knew He Had Made It | Securing the Bag: Part 4
Growing up as a latchkey kid, I was raised on Rap City and Yo! MTV Raps, so I've always appreciated a dope emcee and a fresh sample. But these dudes were doing something different – playing instruments and infusing jazz, soul, poetry and more into a symphony that had to be consumed from start to finish. Without a doubt, this was a band, and their emcee, Tariq Trotter (aka Black Thought), was a poetic maestro unlike any I'd heard before. I listened to that CD on repeat – so much that hearing a track from the album today, almost 30 years later, instantly takes me back to campus.
This month, Tariq Trotter released his memoir, "The Upcycled Self," which tells the story of how art and family propelled him from the streets of Philadelphia to become a GRAMMY award-winning artist and one of the most prolific emcees of his generation. And I could not wait to catch up with him to talk about his new book and why he hopes his story of triumph over tragedy will help others.
"The Upcycled Self" starts with the story of Trotter burning down his childhood home at age 6 – a traumatic experience that caused a seismic shift in his life. And it was the best place, he thought, to start unpacking the past.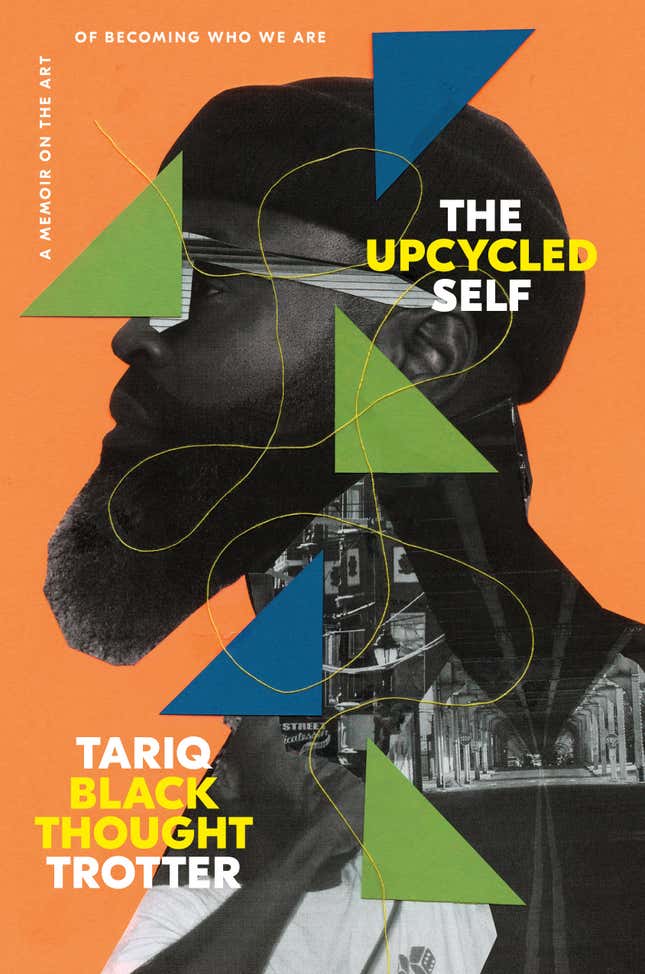 Philadelphia is at the center of Trotter's story. Throughout the book, he writes candidly about all that was exhilarating and dangerous about growing up in the city. And how his mother, grandparents and extended family members did their best to save him from succumbing to the streets.
"I think my success can be attributed to that entire proverbial village. That's who gave me the initial glimpses of what life could be and what my existence could be beyond the block," he said.
Art, he says, provided an escape from his reality. His mother encouraged him to take advantage of the vibrant art culture in Philadelphia, enrolling him in classes and camps. And even his mischief, tagging buildings around the city, put his creativity to use.
But his experience at Philadelphia High School for the Creative and Performing Arts exposed him to the idea of turning his creativity into a career. And it was where he would meet his future Roots bandmate, Ahmir "Questlove" Thompson.
The two were worlds apart. But it was their differences, Trotter says, that turned them into life-long friends and led to a creative partnership that launched their careers into the stratosphere.
"In [Questlove], I saw the person I aspired to be – or maybe who I longed to be on a certain level," he said. "He came from what felt like a family that was stable in a different way than mine was. And I had lots of freedom as a young person that Quest hadn't experienced. And so we gave each other an entree into a life that we otherwise wouldn't have experienced."
Trotter says his book is about working on ourselves – recognizing the pieces of our past but also understanding when to abandon things that no longer serve us. He says "The Upcycled Self" is meant to be more than a memoir but also a self-help book. And he hopes his story will inspire others to use their past to propel them to something better.
"If I'm able to make a difference in anyone's life. If anyone is able to see themselves in my story and there's something for them to latch on to, then I think it's win-win, and this book will have served its purpose," he said.