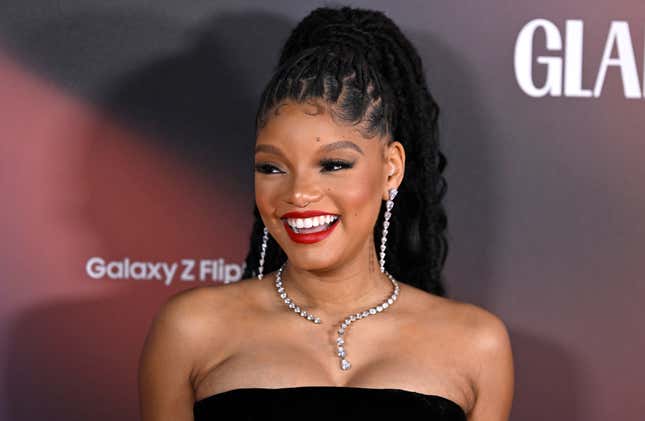 Halle Bailey has one clear message for those still speculating about whether or not she's pregnant, and specifically pointing to the wideness of her nose as proof: and thats to leave her "the hell alone."
The Little Mermaid Can Talk To A Crab But She Can't Be Black? Get Out Of Here!
The Little Mermaid star and 2023 Root 100 honoree said as much during a response to a commenter on her personal Snapchat. When the user commented "that pregnancy nose," a frustrated Bailey took to time out to personally air out her grievances with the comment.
"If I see one more person say something about my nose one more time, it's gonna be hell to pay," she explained. "And you know why? 'Cause I am Black. I love my nose. [What are you] concerned about my nose for? Leave me the hell alone!"
Rumors of the "Angel" singer being with child have been running rampant on social media for months now, sparking majorly when she opted to wear a flowy dress at the 2023 MTV VMAs in September. The talks of her being with child was further exacerbated when paparazzi spotted her and rapper/boyfriend DDGa out running errands where Bailey was spotted wearing extra baggy clothes that seemed to highlight what appeared to be a very protruding pregnant belly.
At this point, instead of teasing us with posts with the caption "Minding my business..wbu?," maybe the best thing for Bailey to do in this situation is to just dead the rumors once and for all by putting out an official statement. Not because she owes us one, but because all of this rigamarole that's clearly becoming a nuisance to her will cease to exist if and when she does. Folks are tired of guessing, she's clearly tired of defending. Hopefully she puts all this talk to rest once and for all soon.