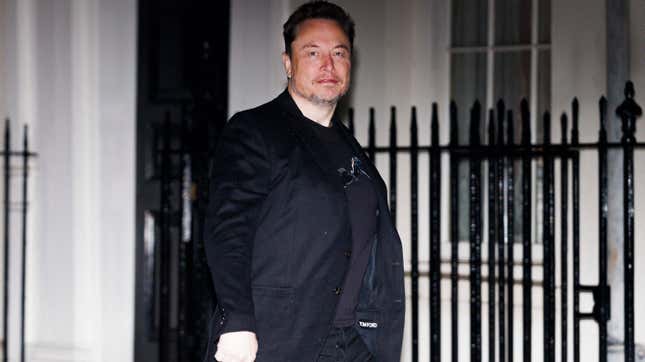 X/Twitter owner and resident moron Elon Musk has gone out of his way to perpetuate racism and hatred since taking over the platform. He's been very clear about being a proponent of free speech—which is simply a thinly veiled way to let racist slurs and hate speech proliferate on X.
Elon Musk Has Opened the Floodgates For Racists On Twitter
The Tesla and Space X CEO also boosted the presence white supremacists like Tucker Carlson and Ron DeSantis on the app. Now, Musk's commentary has gotten so vile that the White House has stepped in to condemn it.
On Wednesday, Musk was in agreeance with an X user who advocated a theory that Jewish folks "have been pushing the exact kind of dialectical hatred against whites that they claim to want people to stop using against them."
The post has been removed, but the X user also stated they were "deeply disinterested in giving the tiniest shit now about western Jewish populations" who are dealing with "hordes of minorities that support flooding their country."
Musk replied: "You have said the actual truth." In a statement Friday, White House spokesperson Andrew Bates addressed Musk's words directly:
"It is unacceptable to repeat the hideous lie behind the most fatal act of antisemitism in American history at any time, let alone one month after the deadliest day for the Jewish people since the Holocaust… We condemn this abhorrent promotion of antisemitic and racist hate in the strongest terms, which runs against our core values as Americans. We all have a responsibility to bring people together against hate, and an obligation to speak out against anyone who attacks the dignity of their fellow Americans and compromises the safety of our communities."
In addition, Media Matters discovered that brands like including IBM, Apple and Comcast's Xfinity have had their ads run next to posts that celebrate Hitler and his Nazi followers. IBM made the choice to pull its ads and on Friday, the European Commission shared it was suspending ad spending on X because of hate speech and disinformation.
Musk is a white supremacist full-stop who believes there will never be any consequences for his actions no matter how hateful. Hopefully, he will be proven wrong.