At a glance
Expert's Rating
Pros
Great monitoring features
Impressive app
Easy to install
Cons
Expensive
Subscription required for connected features
Some features not yet available
Our Verdict
The iQ is a smart security camera you can put in practically any car and get alerts on your phone if anything happens. It's expensive though, and there's not much point in buying one unless you also take out a subscription. It has promise, but at the time of review was missing some of its big features.
Price When Reviewed
$700 plus monthly LTE fee if desired
Best Prices Today: Nextbase iQ 4K dash cam
$699.99
Nextbase has spent years developing the iQ, and its launch was pushed back several times. It's now on sale at last, albeit without a couple of key features that the company has shouted hyped up over the past 18 months or so.
However, as hard a concept as it is to sell to consumers, the iQ is meant to be an ever-evolving platform that will get new features over time.
The only problem with that approach is that this isn't a cheap gadget and, as with so many internet-connected ones, you need to pay a subscription to use the features.. even if they're not yet there.
There are three models in the range: 1K, 2K and 4K, starting at £349 / $499 and rising to £449 / $699. The resolutions refer to the forward-facing camera, but there's also a cabin-facing camera, and an optional rear camera for £149 / $199 which wasn't quite on sale at the time of writing but should be from 14 November.
Nextbase sent the 4K model for review.
Features & design
Easy to install
Embedded SIM
64GB microSD card included
The iQ has been designed from the ground up, and that's very obvious if you've seen or owned any of the company's previous dash cams.
It has a fairly chunky base which attaches to your windscreen and has a fabric speaker cover much like a smart speaker. The LED ring only adds to that similarity.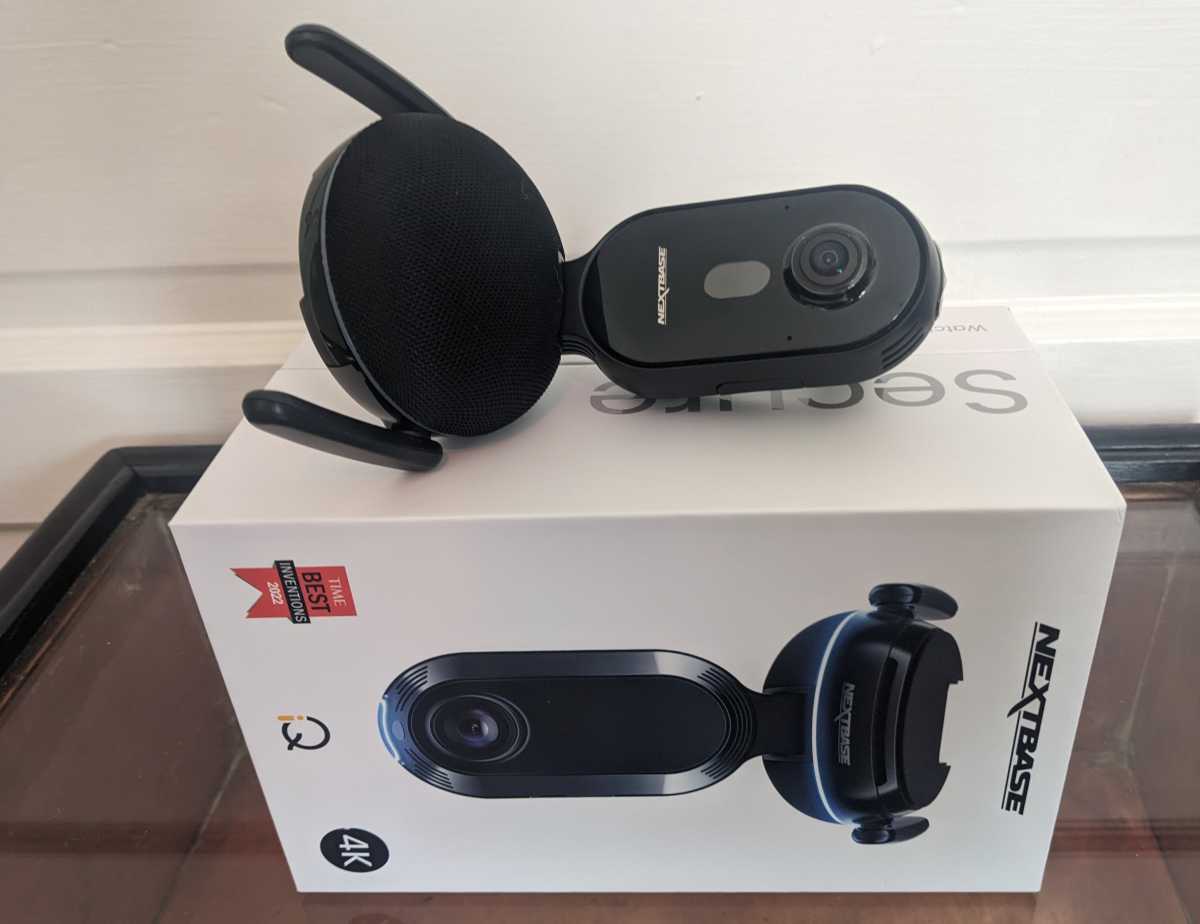 Jon L. Jacobi / Foundry
The two cameras are mounted in a pendant-style unit that points downwards into the car. In your hand, it seems like it will be large and obtrusive, but when installed it really isn't.
The design is necessary for the camera to get a good view of the interior and passengers. The cabin camera also has infrared LEDs so you can still see what's going on at night when the cabin is dark.
Nextbase includes a 64GB microSD card which you shouldn't ever need to remove from the iQ, but you can upgrade it to 256GB if you want to.
It's used to record video like a traditional dash cam, but the iQ does way more than that, and I'll get to that in a second.
Installing the iQ in your car is simple because Nextbase includes a clever power cable that plugs into your car's OBD II port. You might have to Google its location if you're not familiar, but all cars since around 1996 have one.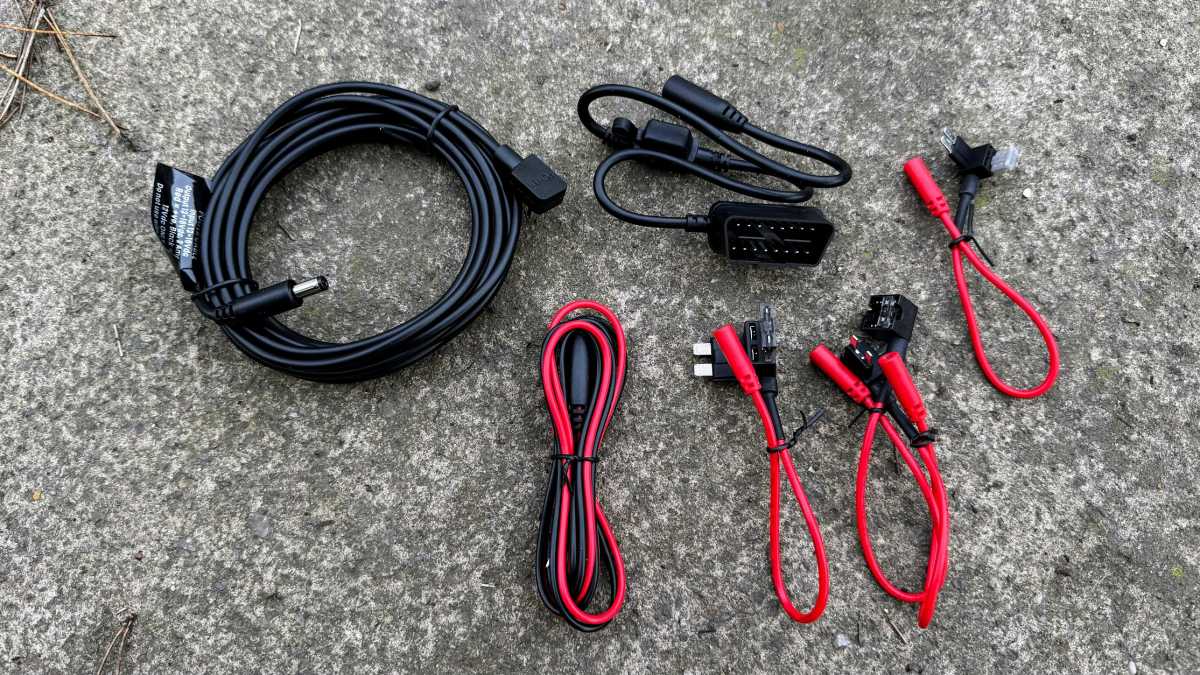 Jim Martin / Foundry
The connector is as slim as possible so should fit behind a cover, but the cable exits from the side which proved to be a problem in my wife's 2013 Vauxhall Corsa which has a recessed OBD II port, making it impossible to plug it in. It wasn't an issue in my Ford Focus though.
There is a solution in the box though: fuse taps that you can connect to the appropriate fuse in your car's interior fuse box. The only disadvantage is that you need to know which fuse to use, and to find a handy bolt that connects to the car's chassis to which to attach the negative wire.
The only gotcha is that the adhesive mount needs to be stuck to your windscreen in a precise orientation. Rotate it slightly left or right and the iQ won't be vertical, so it's a good idea to offer it up with the camera attached to the mount.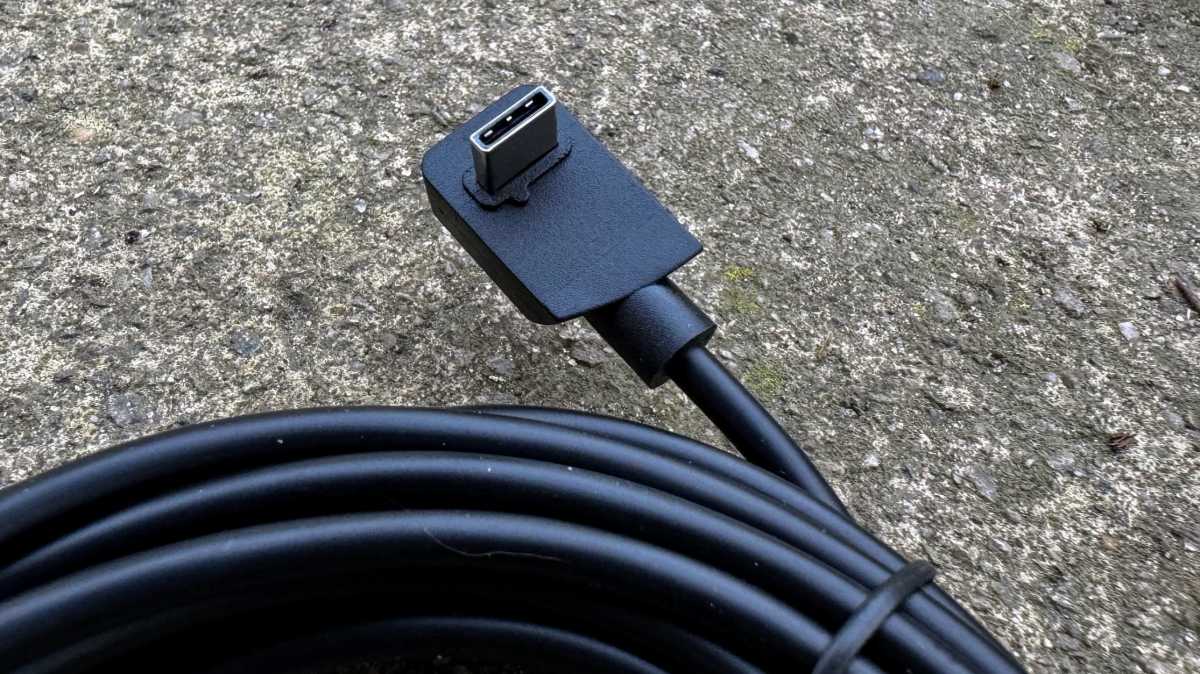 Jim Martin / Foundry
The power and rear camera cable use proprietary connectors, like squared-off USB-C, which attach neatly into the rear of the iQ.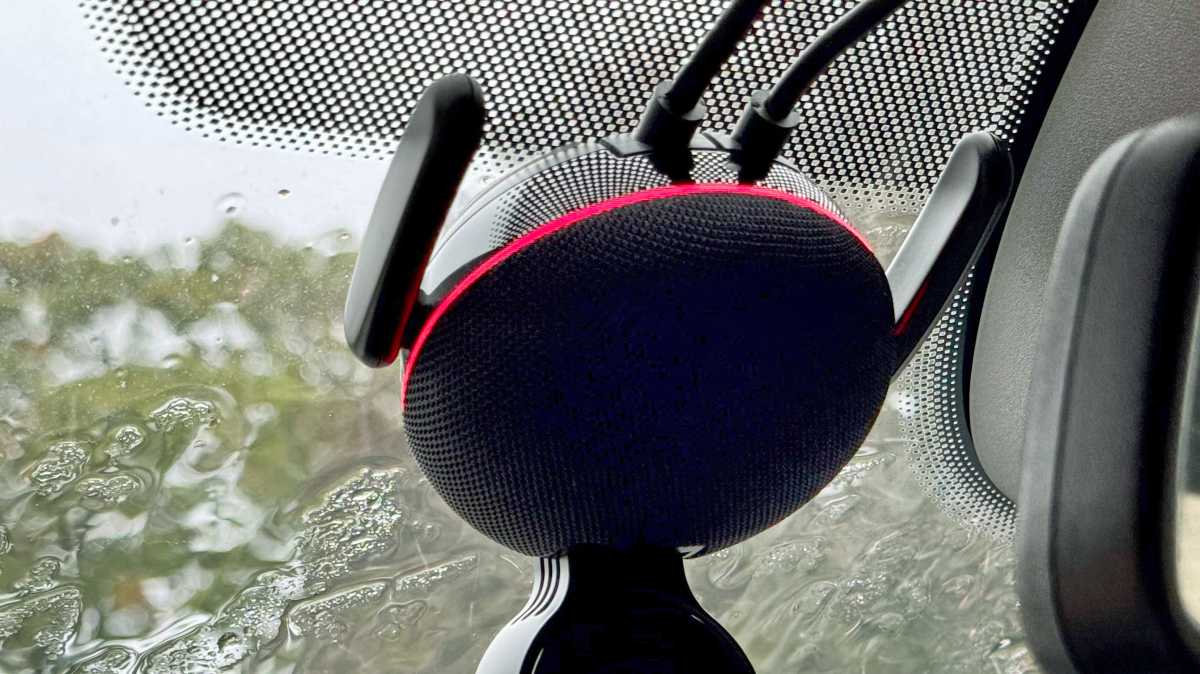 Jim Martin / Foundry
As part of the process you need to install the Nextbase iQ app on your phone and create an account. The app will walk you through the hardware installation and ask if you have a rear camera. The iQ's data connection should activate and you'll have to scan a tiny QR code on the iQ's screen.
This is where the process fell down for me, as the code seemed far too bright in the preview and any slight movement of the phone caused it to blur. Using the tips provided in the app, it did eventually scan after I double-tapped the preview to turn on my phone's rear LED flashlight and slowly move the phone closer to and away from the screen until it scanned.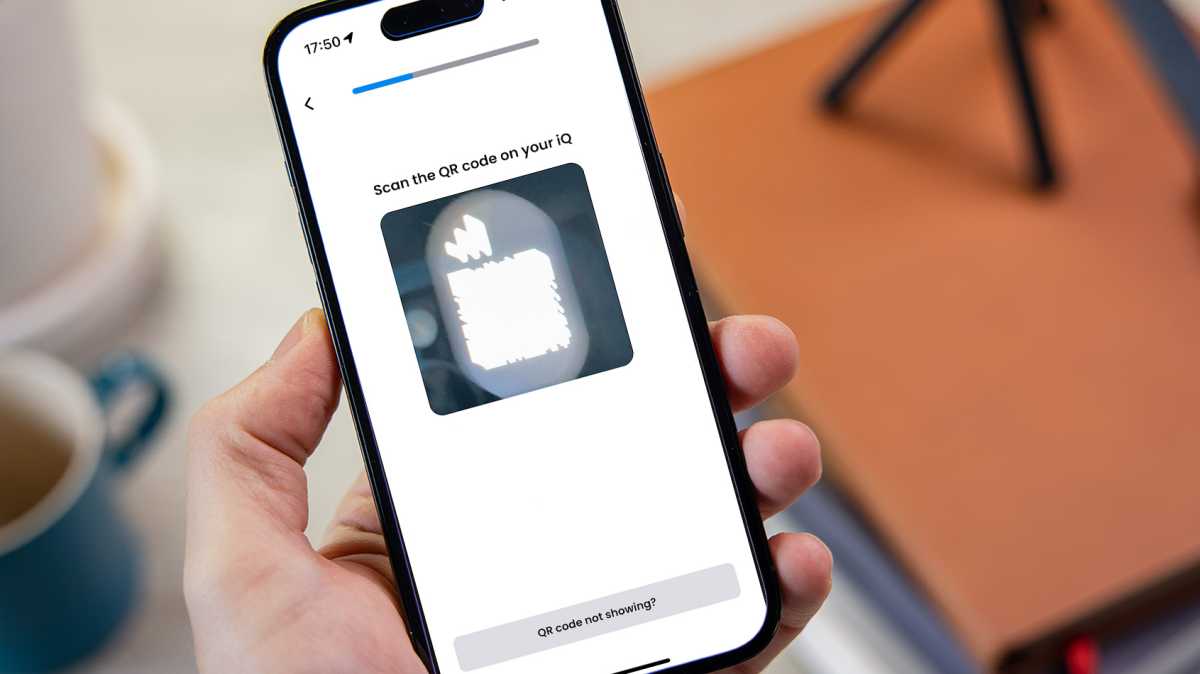 Jim Martin / Foundry
If you manage to jump this particular hurdle, the iQ will download the latest firmware and restart, at which point you can see the live camera view and adjust the angle to get the best view of the road ahead (and behind if you have the rear cam).
Live view & alerts
Getting back to features, the embedded SIM means the iQ is always connected to the internet. It isn't the first dash cam to do this, but it's certainly the best-executed.
Via the Nextbase iQ app, which has clearly been inspired by Ring's, and with the appropriate subscription in place, you can watch the live views from each camera and see on a map exactly where the car is along with the What3Words location.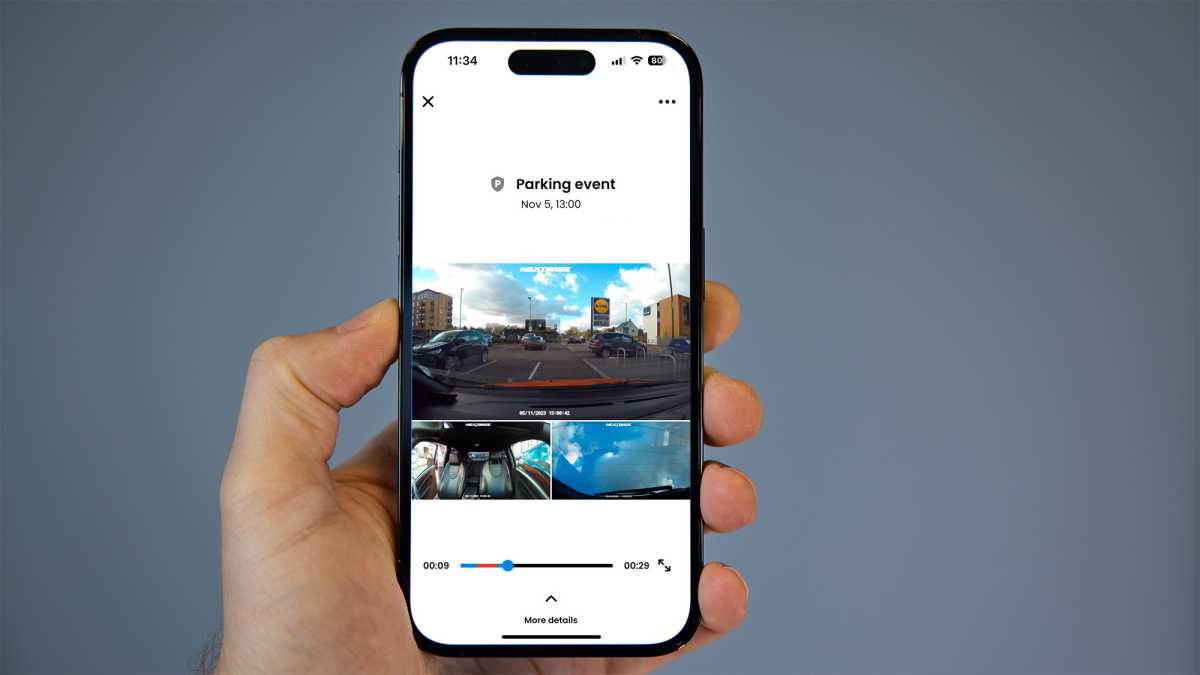 Jim Martin / Foundry
Of course, any security camera worth its salt will tell you when something important is happening and the iQ is good at it. Using a variety of sensors, including radar, it will send you notifications of "Parking events", which could be someone reversing into your car in a car park or a person loitering with intent. I found it would also notify me when I parked up and got out of the car, and again when I returned.
You can watch the recorded event, which shows all camera views on the same screen, and a useful red highlight on the playback bar means you can skip straight to where the action happened.
Although these events are automatically uploaded to the cloud (where they're safe for 30 days if you subscribe to Protect or 180 days with Protect Plus) you can download them to your phone and then share them or, better still, send someone a link and unique code to see the video online.
Jim Martin / Foundry
These aren't the original full-resolution versions, though. They're standard-def 848×480-pixel clips.
In the SmartSense settings in the app you can adjust how far away in each quadrant to monitor. There's also a setting for the 'activation voltage' at which SmartSense should kick in.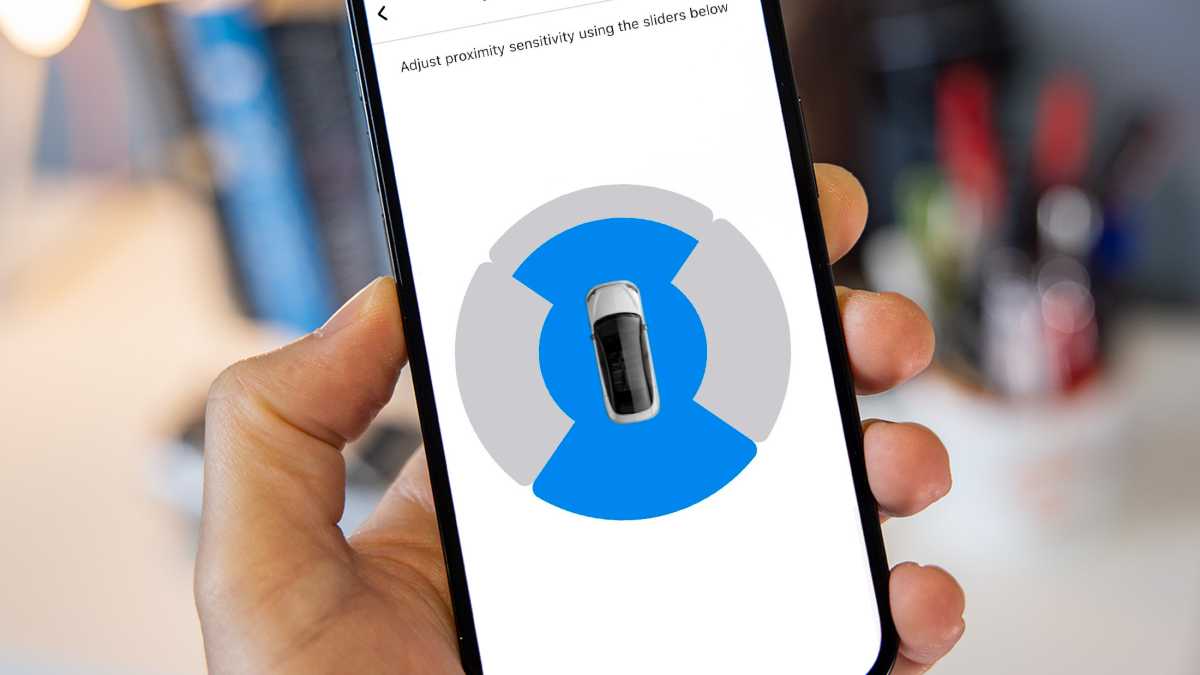 Jim Martin / Foundry
This is different from the 'Low power cut-off' setting which shuts off the iQ if your car battery drops below a set voltage in order to ensure it doesn't drain so much you can't start the engine.
Emergency SOS
One of the other main safety features is Emergency SOS, something previous Nextbase dash cams have offered. You'll need a Protect Plus subscription to enable it.
When set up, the iQ will monitor for a "severe crash" and when it detects one it will automatically send an SOS to emergency services with your exact location and – if you've provided it – your medical data.
You'll receive a call back from those services but if you're unable to answer, an ambulance will be dispatched to your location automatically.
Voice commands
In some of Nextbase's 2-series dash cams you could use Amazon Alexa. With the iQ, Nextbase has custom-built its own voice commands. This means you can say "Hey dash cam, enable Witness Mode" and it will record and upload whatever's going on – and live stream to up to two emergency contacts. Once the event is over you can say "Hey dash cam, stop Witness Mode" or "We're safe now".
You can also say a variety of other things prefixed by "Hey dash cam" such as:
Turn the microphone on
Turn the microphone off
Start recording
Stop recording
Lock this file
Turn the cabin camera off
Turn the cabin camera on
For each, your command is processed locally and there are many variations of each command so you don't have to remember the exact phrase. They all worked reliably when I tried them while driving.
Fortunately, turning the mic off only means audio isn't recorded – it remains on to listen for your next command.
Currently, there's no spoken feedback: everything is communicated using alert tones and a small LCD display which shows icons – it isn't used for showing video.
Missing features
As mentioned, a couple of features are not available at launch. One is Guardian Mode. This is designed partly for parents with young drivers who want to keep tabs on them. When it's added, you'll be able to set speed and location limits, and get notifications when the car exceeds or leaves them.
This is also useful if you leave the car at a garage for repair, or with a valet.
A talk-back feature will allow you to communicate with whoever is in the car, too.
The second headline feature that isn't available is Roadwatch AI. This uses a combination of computer vision and radar to identify other road users, their speed and trajectory.
This data can then be used alongside the video itself to help prove what happened if there is, for example, a collision.
As the iQ records video using H.265, you can't use Nextbase's current desktop viewer as it supports only H.264, so there was no way of getting at any of the recorded meta data at the time of review.
Performance & quality
As you'd expect at these prices, quality is good, although perhaps not as good as might hope for. Resolution depends upon the model you buy. The 1K has 1080p front and cabin cameras, but the interior is recorded at 1440p if you buy the 2K or 4K models.
The rear camera records at 1440p and can be connected to any of the three models.
Jim Martin / Foundry
I tested the 4K and the quality from the main front-facing camera is generally respectable, and a step up from Nextbase's 622. There's lots of detail which means you can read registration plates of other vehicles, whether they're parked or driving.
There are quite a few exceptions to this, though. At night or if the weather is bad, details can be obscured by rain on your windows, or because your car's headlights are reflecting off number plates.
The wide field of view means cars also have to be quite close by, otherwise their plates are simply too small to see. Usually, though, you only care about these details if another car hits yours – meaning it will be very close.
As there's no HDR, dynamic range is somewhat limited and this can cause over- or underexposure when the sun is in the frame.
It's surprising there's no polariser for the front or rear cameras, neither built-in nor optional. There are just two video quality settings in the app, too, one being to disable audio recording. That leaves only exposure, which can be set separately for each camera.
Here are some examples of snapshots from day and night recording from all three cameras.
In the app, you'll find recordings split into two sections: Events and Library.
Events is the important stuff, such as impacts, motion detected while parked and manual recordings where you've locked a file by saying the command, or pressing the button on the underside of the iQ. All are uploaded to the cloud automatically if you have a Protect Plus subscription.
Library is where you'll see a complete timeline of all the events along with the regular continuous clips recorded while driving along. You can download any of these clips within the app as long as the iQ has power and a mobile data signal – and you have a Protect or Protect Plus subscription.
Whenever you download something, you can pick which of the camera feeds to include: you don't have to download all of them.
It can take a while for the iQ to wake up and start streaming video if it's in low-power mode, but the app does a great job of telling you what it's doing rather than merely showing a spinning circle.
Although there's built-in Wi-Fi, Nextbase says it's working on a direct Wi-Fi link and expects local downloading to be possible some 4-6 weeks after launch.
You can of course take out the microSD card and pop it into a card reader on your laptop or PC but Nextbase has added an HD download option in the app. Unfortunately, this is only for videos in the Library tab. It's not an option in the Events tab, but those are the clips you're more likely to want to download. There, you'll see the standard-def version which are automatically uploaded to the cloud as part of a Protect Plus subscription.
Continuous recording splits clips into 30-second chunks. These are 143MB for the front 4K camera, and 86MB for the cabin and rear 2K cameras. Alongside each is a low-resolution 5MB version which is what you see in the app.
With all three cameras recording, the 64GB card can hold around 1.5 hours of footage.
In terms of power usage, I found the iQ worked fine in a car that's used every day and has a battery that's in good health. But if you leave it parked a lot of the time, you'll find the iQ switches off to preserve power after a day or two and therefore won't be able to notify you or record anything.
Price & availability
In the UK you can buy the iQ from Halfords or direct from Nextbase.
As mentioned, the 1K costs £349, the 2K £399 and the 4K £499. The rear camera is £149.
In the US prices are higher: $499, $599 and $699 respectively, and these are the same whether you buy from Nextbase or Best Buy.
It's possible to use the iQ without a subscription: the free tier is called 'Solo'. The only feature it includes is text notifications sent when an event has been detected. These don't specify what type of event and as you can't connect remotely, you won't be able to see the live view, nor watch cloud recordings of the event.
This means a subscription is essential: without it, the iQ isn't much different to traditional dash cams.
In the UK the cheaper Protect tier costs £6.99 per month or £69.99 per year, while Protect Plus is £9.99 or £99.99.
In the US, prices are again higher at $9.99 per month or $99.99 for a year of Protect, while Protect Plus is $19.99 per month or $199.99 per year.
As there's no contract, you could theoretically pay for a month, cancel and then re-subscribe next time you need the features.
Protect Plus stores events for 180 days and also adds multiple user accounts (so other family members can use the app), Emergency SOS and automatic incident backup. The latter is an important distinction: if you opt only for Protect, nothing is uploaded: you just get the option to download videos remotely to your phone manually.
For alternatives, see our roundup of the best dash cams.
Should I buy the Nextbase iQ?
The iQ is the smartest dash cam I've reviewed. It's great to be able to watch the live view and see what's going on when notifications arrive, as well as see where your car is from the GPS location.
The app is – on the whole – great and it makes the iQ easy to use. Voice commands are useful, too.
However, despite that long development time, the iQ feels like an unfinished product. There are a fair few features missing, not just Roadwatch AI and Guardian Mode but things like the ability to download full-resolution videos to your phone via Wi-Fi and watch videos alongside GPS and G-sensor data. Firmware updates, of which there have been a good few during my testing, aren't notified: you have to go into the settings and check manually to see if there's a new version to download.
Nextbase says it's working hard to address these things, but there are no guarantees of when they'll arrive.
Regardless, price is going to be the sticking point for many: paying £349 / $499 for a 1080p camera is asking a lot, and it's a further £149 / $200 for the rear camera (which is a wise investment).
As I've said, you also need a subscription to use any connected features, which adds even more cost and, at the time of review, there was no option to add further iQs. If you have two cars, you'd need to subscribe separately for each iQ.
Given the relatively high subscription prices it's disappointing that videos backed up to the cloud are so low quality and that you need Protect Plus for events to be uploaded to the cloud automatically: a feature we take for granted on Wi-Fi security cameras.
Finally, there's the one-year warranty, which is standard for Nextbase. But with the promise of the iQ being upgraded with new features over a longer period than that, it feels too short.
Ultimately, the iQ is a great security device for your car which should improve over time. I've no reason to doubt that Nextbase will make good on those promises, but you might want to wait a bit until some of them are fulfilled before shelling out.