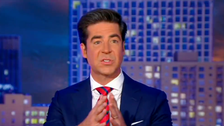 "What The Rock said is interesting because there is no Biden voter," claimed Watters despite the president receiving the most votes ever cast for a candidate in a presidential election.
"I've never seen a Biden bumper sticker. I've never seen a Biden t-shirt, a Biden hat –."
Tarlov then cut Watters off to mock him over his not-entirely conservative family tree.
"Have you spoken to your mother?" she replied in a nod to Anne Watters, who is a Democrat.
Watters told Tarlov that his mother isn't a Biden voter but rather an "anti-Trump voter."
"And that's what all the Democrats were last time. And now everybody wants him to leave because he was supposed to get elected and then pass the torch," he added.