When most people say 'phone' these days, what they really mean is 'smartphone'.
Internet-connected devices with access to millions of apps might be the norm in 2023, but they're by no means your only option.
A more basic phone, also known as a feature phone, takes the mobile phone back to basics. Calls and texts are its main two features, just like the pre-smartphone days.
These are sometimes unfairly labelled as 'dumbphones', when in reality they've just been stripped back to the absolute essentials. If you need to be reached or get in contact with someone, you still can.
Some basic phones have extra features, such as a camera, radio or even simple games. But its main benefit is that you don't have to deal with all the distractions of a modern smartphone.
That includes a large, bright screen – most basic phones have much smaller colour or E Ink displays, and often adopt a classic 'candybar' or flip-style design. There's usually no app store though you will be able to access a handful of apps on some models.
As a result, a basic phone is much less intimidating and easier to use, even if you've never used one before. That makes it a great pick for someone older, especially with SOS buttons included on some models.
Don't rule out buying one if you're young, though. A basic phone can be great if you'd like to take a break from screens for a few days, or see if you live without a smartphone longer term.
There are two other key benefits of basic phones. One is price, with most significantly more affordable than even budget smartphones. The other is battery life – most last at least a few days on a single charge, and you can often easily swap the battery out to avoid waiting for it to charge.
We've personally used and tested every basic phone on this list to see what the pros and cons are for each and help you decide which to buy.
1. Nokia 2660 Flip – Best overall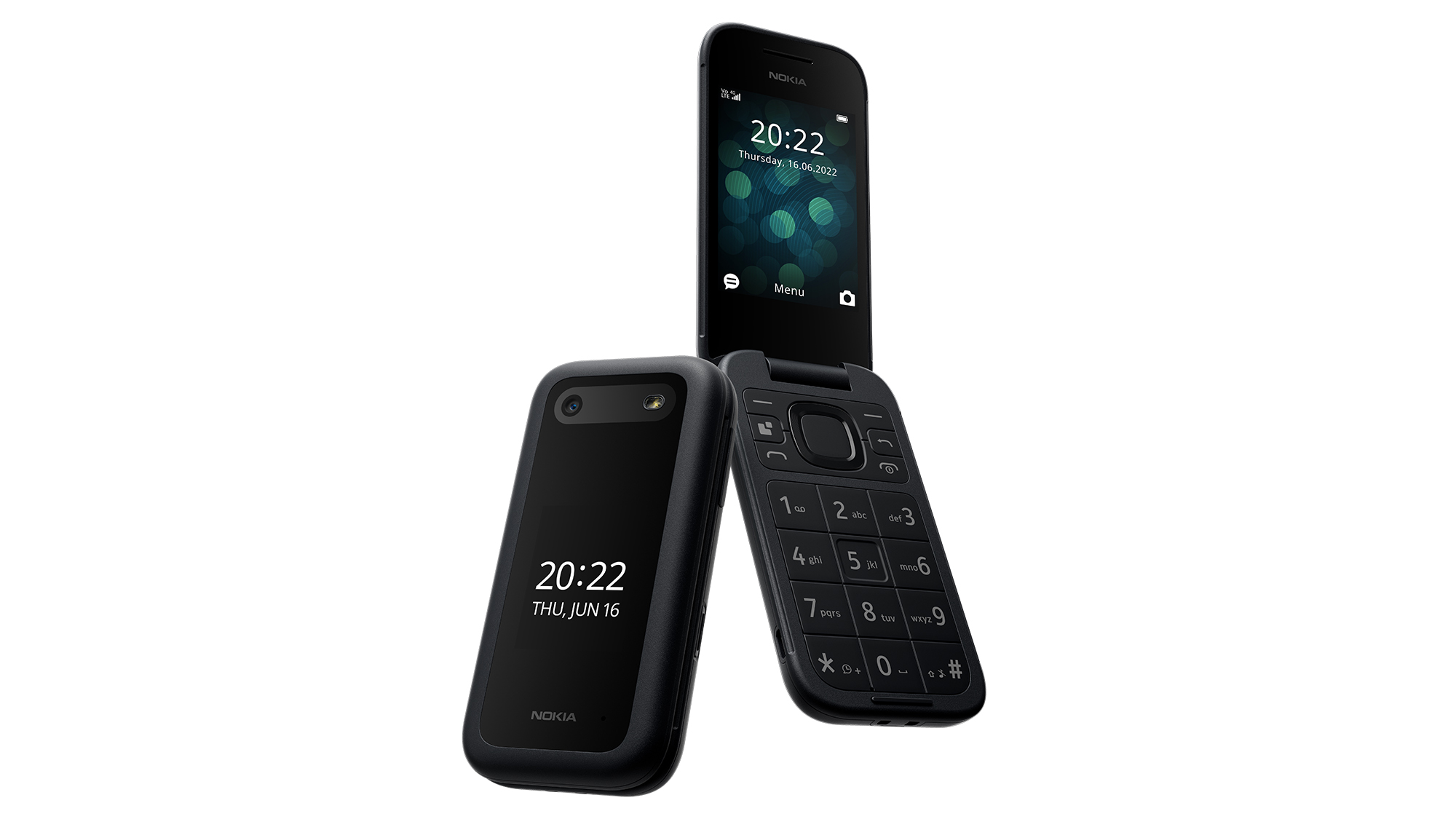 Pros
Compact
Big buttons
SOS button
Week-long battery
Cons
Volume button too easily knocked
Cheap feel
Price When Reviewed:

$89.99
Our top basic phone pick for most people is the Nokia 2660 Flip. It has several core features for a reasonable price.
When open it has a 2.8-inch screen that's bright and readable for sending and reading text messages. There's also an outer screen so you can see the time or who is calling when the phone is closed.
With an SOS button, you can press and hold to call up to five emergency contacts should you get into trouble and need help. The audio for calls is also hearing aid compatible.
Below the screen are big buttons that make it simple to dial numbers or send basic messages. A multi-directional button lets you scroll through menus and apps such as the camera, contacts, FM radio, and voice recorder.
There's a torch, a modern version of the classic Snake game, and even an Opera web browser. The replaceable battery lasted for five days before needing a charge and it'll go much longer on standby.
It's also a 4G basic phone which is the best type to buy as it'll work for calls and texts once older 2G and 3G networks are shut down.
The one annoying thing is the outer volume button is easily pressed accidentally, which can mute the ringtones without you realising.
There's a version of the phone available in the US called the Nokia 2780 Flip, which runs the more advanced software called KaiOS that gives you access to a few very simple apps such as Facebook and Google Maps. You can buy it on the Straight Talk or TracFone networks, or unlocked from Nokia.
These models are our top recommendation, thanks to a decent price and good global availability.
2. Nokia 8210 4G – Best battery life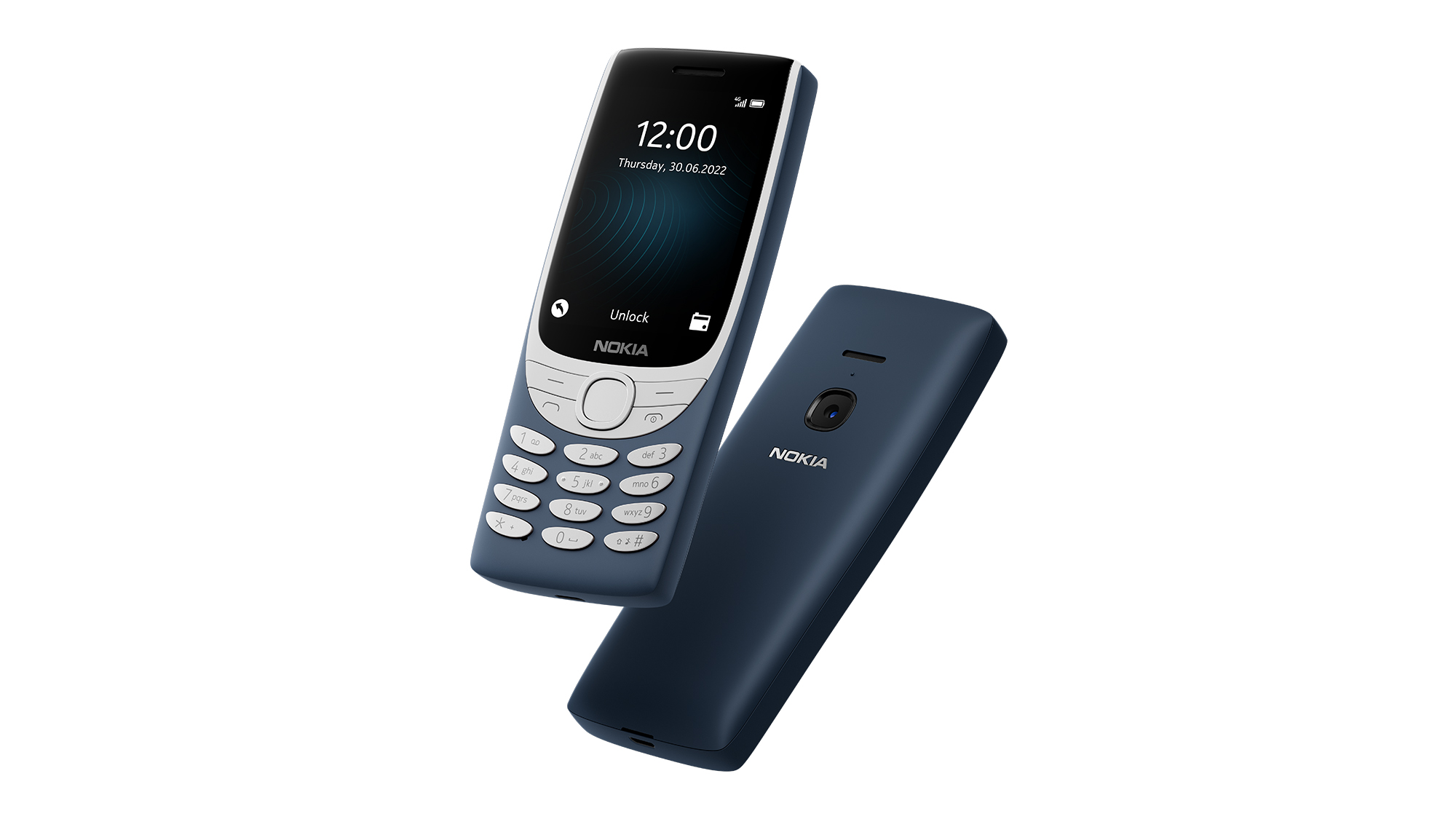 Pros
Compact
Big bright screen
Week-long battery
This simple mobile phone is one of the best you can get. It's small, has a battery that lasts over a week on standby, and a plastic back you can take off to access or replace that battery. Just like old times.
The screen is bright and easy to read, though one thing to bear in mind is the buttons are quite small. You'll have to text in T9 style like it's 2004 (no QWERTY keyboards here) so you might want to look for a phone with larger buttons as these are quite thin and small.
Otherwise, the 8210 has a very basic camera on the back if you really need to take a snap, plus a built in MP3 player and FM radio. Its features are very similar to the 2660 and 2760 Flips, but it's smaller and doesn't have the emergency contact button.
It's easily pocketable and is 4G ready, but only has 128MB storage – enough for contacts and SMS but not much else (not that the phone does much else).
3. Doro 6880 – Best build quality
Pros
Great build quality
Comes with charging dock
Top call quality
SOS button
The Doro 6880 is a little pricier than the Nokia models above but it has better build quality that makes it nicer to hold and use. Its matt plastic and rubberised build feels premium while the white design inside with black buttons makes the buttons easy to see and press.
The screen is bright and there are dedicated buttons to take you straight to the camera or your text messages. Calls are nicely loud and clear on the earpiece and the assistance button on the back can call or text contacts automatically when pressed in an emergency.
I like that the phone comes with a charger and a docking cradle in the box. This means you can leave the phone on charge in the same place at home like a landline so you always know where it is and so it's fully charged when you take it out with you.
There are simple functions like a camera, torch, and alarm, but this phone is best at being a phone.
4. Punkt MP02 – Most stylish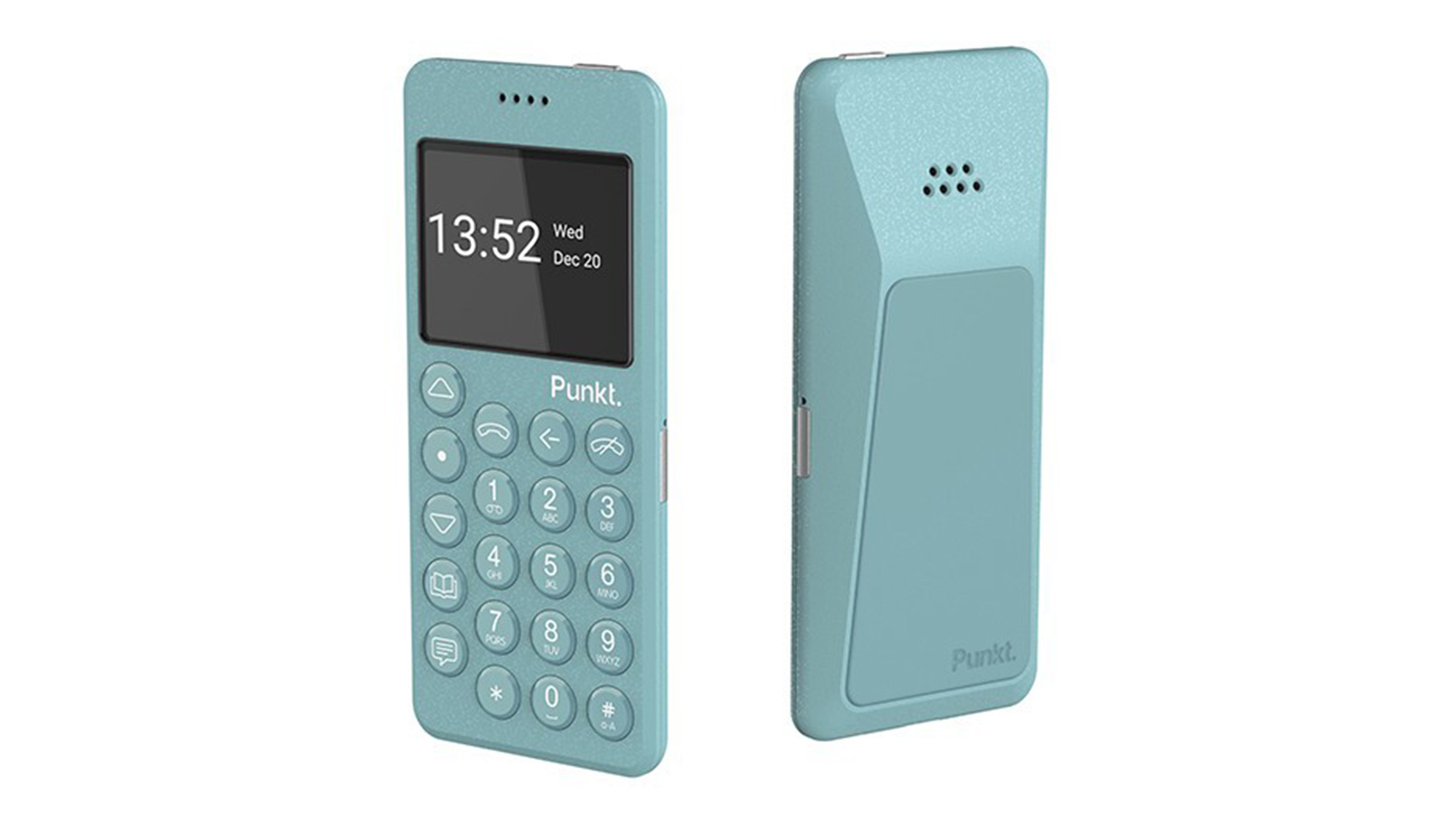 Pros
Premium build
Signal app access
Great voice call quality
Cons
Two or three day battery life
Signal access is buggy
Price When Reviewed:

From $379
If you like the idea of a basic but want something with a little more style, the Punkt MP02 will appeal to you. It's a simple voice and text phone designed by Swiss company Punkt and British designer Jasper Morrison.
It looks a little like a calculator but is in fact a 4G voice phone. It can send texts too, and you can import your contacts from an iPhone if you don't want to manually save them all.
It also has clever access to the Signal messaging app using its own proprietary app Pigeon, though I found this buggy to use and more trouble than it's worth. To make up for it, it charges via the modern USB-C, unlike many cheaper phones on this list that use micro-USB.
And that's the catch here – the MP02 costs $300/€329. It's a luxury basic phone, which is a bit of a paradox in some ways. But if you have the disposable income and you are fed up with being on your smartphone all day, this is a very upmarket basic phone.
It also acts as a 4G hotspot if you really do need to connect a tablet or laptop to the internet to send an email or get some work done. The battery lasts about three or four days with light use.
Make sure you get the 'new generation' of the MP02 – there's an older hardware version that no longer gets software updates. The new version is much more accomplished and stable, but it doesn't overly fill me with confidence for the long-term software support of the new model.
5. Light Phone 2 – Most unique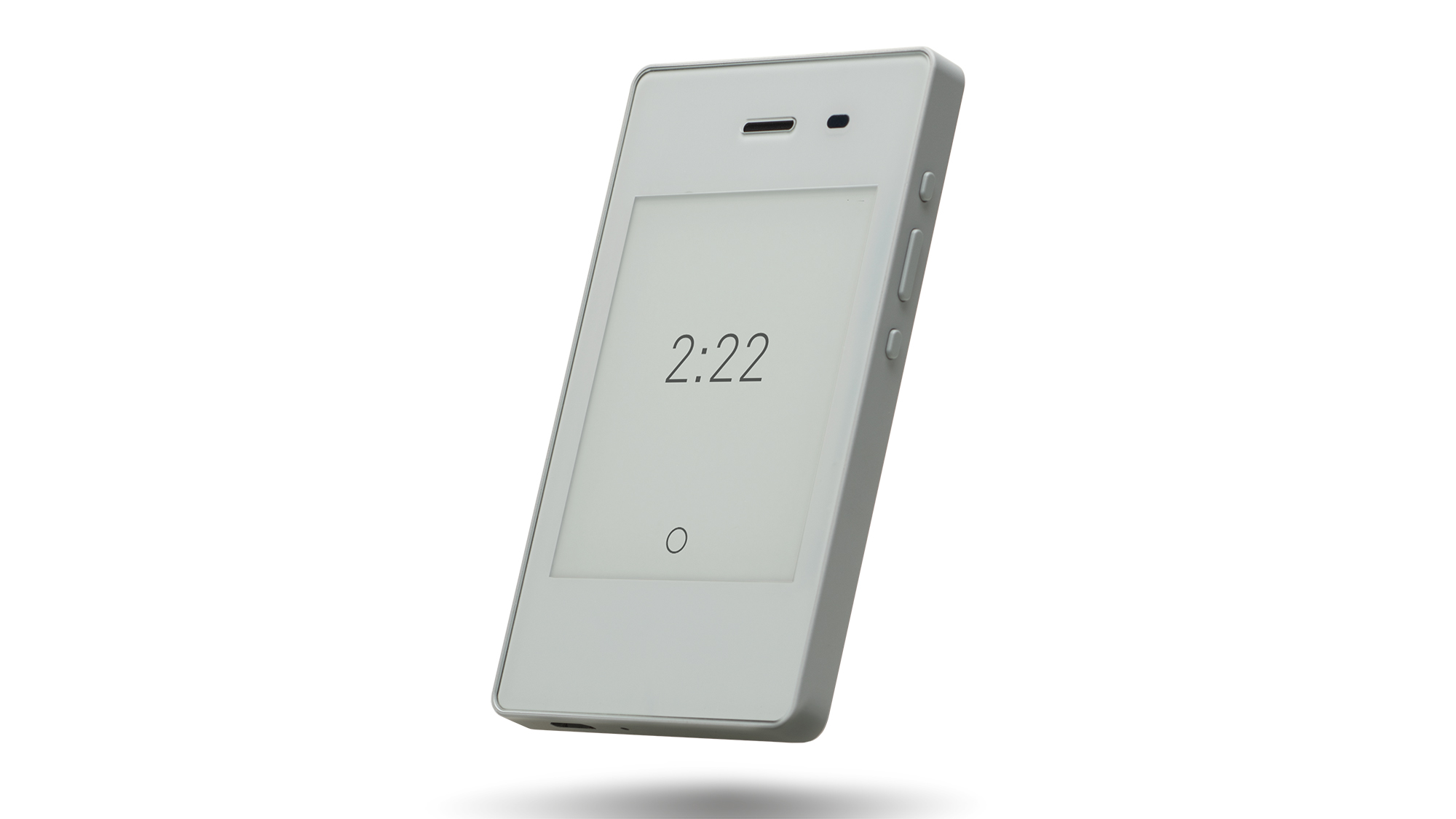 Pros
Customisable features
Lovely design
Software always evolving
Cons
Fiddly e-ink screen
Micro-USB charging
Erratic battery life
Price When Reviewed:

$299
Similar to the Punkt phone, the Light Phone 2 is an aspirational basic phone made by New York start up Light. It has no dialpad buttons, instead using a small E Ink touchscreen (like you'll find on a Kindle).
It comes with Phone, Messages, Alarm and a few other functions but you can go to a special Light dashboard on a computer and add in other 'tools' that Light is adding over time. These include a podcast player, MP3 music player, and a directions tool that works as the phone has GPS. It's very slow though, so is only advisable for using if you get lost. It's nice to have, though.
We got three days of battery out of the phone at its best, but it depends on your operator and signal strength. When using the phone in New Zealand on a local SIM, the battery life depleted to empty in less than 12 hours, but in the UK it lasted for three days of light use on the Giffgaff network.
You can type texts easier than most other phones on this list though thanks to the touchscreen, and the podcast app is nice to have paired with the headphone jack.
The Light Phone 2 is expensive but it's great that a product first released in 2019 still gets regular software updates, improving its value for money over time.
6. Emporia Simplicity – Best for ease of use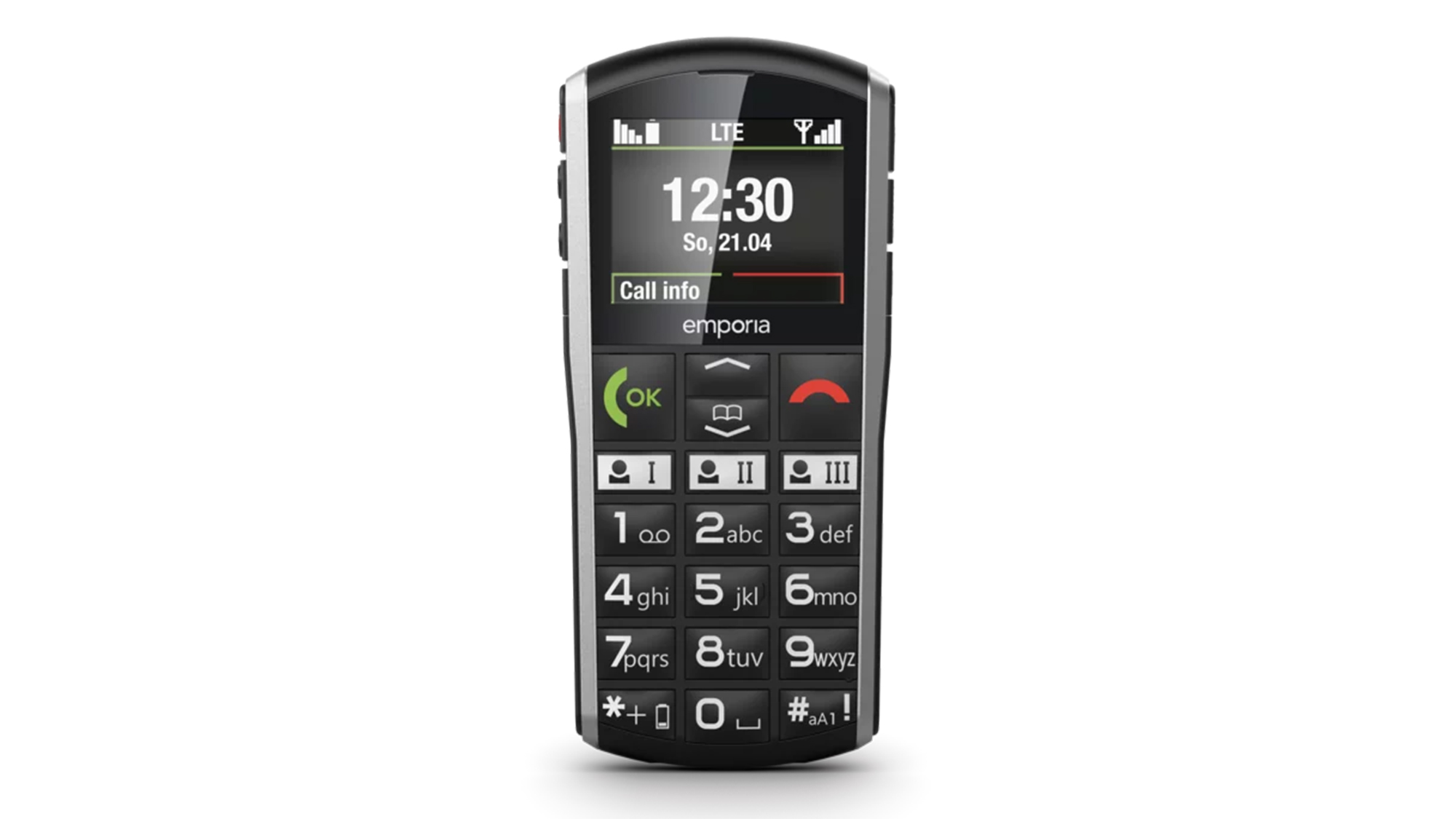 Pros
Slim, simple design
Clear menus
Comes with charging cradle
Emergency button
An alternative to Doro's simple phones is this stark but nice looking phone from European company Emporia. This is a 4G voice phone with big buttons and clear menus that can also send and receive text messages, though this is so laborious you'll just call someone instead. No bad thing!
There are also three assignable buttons in white on the pad that when set will immediately call specific contacts, perfect for the older customer who wants a device with no barrier to use.
The phone has a pleasant and durable rubber finish and includes a charging cradle in the box so you can keep it charged at all times. A downside is the screen is quite small, so if you necessarily need the text size set larger then menus are harder to navigate as only two lines fit on the screen at once, and text has to scroll to be read.
But if you want to keep things as simple as possible and value a torch over a camera, this phone is a good choice.
7. Unihertz Jelly 2E – Best for smartphone apps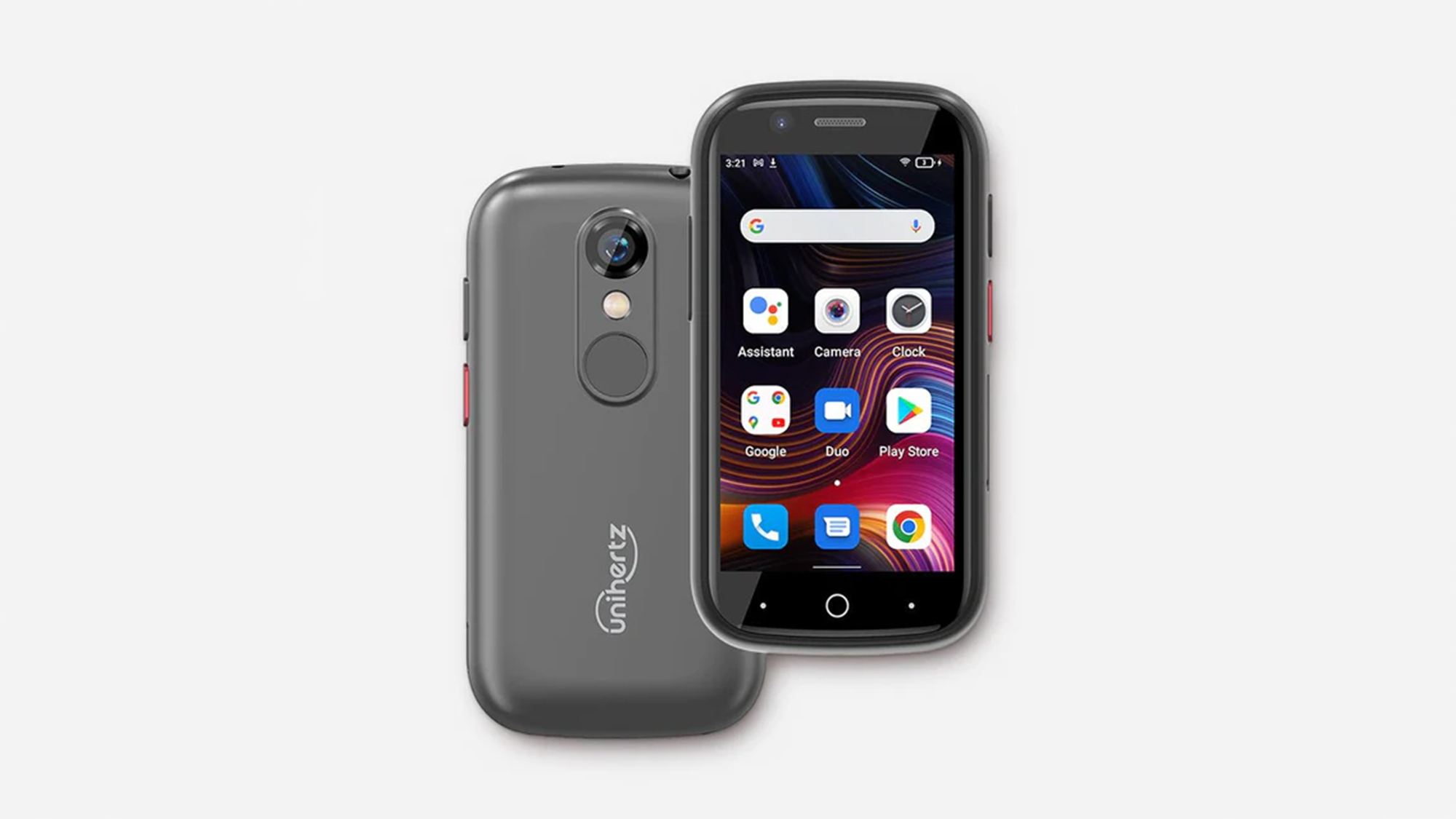 Pros
Tiny smartphone
Full Google Play store access
Decent camera
Cons
Slow processor
No NFC for mobile payments
Price When Reviewed:

$169.99
If you really can't live without a smartphone but want to cut back on your phone use, or simply want a genuinely small phone, then take a look at the Jelly 2E. Maker Unihertz pushes it as a phone with a screen so small you simply won't want to use it much, lessening time on the endless scroll of social media.
With a tiny 3-inch screen, I fully agree. This thing is miniscule. But it runs Android, complete with the Google Play Store and every single app you could run on the any other Android phone out there.
It charges by USB-C and if you don't use it too much the battery is good for about two days – ideal if you want apps when you need them but would rather your phone stayed in your pocket rather than drag you into mindless social media use. It even has a headphone jack!
8. Doro 8100 – Easy to use Android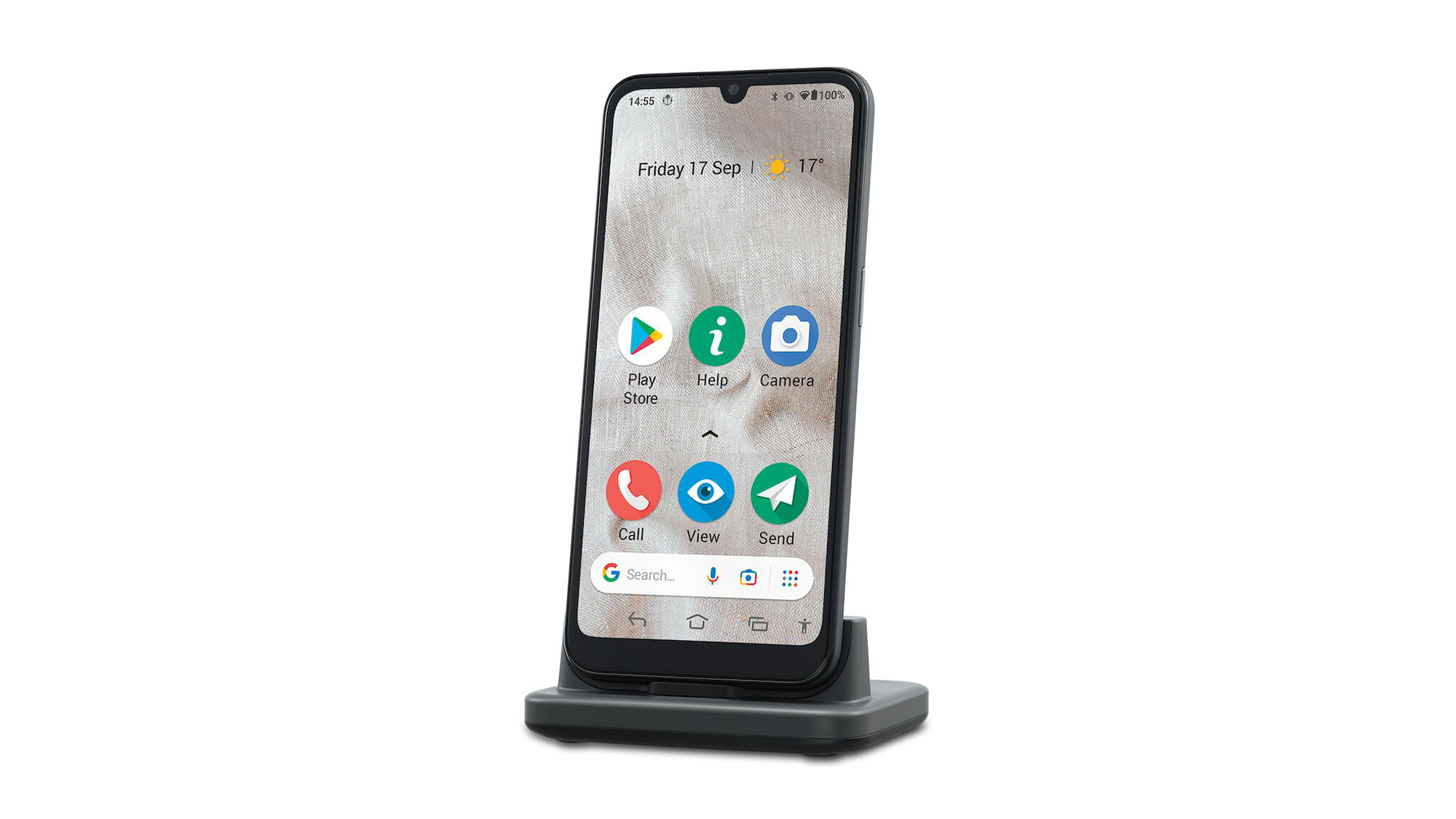 Pros
Simplified Android
Three rear cameras
Full app store
SOS feature
Cons
Slow performance
Not getting Android updates
If you want – or want to buy for someone else – a smartphone that has been customised with a very simple visual interface, then this could be the one to get.
The Doro 8100 runs a version of Android called Android Go that has simplified interface with large obvious icons and software that guides the user through app use if they are unfamiliar or unsure of how to use them. The software even guides you through setting up the phone with more detail than regular smartphones after you can select your knowledge level.
It comes pre-installed with some essential Android apps, but you do have the Google Play Store to download any more that you want.
It's the design and option to keep things simple that are appealing here, plus triple rear cameras, 4G, GPS, hearing aid compatibility, a clear and loud earpiece, IP54 water and dust resistance and torch.
There's also the Response by Doro software and an SOS assistance button to set up that when pressed sends emergency alerts to friends or family. It's peace of mind in the least intimidating smartphone you can buy, with three rear cameras and a selfie camera for snapping photos and making video calls.
9. Sonim XP3plus – Best for durability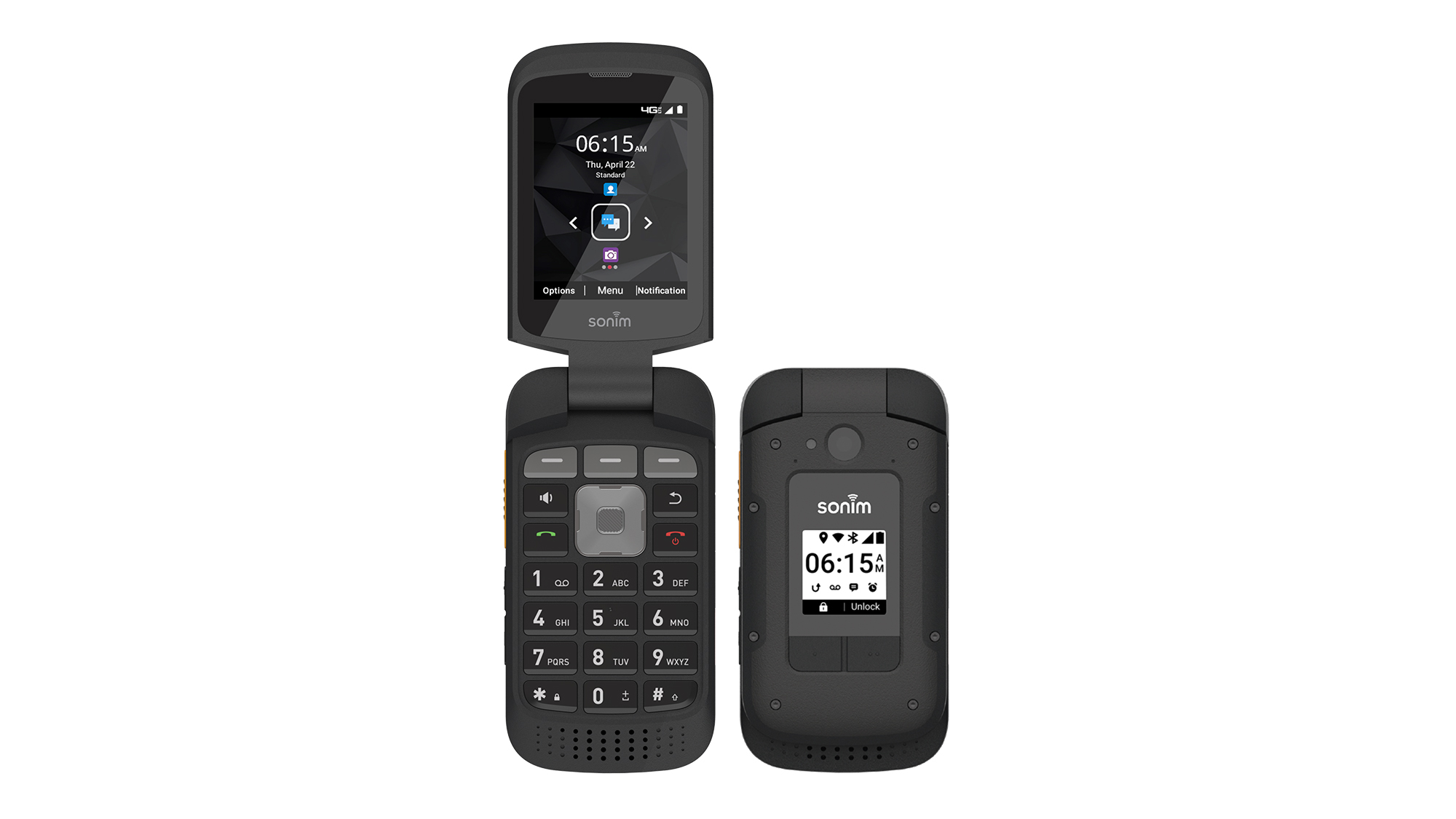 Pros
Incredibly durable
Three year warranty
Great call quality
Cons
A little too bulky
Poor camera
Could have had Android apps
Price When Reviewed:

From $0 on contract
The third more expensive basic phone on this list is the one I'd recommend over the Punkt and Light Phone 2 if you want the most 'smart' features but still get up to a week of battery life (usage dependent).
The trade-off is that the Sonim XP3plus is a huge, bulky flip phone. That's because it's has military standard durability designed to be used in heavy industry for builders and workers who might drop it, drop things on it, or use it with gloves on.
The phone runs a custom version of Android 11 that has no app store, so you can't download Android apps like you can on the Unihertz Jelly 2E.
This is first and foremost a phone for calling, so it's a shame that for a phone that runs Android the calendar and contact syncing is so bad. You can't link your Google calendar or contacts lists to the device, a huge oversight. Get the Doro 8100 from this list instead if that matters to you.
But the best feature here is the excellent voice call quality. If you want a phone that's virtually indestructible with MIL-STD-810H military standard durability and will always be ready to make or receive a call, this is it. It's just overkill for most people.
10. Nokia 6310 – Classic Nokia design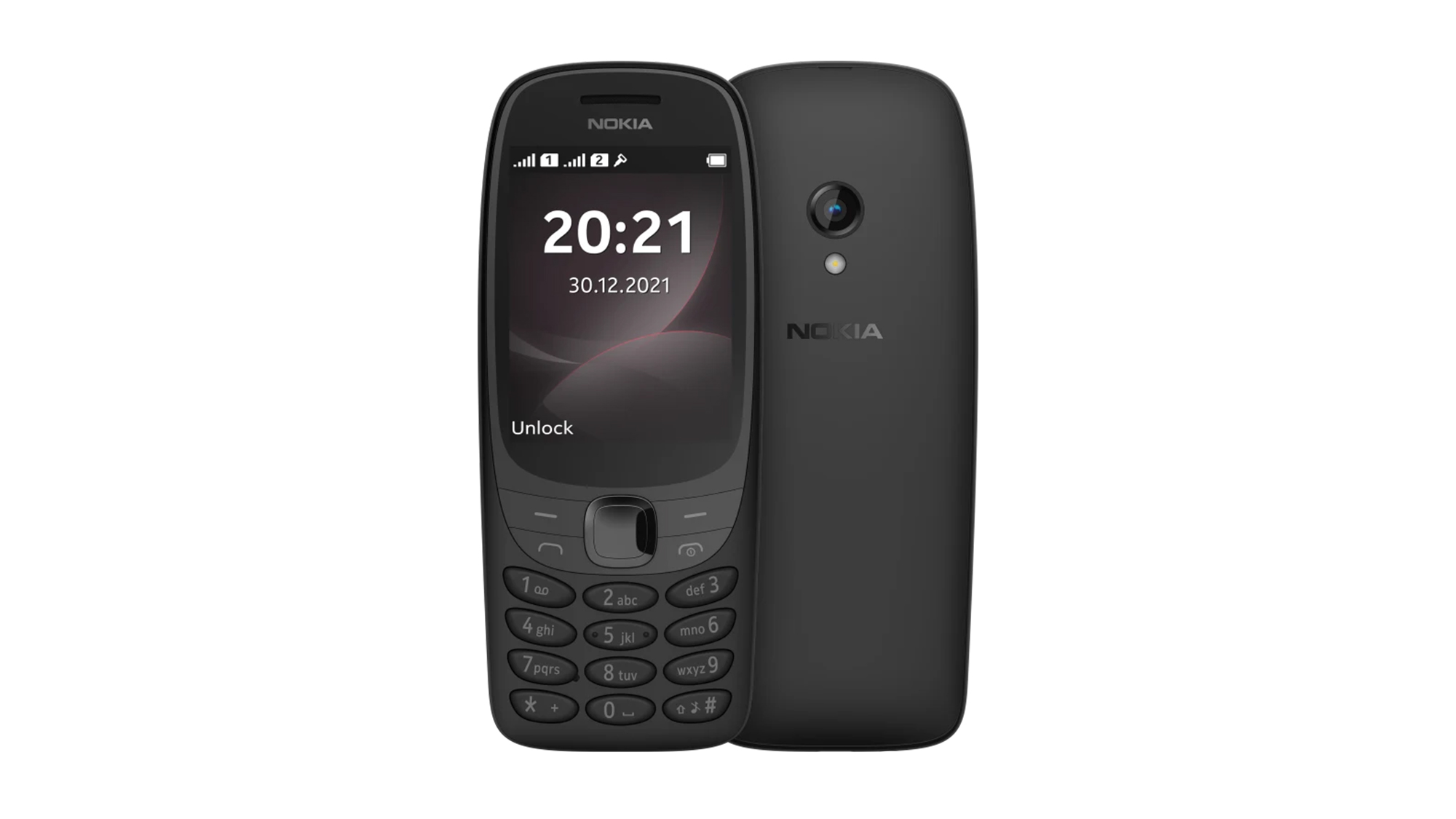 Pros
Simple and easy to use
Great battery life
MicroSD slot
Cons
Not available in the US
Only 8MB storage
Only 2G
This is as about as cheap you should go for a modern mobile phone, as even this remake of the classic Nokia 6310 from 2001 cuts some corners that might end up frustrating you in 2023.
There's only 2G support for calls and texts. This is OK for use in the UK, though, as Vodafone, EE and O2's 2G network is still active at the time of writing. But it might not be for much longer, while Three (as the name suggests) began life on 3G.
You also only get 8MB of storage on the phone. This is OK to store several text message conversations but if you want to use the 6310 as an MP3 player (which you can), 8MB is about one song. Luckily, you can use a microSD card up to 32GB if you want.
It also takes standard SIM card sizes, not the nano SIM we are all used to now, so you'll need to source an adapter (many SIMs come with one if you are on the lookout for the best SIM deals).
With a removable battery and micro USB charger in the box it's easy to stay powered up, plus Nokia quotes a standby time of 21 days, or about 20 hours of talk time. In our use, this holds true. This phone lasts for absolutely ages, just like the good old days.