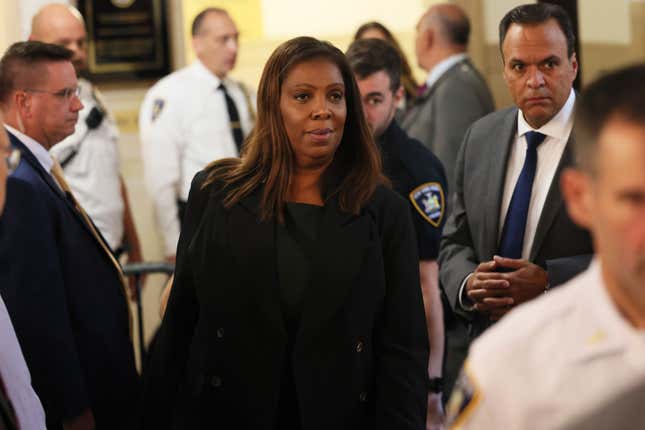 New York Attorney General Letitia James has clearly had it up to here with the Trumps. After seven weeks of a fraud trial involving former President Donald Trump and his family, it's hard to blame her.
Can Donald Trump Serve As President From Prison?
On Monday, Donald Trump Jr. took the stand, ostensibly to defend the Trump Organization against allegations that they heavily inflated the value of their properties to secure loans. However, instead of refuting the claims of widespread fraud with evidence, Trump Jr. fawned over photos of Trump properties, praising them for their "sexiness."
Suffice it to say, after spending weeks showcasing hard evidence of alleged widespread fraud, James was not impressed.
"Rather than respond to any legal claim against him and his family, Trump Jr. spent his time talking through pictures of Trump properties," said James in a video she posted to X (formerly Twitter) on Monday.
Though you might not know it from that testimony, the stakes are incredibly high for the Trump Organization: Not only is this a public undressing of the family's empire in the very city in which it was built, but they risk hundreds of millions of dollars in fines and a ban on doing business in New York. The Trump Organization is massively invested in New York, meaning a guilty verdict would be financially devastating for them.
In her video, James said none of these "glossy" photos are going to change the outcome. "The Trumps can try to impress and distract with glossy pictures of golf courses and glowing descriptions of condominium towers," she said. "But we all know the facts of this case, and the facts don't lie."