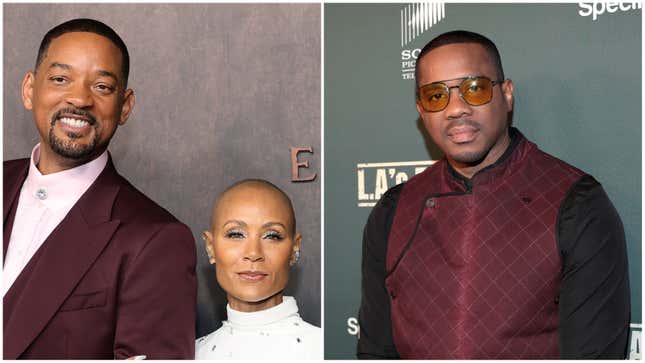 Jada Pinkett-Smith is responding to recent online rumors that her husband, Will Smith, allegedly slept with fellow actor Duane Martin back in the day.
Marlon Wayans Sings The White Chicks Anthem, Talks The Daily Show on That's So Random
Speaking with TMZ while leaving from iHeartRadio in New York on Wednesday, when asked for a response to the accusations, Jada only had two words to say: "We suing!"
As previously reported by The Root, the online talk all stemmed from a new video interview released on Monday between YouTuber Tasha K and Smith's former assistant and "ex-best friend" Brother Bilal. In it, Bilal shares how he allegedly saw Smith and Martin engaged in anal sex in Martin's dressing room years ago. While describing the scene in graphic detail, Bilal also negatively referred to Smith's manhood, implying that it wasn't enough to fully satisfy his wife Jada Pinkett-Smith.
In response, reps for Smith have called the accusations "completely fabricated" and "unequivocally false," per TMZ. There was also early talks that Smith camp may be considering legal action against these claims, but a spokesperson for the Emancipation actor initially denied it. Now it seems they may be taking the legal route after all.
Unfortunately, egregious claims and interviews like this are nothing new for Tasha K. After all, she's the same woman who was tied up in a legal battle with rapper Cardi B. for years and is now left with a $4.25 million debt to pay as a result of losing the defamation suit.
However, rumors about the Smith's sexualities have followed them for years with Jada coming under the microscope just last month. Responding to internet fodder that she herself may be gay, Jada explained in her book that while she used to frequent LGBTQIA+ establishments and admitted to having a "few sexual experiences with women" in her early Hollywood years—she loves men.
"The truth is that during those early years of exploration in Hollywood, I had a few sexual experiences with women, only to realize that when it comes to sex, I love men," she wrote. "Still, I cherish the beauty of women inside and out. And I have never stopped being infatuated and in awe of women of all ages, sizes and colors. My belief is—women are the most amazing creatures on the planet, and I hold reverence for women through my friendships."