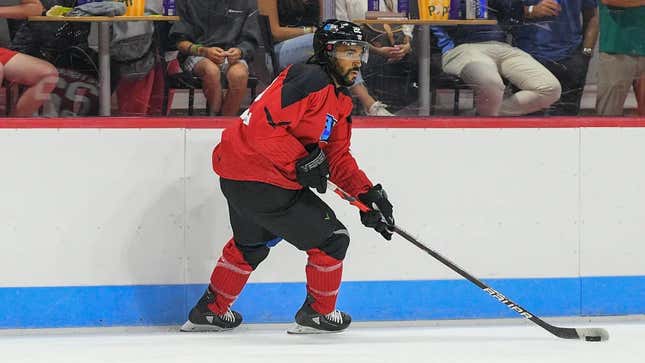 Officers in England have arrested a man Tuesday on suspicion of manslaughter in the death of American ice hockey player Adam Johnson.
Small Town Horror Story: The Wrongful Rape Conviction of Anthony Broadwater
Johnson's neck was fatally cut by a skate during a game last month. Authorities did not reveal the suspect's name or age.
Johnson, 29, was a player for the Nottingham Panthers against the Sheffield Steelers on Oct. 28 when a freak accident with Matt Petgrave, 31, led to a skate blade cutting Johnson's neck in the Elite Ice Hockey League game at Sheffield's Utilita Arena.
Detective Chief Superintendent Becs Horsfall said in a statement:
"We have been carrying out extensive inquiries to piece together the events which led to the loss of Adam in these unprecedented circumstances. We have been speaking to highly specialised experts in their field to assist in our inquiries and continue to work closely with the health and safety department at Sheffield City Council, which is supporting our ongoing investigation. Adam's death has sent shockwaves through many communities, from our local residents here in Sheffield to ice hockey fans across the world."
To prevent deaths in the future, coroner Tanyka Rawden has asked for compulsory use of neck guards in ice hockey. Elite League said that they will strongly encourage both players and officials to wear them.
The English Ice Hockey Association, which governs the sport below the Elite League, responded to Johnson's death by mandating all players in England to wear neck guards from the start of 2024.
Petgrave was subjected to a slew of racist hate online since the incident. So far, the suspect has been arrested but not charged. As this tragedy continues to unfold, the internet will continue to comment and provide their unwarranted opinions.
Hopefully, some sort of resolution will be reached soon.