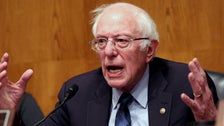 Sanders stepped in after things got heated between former MMA fighter Sen. Markwayne Mullin (R-Okla.) and Teamsters labor union leader Sean O'Brien during a meeting of the Health, Education, Labor and Pensions Committee, of which Sanders is the chair. Watch their exchange above.
"Well, it's pretty pathetic," he told Cooper. "I mean, we have a United States senator challenging, you know, a member of the panel who is the head of one of the larger unions in America, which has just negotiated a very good contract for their workers, the Teamsters."
Sanders lamented, "This is what goes on in a Senate hearing, and that's why the American people are getting sick and tired at what goes on here in Congress" when the country faces numerous other crises such as wealth inequality and climate change.
The former Democratic presidential candidate then accused the media of playing a role by focusing on controversial moments in hearings rather than the substance of what was being discussed.