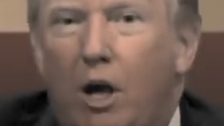 MSNBC's Joe Scarborough hailed the spot as "brilliant" because it simply used the former president's own words "to drive the message home."
Republican 2024 front-runner Trump's description of fallen soldiers as "suckers" and his criticism of the late Sen. John McCain (R-Ariz.) for being captured during the Vietnam War appear on screen as text in the video.
"If you don't respect our troops, you can't lead them," the ad says at the end.
The spot has garnered more than 24.5 million views on X, formerly Twitter.
And Scarborough's analysis of the 45-second clip on Monday's broadcast of "Morning Joe" has gained more than 1.2 million views on YouTube alone.
Trump never served in the military. He received five deferments to avoid the Vietnam draft and in 1998 told radio host Howard Stern that his own personal Vietnam was avoiding contracting STDs.