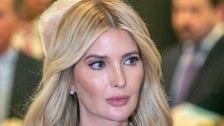 Grisham noted to MSNBC's Alex Witt how Ivanka Trump had "tried to get out of doing it many, many times stating that it was the middle of a school week and that was an undue hardship for her," an excuse that prompted widespread ridicule on social media.
During her testimony, the Trump scion said she didn't recall providing asset valuation information for financial statements which are the focus of New York Attorney General Letitia James' $250 million lawsuit against the former president and his company. James alleges they overinflated valuations of their assets to make deals. Ivanka Trump is not a defendant in the trial.
The former president's daughter on the stand "was poised, she answered things, you know, in the way that she does," said Grisham.
But Grisham said she didn't "buy that she doesn't recall things."
"Ivanka Trump is a very, very smart woman and has an amazing memory," Grisham claimed. "I used to actually always marvel about that when I worked with her."
"So the talking about not recalling kind of rang a little not true to me," Grisham added. "But her behavior was exactly the opposite of her father's and that is what I saw the entire time I was with them."