If you're a busy household and you want your coffee fast and hassle-free, a pod coffee maker is the way to go. Getting your caffeine fix is just a matter of inserting a capsule and pressing a button. And that's something anyone can deal with first thing in the morning.
If you're here to find out which capsule coffee maker is best, the right place to start may not be with the machine. Start with the capsules. The reason for that is that, once you buy, you're tied into the brand's capsules for the life of the machine. Very few pods are cross-compatible. And different brands have different types of pods and flavours of coffee.
For example, Tassimo's T Discs and Nescafe's Dolce Gusto capsule range includes milk capsules, so you can make lattes and cappuccinos directly from the machine. Nespresso Vertuo capsules are black coffee only, but they're not just espresso based: you can opt for a big mug of coffee.
And Lavazza A Modo Mio capsules not only make a very good espresso, but they're industrially compostable too, so you can chuck them out with your food waste, rather than gathering them up for recycling.
But there are big difference between machines as well. Some are completely automatic, some give you options for tailoring your coffee, some have inbuilt milk frothers, some are espresso only and a few have smart features as well.
For help choosing the brand of capsules that are right for you, have a look at our buying advice after the chart. Otherwise read on for our recommendations: we've reviewed some of the best machines on the market.
1. Nespresso Vertuo Next – Best machine for long black coffees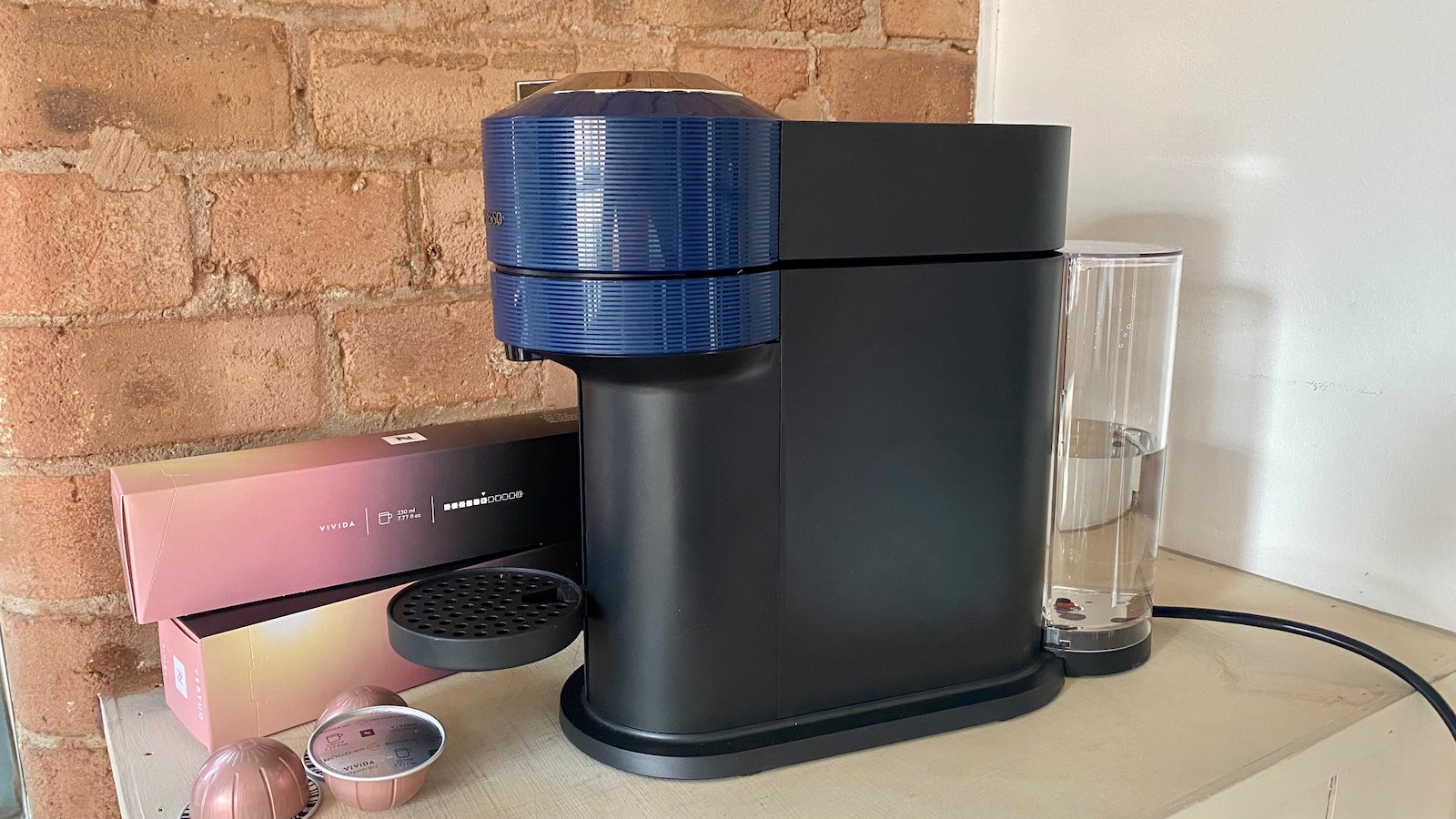 Pros
Enjoyable and easy to use machine
Wide variety of capsules, with long drink options
Cons
Very few options for tailoring your coffee
Black coffee only
Price When Reviewed:

From $169
This is a good looking machine that's a pleasure to use. Turn the chunky, chrome-effect lever and the capsule head springs up, catapulting the used pod back into the reservoir. It's a really enjoyable mechanism. There are plenty of colour options as well, across three different models with tiered price tags: the Vertuo Next, the Vertuo Next Premium and the Vertuo Next Deluxe.
The pluses and minuses of this machine really amount to the same thing: it is fully automatic. A barcode reader inside analyses the capsule and automatically pre-wets, infuses and dispenses the correct volume. You can stop the flow or add more water but there are generally no settings to fiddle with to tailor coffee, which will frustrate some. For others, the hassle-free, hands-off automation is exactly what they want.
It dispense coffee lengths from espresso to carafe, but it's all dependent on which pods you use.
The Vertuo Next has smart features as well but these are really focused on ordering and recycling capsules, rather than remote operation or adjusting settings, so they will be of more use to busy people who want to automate their deliveries, or get reminders when they're running low on capsules.
Read our full
Nespresso Vertuo Next review
2. Keurig K-Cafe Smart – Best milk frothing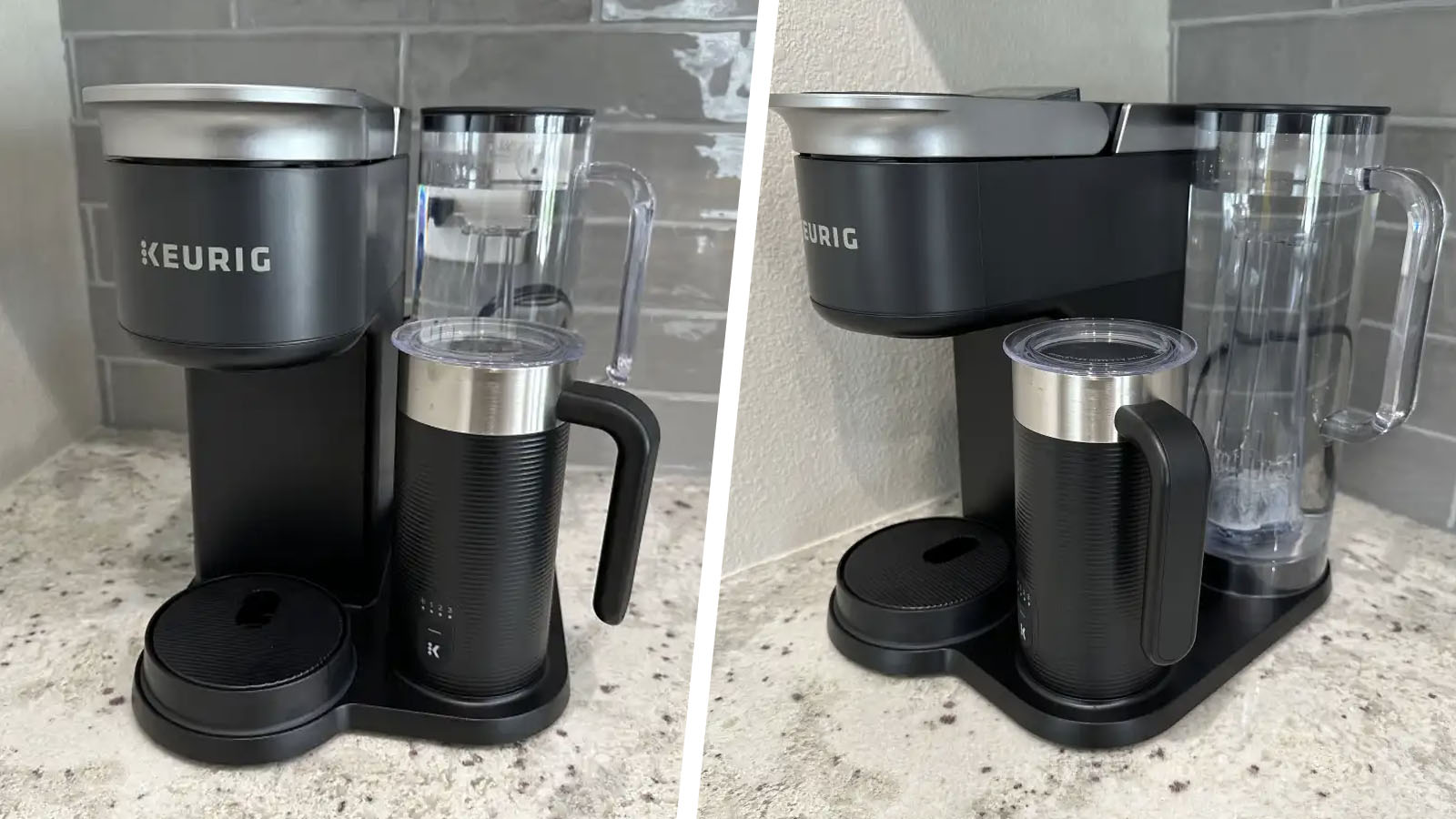 Pros
Smarter pod brewing with Brew ID
Improved pitcher-like water reservoir design
Excellent foam production
Range of coffees keeps getting better
Cons
Predictably poor espresso output
Disposable pods remain an environmental problem
Price When Reviewed:

$249.99
If you're in the US, this is one of our top recommendations. The K-Café Smart has a triple-tower profile, consisting of the pitcher-shaped water reservoir, the milk frothing jug, and the coffee brewer itself.
There are one-press settings for espresso and iced coffee and there are a selection of brew volumes: 6oz, 8oz, 10oz, and 12oz. You can also adjust the temperature and brew strength with dedicated buttons for each.
As the name suggests, it has smart features as well. You can save settings for custom brew strengths and temps to avoid having to set them manually each time but as the machine is so straightforward, you might not get as much use from these features as you imagine.
In terms of the coffees available, there's a great selection. We weren't wowed by the espresso but thanks to the excellent milk frothing, lattes and cappuccinos are a much better option.
Read our full
Keurig K-Cafe Smart review
3. Bosch Tassimo Finesse – Best value machine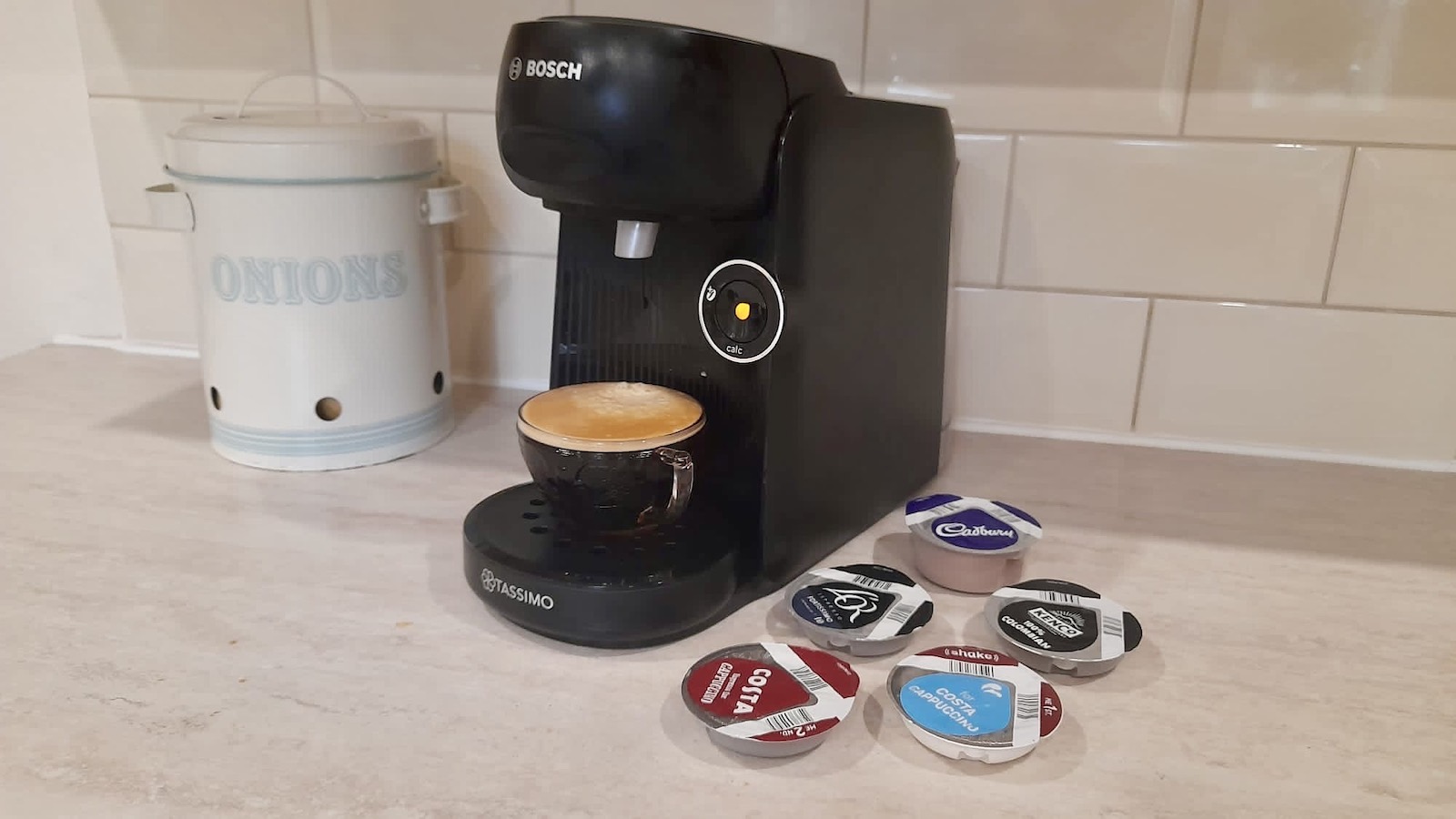 Pros
Short heating-up time
Small countertop footprint
No splashing
Cons
Manual loading and discard
Small 0.7l tank
Functional design
Price When Reviewed:

Not available in the US
This pod coffee machine is one of the most compact and easiest to use. Pop in a pod and it reads the barcode and dispenses the correct amount of water automatically. However, its flavour boost function means you can press a button and get a stronger, more intense drink. This gives it an edge over fully automated machines and makes a nice compromise between hands-off and customised coffee.
It has a 0.7 litre tank and a pretty functional design, but buy it in the cream or lupine blue colourway and it has a lot more personality.
Tassimo T-Discs are like Dolce Gusto capsules, in that you can make milky coffee drinks, hot chocolate, tea and specialist coffee drinks thanks to the two pod system (one for coffee, one for milk). This means you're not limited to black coffee, nor do you have to fuss around with milk frothing. There are coffees from L'Or, Kenco and Costa, and hot chocolate from Cadbury and Milka.
This is a handy little machine but don't buy it at full price: snap one up on sale.
Read our full
Bosch Tassimo Finesse review
4. Lavazza Deséa – Best all-rounder
Pros
Four coffee length options
Milk frothing and heating
Cons
Control panel more complicated than rival machines
Price When Reviewed:

Not available in the US
The Desea is an attractive, shiny machine with a large chrome lever you use to open the capsule container slot. It comes in three colour options: black, brown and cream. It's the most comprehensive pod espresso maker that Lavazza offers. You can select from espresso, long espresso, long coffee and free pour – but it also heats and froths milk with an inbuilt beater and milk wand.
This extra functionality means that it's a bit more complicated to get to grips with than most pod machines but on the other hand, you can make cappuccinos, lattes and more with it, which is unusual among pod machines. It's quiet in use as well.
It's not available in the US, but the closest equivalent is Lavazza's Classy Plus machine.
Read our full
Lavazza Deséa review
5. The Morning Coffee Machine – Best independent capsule machine
Pros
Cup detection
Can save personal settings
Pre-programmed recipes
App and manual control
Cons
Doesn't froth milk
Expensive
Price When Reviewed:

$371
If you want the ability to tailor your coffee but not the mess of an espresso machine, this could be for you. The Morning Machine is independently made and offers far more brewing options than rivals from the big brands. Rather than just the standard ristretto, espresso and lungo options, it has a flagship Bloom & Brew setting that pre-wets for a stronger cup, as well as higher temperatures, varying bar pressures (up to 20), and recipes that get the best out of capsules by reproducing drip and filter-style drinks.
It's a lovely machine as well: pared-back and almost severe in its minimalism, with a high quality build and matching features, including an OLED screen and a scale beneath the cup stand for weighing out coffee. It has smart features as well, with a focus on finessing the coffee output to your taste.
It's not flawless, however: navigating the menus can be less than intuitive and we found the automatic cup detection to be a bit spotty during testing. Since we tested it, the price has gone up steeply and although we liked it a lot, it's now harder to recommend.
Read our full
The Morning Coffee Machine review
6. Nescafe Dolce Gusto Genio S Plus – Best Dolce Gusto machine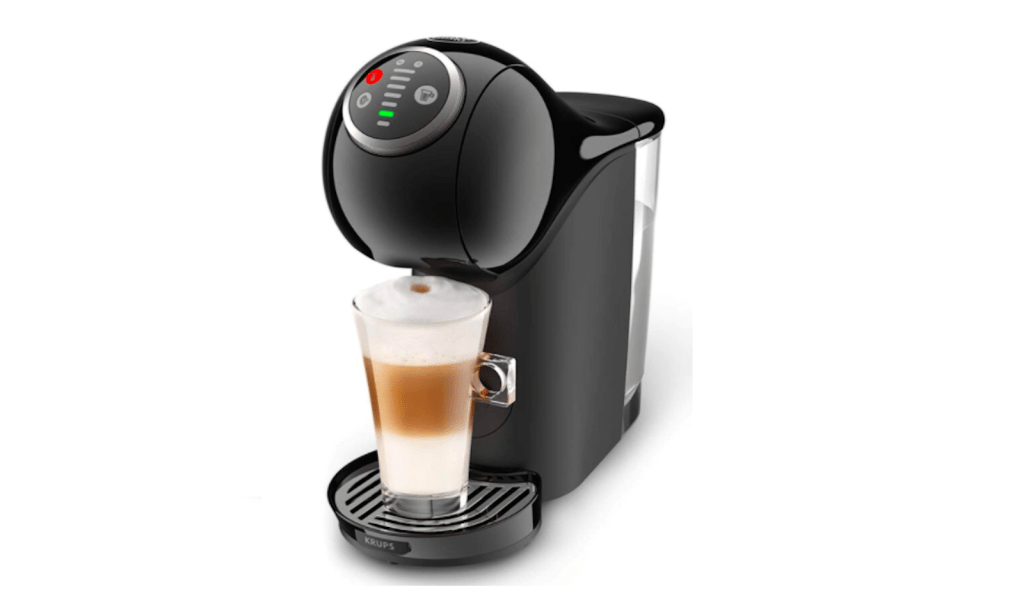 Pros
Temperature, volume and strength customisation
Easy-to-read display
Automatic dispensing setting
Cons
Water tank at the back isn't easy to reach
Dolce Gusto capsules aren't for everyone
Price When Reviewed:

Not available in the US
If you're a fan of sweet, milky or flavoured coffees and hot chocolate, the Dolce Gusto range is the quickest and easiest way to make them. Unusually, Dolce Gusto pods offer mixed drinks. If you buy a box of cappuccino capsules, for example, half of the pods will be milk and half coffee. This means that there's no need for a separate milk frother.
Of the Dolce Gusto coffee makers, the Genio S Plus is one of the best. It's compact (27.1 x 27.2 x 11cm), easy to use and best of all, it has more customisation options than any other machine in the range.
You can adjust the water temperature, add an espresso boost, and choose from seven volume options. But you can also opt for the automatic settings, in which case making coffee is as straightforward as can be.
It's not available in the US, but you can buy the Dolce Gusto Genio 2, which has a similar design and the same feature set.
Read our full
Nescafe Dolce Gusto Genio S Plus review
7. Lavazza A Modo Mio Voicy – Best smart features
Pros
Built-in Amazon Alexa speaker
Industrially compostable coffee capsules
Impressive espresso
Cons
No milk tank or frother
Expensive at full price
Smart coffee options still limited
Price When Reviewed:

Not available in the US
The Lavazza A Modo Mio Voicy is a two-in-one device. Not only is it a pod espresso machine but it also contains an Amazon Alexa smart speaker.
On the coffee-making side of things, you insert a pod and then choose an espresso or a long drink (and there are two cup tray positions to match). There is no milk frothing option and A Modo Mio capsules are coffee-only. Simple.
The smart features don't complicate matters either. You can ask Alexa to make you a coffee (once you've added a pod and water IRL, so it doesn't really save you much time or effort) or jump on the app to track your coffee consumption, check your stock of capsules or order more.
But the real benefit of this hybrid appliance is that it's a space-saving way to bring a smart speaker into your kitchen, without having to find a dedicated spot for it. This means you can play music, check the weather, set timers and more – all while drinking a very nice espresso.
Read our full
Lavazza A Modo Mio Voicy review
8. Lavazza A Modo Mio Jolie – Best small capsule coffee maker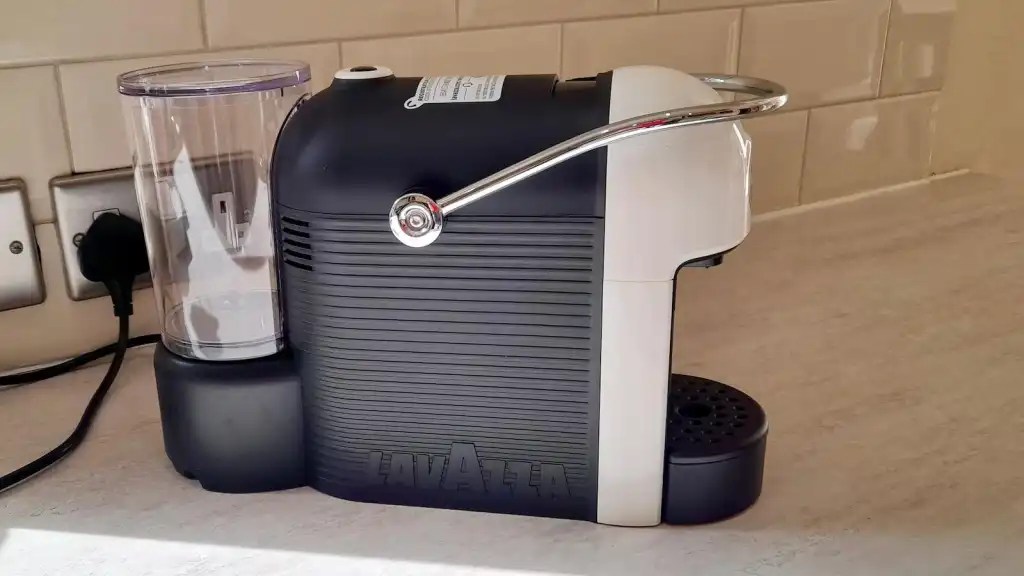 Pros
Compact
Stylish
Industrially compostable capsules
Cons
600ml tank limit
Small disposal drawer
No pre-set dispensing volume
Price When Reviewed:

Not currently available in the US
This machine is one of Lavazza's smallest (33cm x 13cm wide x 21cm), so it's a good option if you have limited space. But it's also one of the most stylish, with a chrome lever to operate it and three colour options for the front plate: black, white and red – if you'd like a splash of colour in your kitchen. There are two drip tray heights: espresso and cup.
The space saving does come at a cost: its water tank is only 600ml and there are no pre-sets for dispensing volume, so you need to be on hand to stop the flow when you judge it's enough. But if you're an espresso drinker, you could easily find a spot for this handy little machine on a desk or bedside table and it'll amply repay you with its easy, fuss-free operation.
The Jolie is not available in the US, but a similar model is the Lavazza Classy Mini.
Read our full
Lavazza A Modo Mio Jolie review
9. Nespresso Vertuo Plus – Easiest capsule machine to use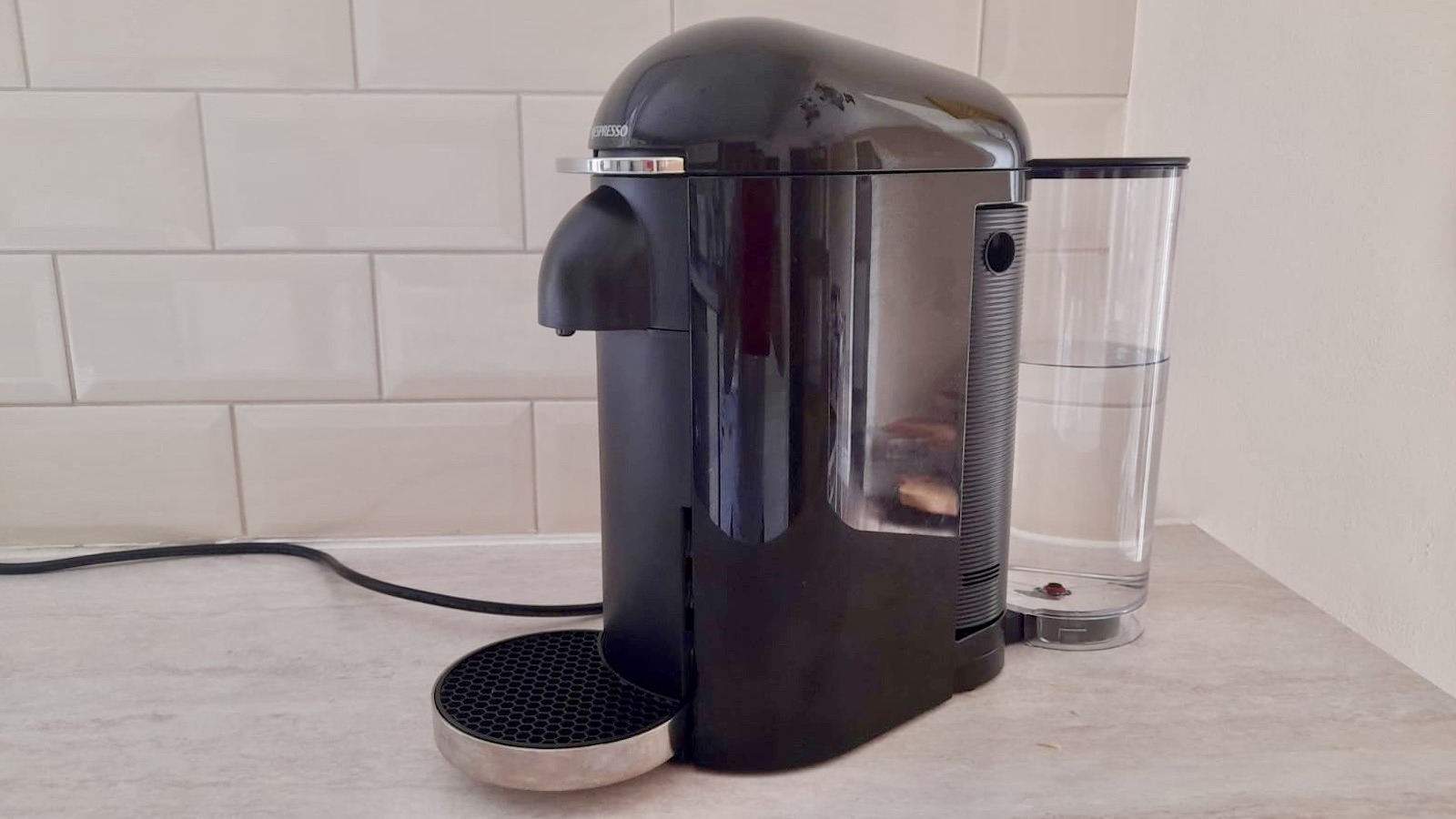 Pros
Auto dispense
Auto open and close
Auto capsule ejection
Cons
No carafe option
Not easy to move
No milk tank
Price When Reviewed:

$189
If you're a Nespresso lover, the Vertuo Plus provides a compact, easy way to get your fix. It's a slim machine (14 x 32 x 43cm), with a 1.8 litre water tank that pivots out from the back so you can refill it easily. It also means you won't need as deep a countertop spot for it.
Unlike classic Nespresso capsules, Vertuo pods aren't just espresso-based. You can opt for a big mug of coffee, although you can't fill a carafe as you can with the Vertuo Next. But it's all done automatically, with the machine reading a barcode on the pod and pre-wetting, infusing and dispensing the correct amount of water automatically. This means that customisation is limited.
The machine opens and closes automatically as well, in response to a touch to the chrome lever, which is pleasing to use.
Bear in mind that it doesn't include a milk frother, although you can buy the pint-sized Aeroccino separately.
Read our full
Nespresso Vertuo Plus review
10. Nescafe Dolce Gusto Piccolo XS – Best budget Dolce Gusto machine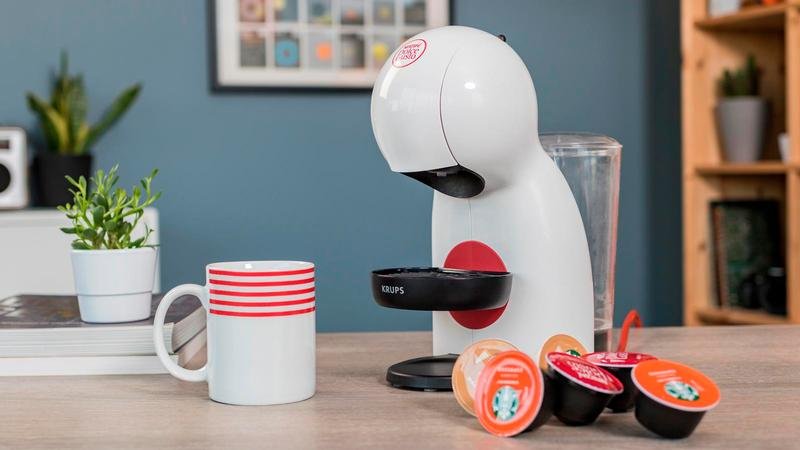 Pros
Tiny footprint
Budget-friendly
Cons
No automatic volume dispensing, so you have to guesstimate volumes
Quite noisy
Price When Reviewed:

Not currently available in the US
The Piccolo XS is the smallest, simplest and most budget-friendly Dolce Gusto machine. The price has dropped even further since we reviewed it, making this a good option for students or anyone for whom space and cash is an issue.
The only drawback with the Piccolo XS is that it is so simple that it doesn't even feature automatic volume dispensing. That means you have to control the volume of water using a lever and can't wander off while your coffee is brewing.
The nature of the Dolce Gusto system also means that making a cappuccino or latte involves going through the process twice: once with a coffee capsule and once with a milk capsule. But it's still faster than frothing milk separately.
The Piccolo XS can be used to make both hot and cold drinks. It's not available in the US, but the Piccolo is.
Read our full
Nescafe Dolce Gusto Piccolo XS review
Which coffee pods are right for me?
Once you buy a pod coffee machine, you're tied to that brand of pods for as long as you own the machine. As capsules from different brands can vary hugely, it's a good idea to start off by finding the kind of coffee you prefer. Here are some pluses and minuses for each brand.
Lavazza A Modo Mio
Pros:
High quality espressos
Industrially compostable pods you can dispose of in food waste or return
36 varieties
Cons:
Fewer options than Nescafe/ Nespresso
Espresso-based drinks only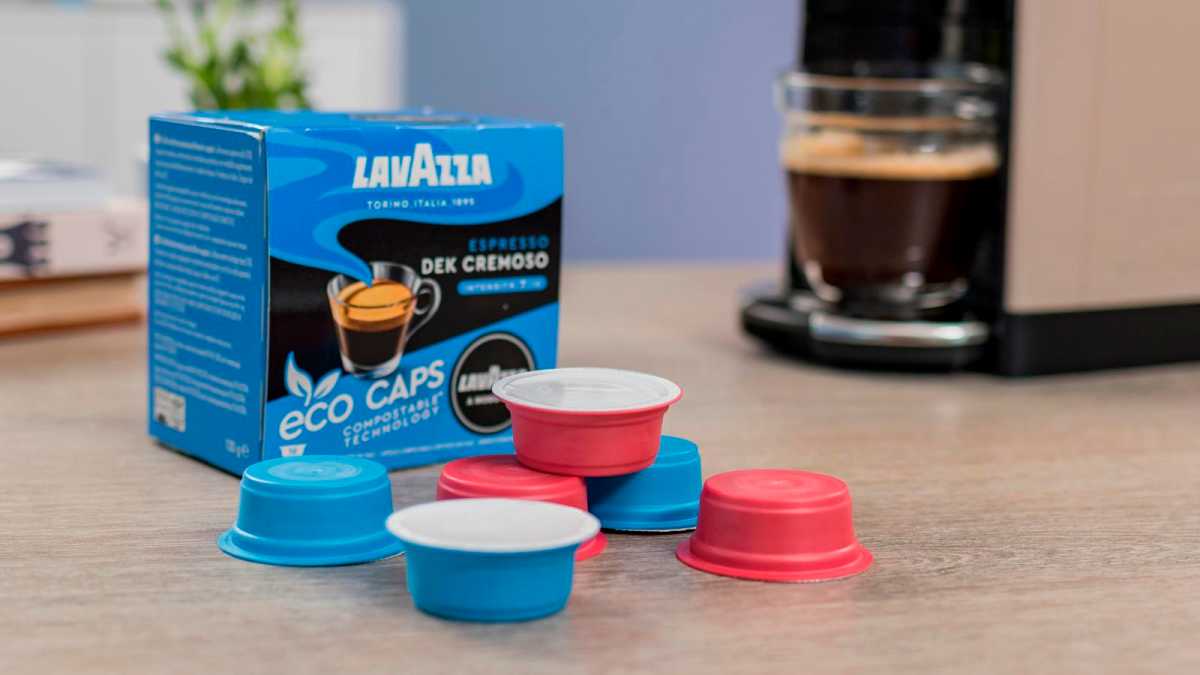 Dominik Tomaszewski / Foundry
Nespresso Vertuo
Pros:
Espressos and long drinks
Over 40 varieties
Cons:
Black coffee only
You have to return the capsules to recycle them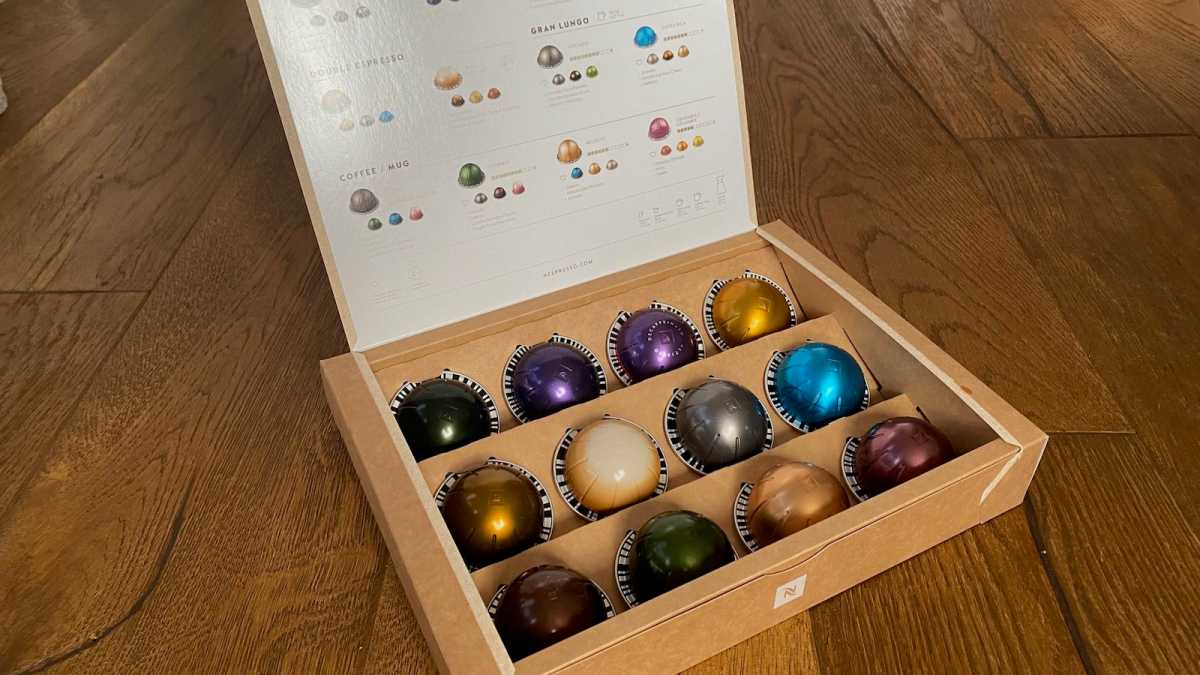 Emma Rowley / Foundry
Nescafe Dolce Gusto
Pros:
Milk capsules for mixed drinks
Cheaper, compatible capsules widely available
45 official varieties
Hot chocolate, tea and Starbucks coffee also available
Cons:
Very sugary
You have to return the capsules to recycle them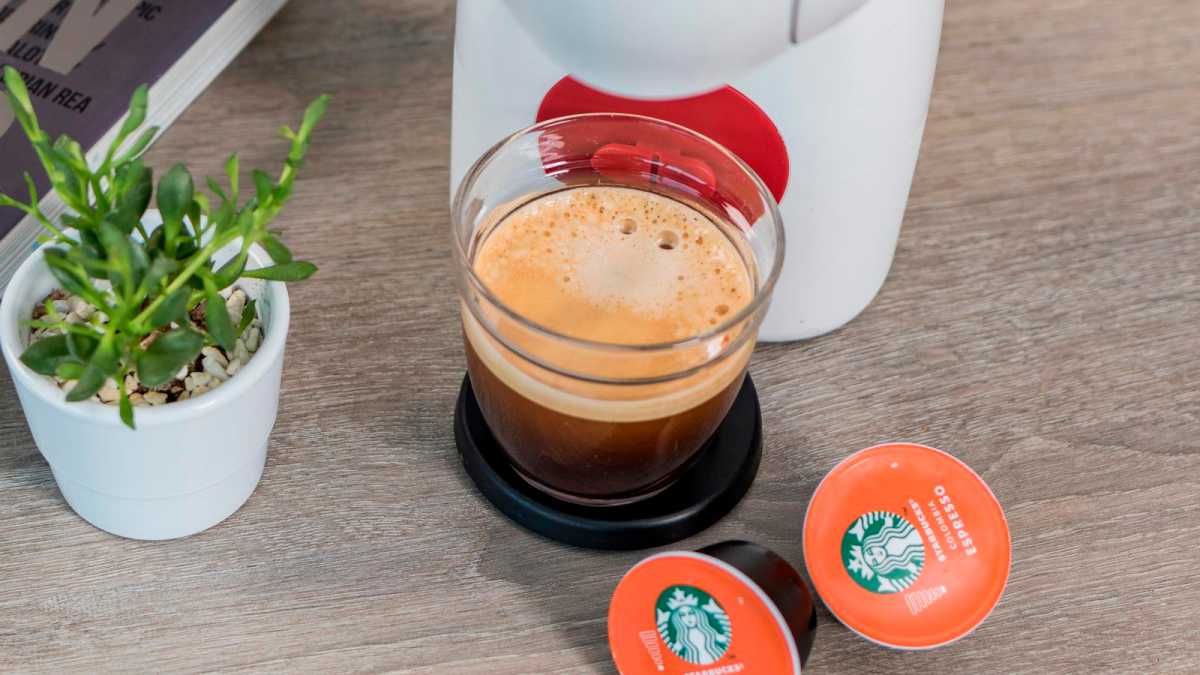 Dominik Tomaszewski / Foundry
Tassimo T Discs
Pros:
Over 50 options, including coffee from Jacobs, Costa, L'Or, and Kenco
Milk-based drinks available
Hot chocolate options from Cadbury and Milka
Tassimo tea range and decaffeinated coffee options
Frequent offers on pods
Cons:
You need to return them to recycle them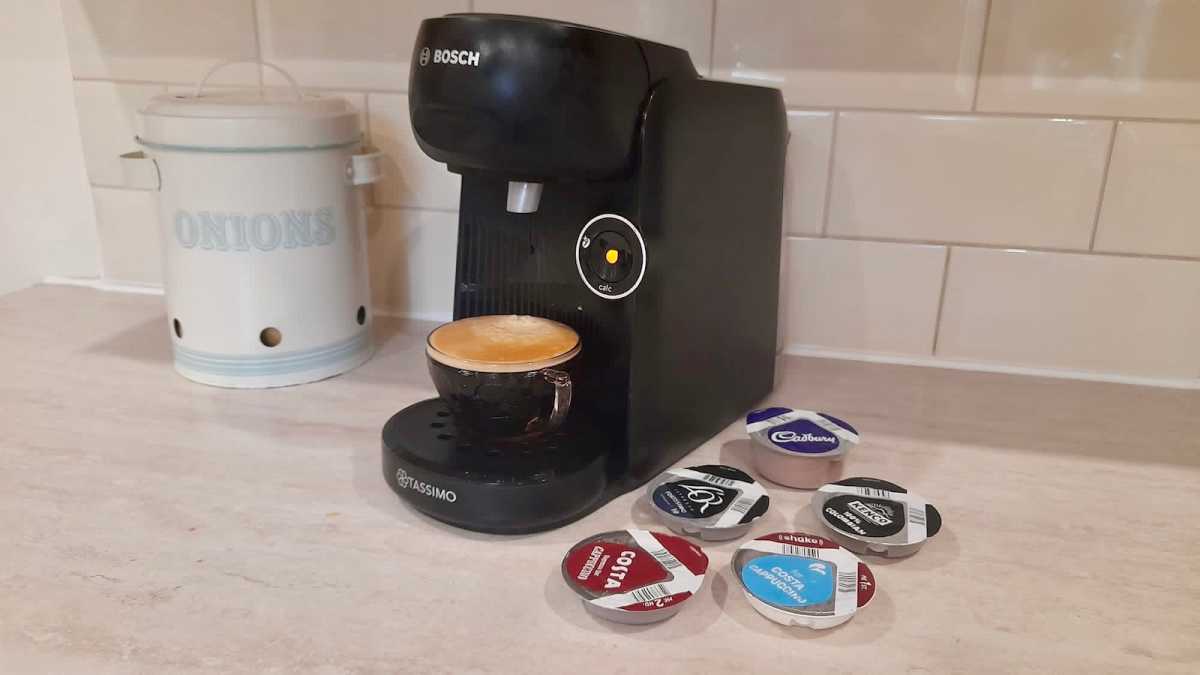 Alex Greenwood / Foundry
Keurig
Pros:
Wide variety of coffee blends and brands, including big names like Starbucks and Dunkin'
Other drinks, including teas and ciders available
Cons:
Espresso is not its strong suit
Independent brands
Independent brands can give you high-quality, fresh options but they can be pricier and less widely available than capsules from big brands.
For recommendations across all types of coffee machines, from espresso makers to bean-to-cup machines, have a look at our round-up of the best coffee machines we've tested.