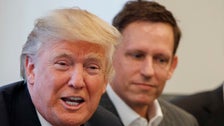 Tech billionaire Peter Thiel, who was a major donor to Donald Trump in 2016 and played a role on Trump's transition team, said he's not giving money to the former president or anyone else this time around.
But he says things didn't turn out the way he hoped.
"There are a lot of things I got wrong," he admitted to the magazine. "It was crazier than I thought. It was more dangerous than I thought. They couldn't get the most basic pieces of the government to work. So that was — I think that part was maybe worse than even my low expectations."
He told the magazine he had no regrets, but said he didn't contribute to Trump in 2020 and wasn't donating to him or any other candidate in 2024.
He said Trump called him earlier this year looking for $10 million, the same amount Thiel had given to Blake Masters and J. D. Vance for their Senate races.
Thiel turned him down, and told the Atlantic he heard later on that Trump had called him a "fucking scumbag."