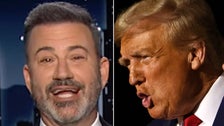 "It's a who's who of who has no chance to beat Donald Trump," Kimmel declared, referring to the five as "dopefuls" instead of hopefuls.
"But it is ridiculous to have these debates without the frontrunner," he noted. "You know things have gone sideways when you're watching something and you think, 'God, I wish Donald Trump was there.'"
So Kimmel gave Trump his own debate ― one where he's battling himself:
"That's like Melania's worst nightmare come true," Kimmel said.
See more of Kimmel's take on Trump ― including the former president's latest legal developments in New York ― in his Wednesday night monologue: