At a glance
Expert's Rating
Pros
Very lightweight & compact
Detection features a genuine plus
Headlights
Easy to empty bin
Cons
Runtime far less than 60 minutes if you use detection features
No HEPA filter
Combi tool ineffective
Small bin
Our Verdict
At its sale price, the Detect Pro is very good value. The detection features mean that everything is automated – you only need to roll the vacuum around and it'll make all the decisions. But using them does mean battery life is much shorter than advertised. We're also dubious about the longevity of the dustbin seal and wouldn't recommend this vacuum as an alternative to one with whole machine HEPA filtration.
Price When Reviewed
$299
Best Prices Today: Shark Detect Pro
$299.99
The Shark Detect Pro is Shark's answer to Dyson's dust detecting technology. As you vacuum, it'll respond to the conditions around your home – how much dust and dirt it finds, whether it's on carpet or hard flooring, if it's vacuuming along a wall, how bright or dim the room is – and switch its power up or down accordingly, or turn on its headlights.
The idea is that it saves you from messing around with settings as you vacuum, cleans as efficiently as possible and preserves battery life. But how well do these features work – and are they enough of a reason to buy? We've got the answers in our full review.
There are two buying options for the Detect Pro: you can get the vacuum alone (£279.99/ $299.99 on sale at the time of writing) or with the Shark Detect Pro Auto-Empty Station (£329.99/ $379.99). We haven't had the opportunity to test the station, so this review will be focusing on the vacuum itself.
Design & Build
0.4 litre bin
Compact storage mode
Swappable battery
The Detect Pro is boxed in all-recyclable cardboard packaging, with the individual vacuum cleaner parts wrapped in paper – this commitment to minimising plastic waste is something we always like to see.
The vacuum itself has a white plastic body with black trim and a matt gunmetal wand. The overall design is a bit retro-futuristic in a way that could be divisive. How you respond to the Buck Rogers aesthetic could determine how you feel about the Detect Pro.
It has a clear bin that's small at 0.4 litres. This won't be as much of a problem if you buy the self-emptying station but if not, prepare to make regular trips to the kitchen to empty it.
But the bin's design is clever. It opens lengthways like a crocodile's jaw, so it's easy to empty without having to dig around inside to free bits of fluff.
Top tip: make sure you figure out where it opens before you try to empty it the first time. I'm speaking from hard-won experience.
Emma Rowley / Foundry
However, the bin's design means that there's a long join sealed with a simple rubber lip. Although the vacuum is advertised as having an "anti-allergen complete seal" that will trap "99.9% of dust, allergens and irritants", it won't be as efficient as whole machine HEPA filtration – and if any part of the seal is damaged or starts to wear, it will start leaking dust. We wouldn't recommend it for asthmatics or people with hay fever or a sensitivity to dust.  
In the box, you'll get the vacuum cleaner body, wand, main motorised cleaning head, combi cleaning tool and plug. As the battery is removable, you can opt to pop it out and charge it separately, which means you don't need to store the vacuum by a plug point.
This also gives you the option of buying a spare battery so you can keep one charged and ready. It's difficult to find spare batteries for the Detect Pro at this stage, but Shark typically charges around £80/ $80 for them.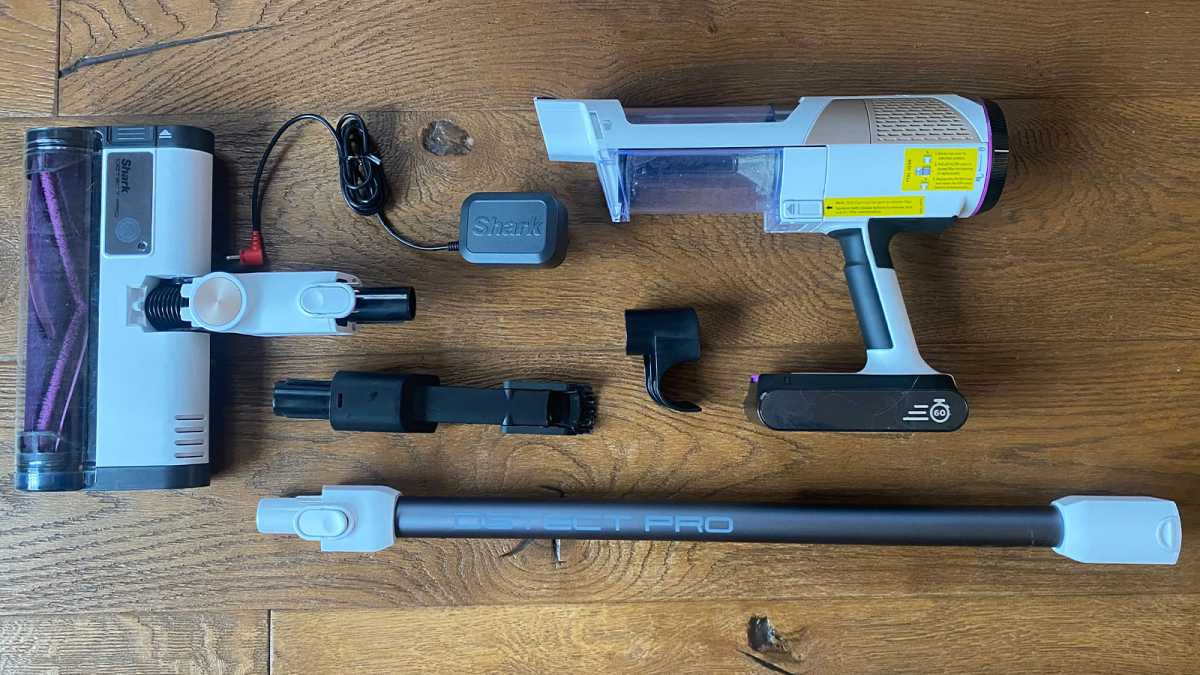 Emma Rowley / Foundry
You can also remove the vacuum cleaner body and sit it on a cradle attached to the wand for more compact storage.
Emma Rowley / Foundry
I wasn't wowed when I first unboxed the Detect Pro but I liked it more as I used it. All the components click into place satisfyingly and it feels like a typically robust Shark build.
Performance & Features
Detection features work well
Battery life display is basic
The Detect Pro's controls are simple. Above the grip, there's an On/Off button, and a mode button, which you use to cycle through cleaning modes.
You can see the mode on the LED display above. There's also a battery indicator but it's very basic – just showing how many quadrants of the battery life you have left.
The focus of the display is on dirt detection, with a crescent indicator that's either red, orange or blue in response to the level of dust and dirt around. In this, Shark is following Dyson's lead: the V15 Detect and Gen5detect display the size and volume of dust and dirt particles that are picked up.
In my opinion, these features are nice to have, at best, rather than essential and I'd prefer it if the Detect Pro had a clearer battery life timer, preferably displaying in minutes.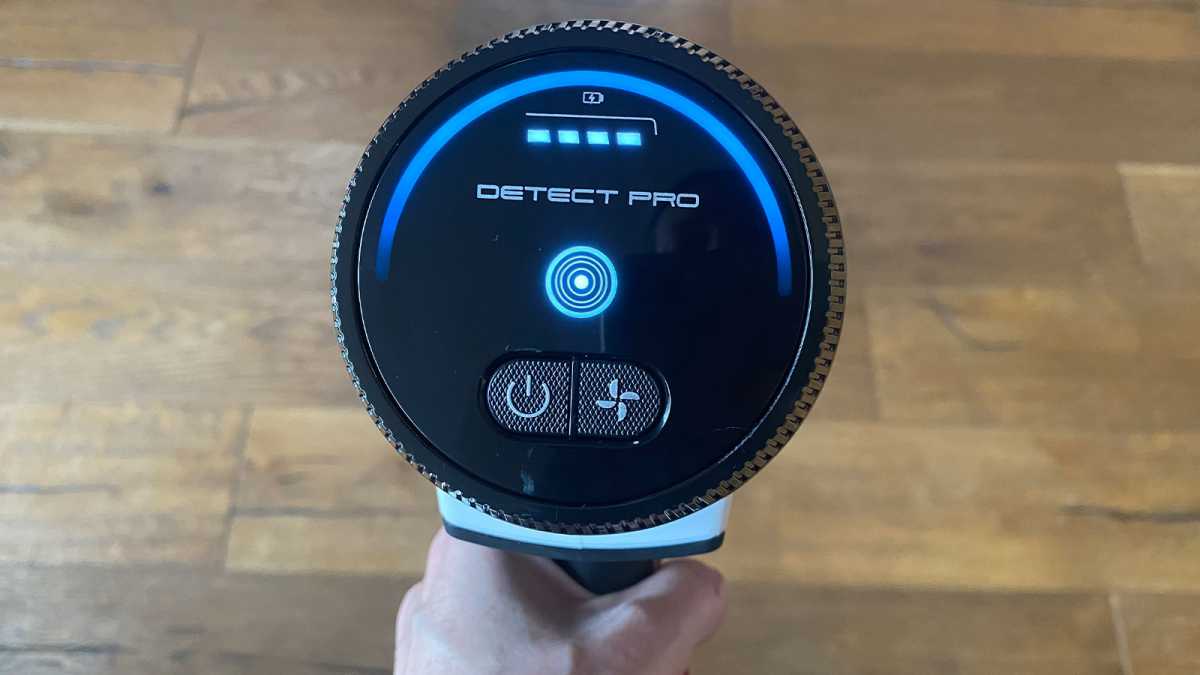 Emma Rowley / Foundry
The Detect Pro is extremely light at just 2.76kg and it's easy to manoeuvre. But it doesn't lie flat thanks to the shape of its grip, and its wand doesn't twist, so it may not get all the way under your bed or sofa.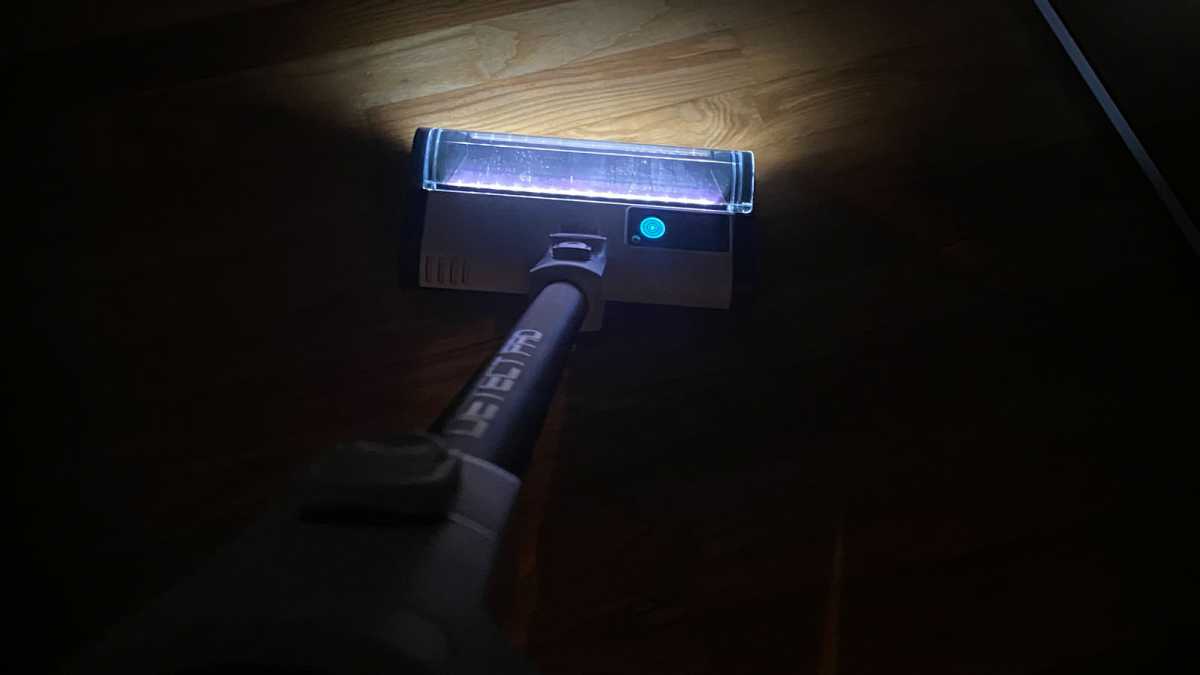 Emma Rowley / Foundry
Shark is advertising this vacuum as having "four deep-cleaning technologies" which respond to their surroundings. To some extent, this is just marketing hype: one of the four technologies is the strip of LEDs on the main head, which switch on automatically in dimmer rooms or along one side when edge cleaning.
It's a handy feature but not exactly a deep-cleaning technology. Plus, if all the LEDs are on before it goes into edge mode, it responds by switching off the lights furthest from the wall, which is not necessarily useful.
The other "deep-cleaning technologies" have more to do with the actual cleaning side of things. The Detect Pro will ramp up its power when it finds more dust and dirt, or when vacuuming along a wall, to improve pickup right to the edge. It'll also automatically increase the brush roll speed when it hits a carpeted surface. The power decreases again when it's not needed, saving battery life and you the hassle of needing to switch up a gear.
The detection features work as promised and do, without a doubt, make vacuuming less of a chore. You can pretty much just pootle around and let the vac make the decisions for you.
The battery life is given as up to 60 minutes but that's a little misleading. Like most vacuums, that's only the case if you use it in Eco mode, which means forgoing any of the detection features. Eco mode is unlikely to be strong enough to properly clean a carpet, either.
Realistically, for most forms of cleaning, you'll want to use the Detect mode, which will only give you around 20 minutes of battery life. It's hard to give an exact time, as the display doesn't show minutes. There's also a Boost mode, which will only last a few minutes, but this doesn't matter as much – you'll only need Boost for spills.
You can remove the wand and use the main cleaning head on the body of the vacuum to clean stairs. For other cleaning jobs, like upholstery, shelves and blinds, there's the combi brush and nozzle tool. It's not brilliantly designed and if you use the brush setting, it's hard to get decent suction.
Like many Shark vacuums, the Detect Pro has an anti-hair wrap fin on its roller. I found it to be very effective, even on long hair. However, the tiny wheels Shark typically uses at the front will clog up quickly with hair if you have a pet. Removing it is a fiddly job but you'll need to do it to keep the wheels turning.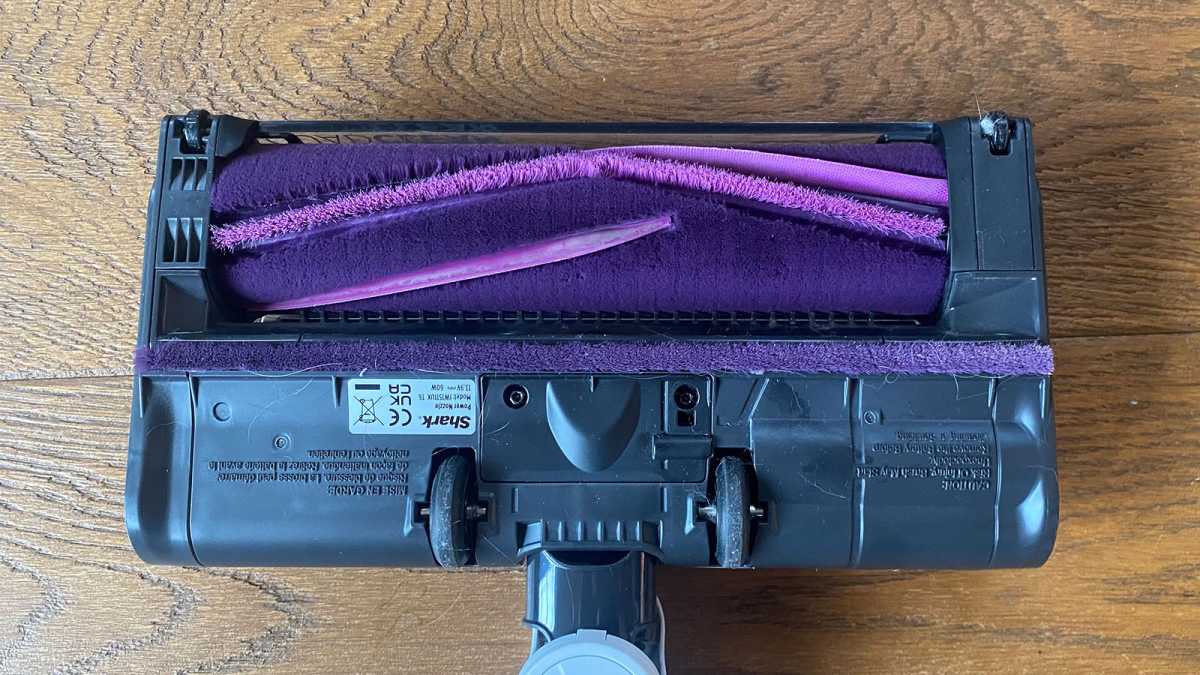 Emma Rowley / Foundry
Shark is pretty cagey about the Detect Pro's suction power, instead making some comparisons between this and another Shark model. In our tests it performed well across both hard flooring and carpet, but only in Detect mode – we didn't find Eco powerful enough for carpet. On hard flooring (again in Detect mode), it didn't scatter debris and had good pickup close to walls.
Price & Availability
This is a good time to buy the Shark Detect Pro. Although it was only recently launched, Black Friday promotions mean that it's dropped from an RRP of £349.99 to a widely available price of £279.99 in the UK. That's without the Auto-Empty station.
You can buy it at this price from Shark, Argos and Amazon, among other retailers.
If you want the Auto-Empty Station as well, the set has an RRP of £399.99 but is currently available for £329.99 from Shark, John Lewis and Amazon.
In the US, it's priced at $379.99 and that's what you'll pay if you go direct to Shark, but you can buy it on sale from Amazon for $299.99. It's $449.99 with the base, but you can get it for $379.99 from Amazon at the time of writing.
We think this is pretty good value for its feature set. We'd only caution that it's not ideal as a heavy-duty vacuum cleaner, or the sole vacuum cleaner in a large home.
Should you buy the Shark Detect Pro?
All in all, the Detect Pro is good value for its sale price point, so make sure you buy at the right time. It's light and pleasant to use and its detection features mean you don't need to change settings as you go. However, we don't think it's flawlessly designed.
We'd like to see better battery life information and a more effective combi tool for other cleaning jobs around the home, for starters.
If tis isn't the right vacuum for you, have a look at our round-up of the best vacuum cleaners we've tested.
Specs
Weight: 2.76kg
Dimensions: W: 26.4 D: 35.3 H: 109.2cm
Dustin capacity: 0.4L
HEPA filter: No
Max runtime: 60 mins
Power settings: 3
Wattage: 240W