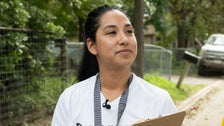 Kimberly Mata-Rubio, whose 10-year-old daughter, Lexi, was killed in the May 2022 mass shooting at Robb Elementary School in Uvalde, Texas, has lost the special election for mayor of the city.
Mata-Rubio ran against Cody Smith, a former mayor, and Veronica Martinez, an art teacher, in a battle over the city government's transparency and response to the horrific attack. Don McLaughlin, Uvalde's mayor since 2014, announced earlier this year that he was pursuing a seat in the Texas House of Representatives. Smith won the election for mayor Tuesday night.
"I'll never stop fighting for you, Lexi," Mata-Rubio wrote on X, formerly Twitter, on Tuesday night, shortly after the election was called. "I meant it when I said this was only the beginning. After all, I'm not a regular mom. I'm Lexi's mom."
Uvalde has been divided since the mass shooting that killed 19 children and two adults. Mata-Rubio and other parents of victims have been advocating for transparency from the city and from law enforcement agencies, which remain under criminal investigation after the botched response to the May 24, 2022, attack by a lone gunman.
In the 2022 election for Texas governor, more than 60% of Uvalde residents voted for Republican Greg Abbott. However, families of the victims were critical of Abbott after his response to the shooting, including his remark that it "could have been worse."
Mata-Rubio was among Abbott's most vocal critics during the 2022 gubernatorial election and posted on social media that the state of Texas had sent her a clear message.
"My daughter's murder wasn't enough," she posted on Twitter at the time. "Just know, you fucked with the wrong mom. It doesn't end tonight. I'll fight until I have nothing left to give. Lexi's legacy will be change."
Since the shooting, tensions have repeatedly flared between Uvalde community members and local government. During a school board meeting in October 2022, Uvalde residents criticized Uvalde Consolidated School District Superintendent Hal Harrell for hiring a school district officer who was under investigation at the time for her role in the lackadaisical police response to the attack. The officer, Crimson Elizondo, was caught on body camera footage the day of the shooting saying, "If my son had been in there, I would not have been outside. I promise you that."
Mata-Rubio spoke out at the meeting, saying she was "disgusted" by Uvalde residents who supported Harrell.
"How dare you decide now when a job is at stake to come together, but you stay home as we, the families, have been demanding transparency and accountability," she said through tears. "How dare you attack those of us who lost our children in the worst way possible."
Mata-Rubio cited her frustration with local leadership as one of the reasons she decided to run for mayor.
"A stagnant leadership led to the events that unfolded on May 24, 2022," Mata-Rubio told ANH in July when she announced her run for mayor. "The aftermath has fractured our community. I hope to bridge the gap and move our community in a positive direction, bringing the 19 children and two teachers with me every step of the way."
In a video on her campaign website, Mata-Rubio said she wanted to boost Uvalde's economy, protect its history and culture, and improve city services.
"The tragedy at Robb Elementary will always be part of our story, but we can choose how history remembers Uvalde — as a small town that banded together, overcame and grew to new heights," she said.