Not long ago, Samsung revealed its flagship Exynos 2400 chipset. Soon after, Qualcomm showcased the Snapdragon 8 Gen 3.
But the roster of flagship chips for Android smartphones in the upcoming year would be incomplete without a contribution from MediaTek. With the Dimensity 9300 now official, here's everything you need to know about the new SoC, plus how it compares to those rivals.
The first smartphones equipped with MediaTek's Dimensity 9300 chipset are expected to make their debut on the market in late 2023.
The best bet is to look back at the Dimensity 9200, which featured in phones including the Vivo X90 Pro and Oppo Find X6, though struggled to break through Qualcomm's market dominance at the flagship level.
Expect Vivo and Oppo to feature the chip again somewhere, and Xiaomi is also likely to adopt it in at least one phone – but beyond that, it might not get much love.
CPU
The Dimensity 9300 is manufactured using the same TSMC 4 nm process as the Snapdragon 8 Gen 3, although the arrangement of components on the platform differs. On the 8 Gen 3, there's a single primary core configuration supported by five slightly less powerful performance cores and two smaller cores.
In contrast, MediaTek has chosen to employ four high-performance Arm Cortex-X4 cores, which can reach speeds of up to 3.25 GHz, alongside four Cortex-A720 cores, capable of running at up to 2 GHz. This configuration results in a noteworthy 40% increase in multi-core performance compared to last year's Dimensity 9200.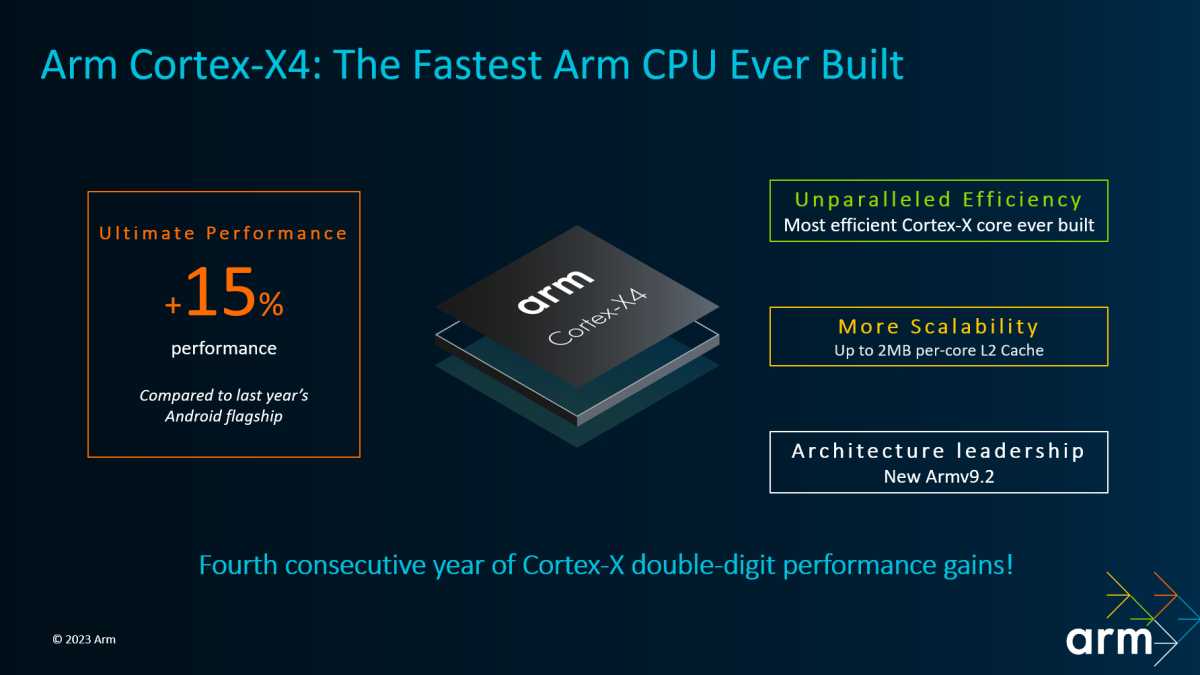 Arm
Consequently, the chipset could offer better performance than Qualcomm's. But this is purely theoretical, as only actual tests will reveal whether MediaTek's advantage is genuine.
Crucial factors such as maintaining optimal temperatures and energy efficiency still play a significant role.
Arm states that the Cortex-X4 is 15% faster than the previous generation, so we can see why it'd make sense to have more of them. It should also be noted that Arm claims the X4 has 40% better power efficiency than the previous generation, so maybe some of the thermal control will be handled by those improvements. 
While the X4 is expected to deal with the single-thread processes, the A720 will most likely handle the bulk of the multi-thread ones, with the A520 there for background and low-intensity tasks. Arm says that the A720 is 20% more efficient than the A715 that preceded it, with the A520 doing even better at 22% more efficiency.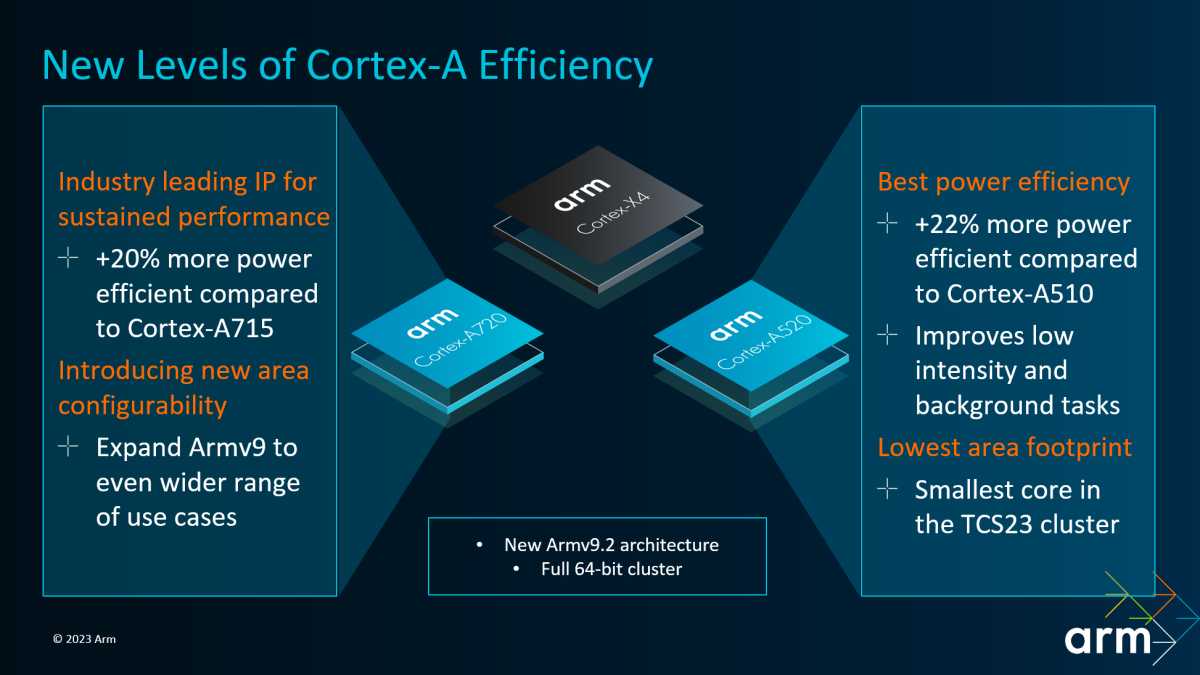 Arm
GPU
MediaTek clearly has high hopes for the Dimensity 9300's of Arm Immortalis-G720 graphics chip. It has a total of 12 cores, and supposedly delivers a 46% improvement in ray tracing and peak performance compared to the Dimensity 9200.
Similarly, the Dimensity 9300 is celebrated as the world's first processor to support LPDDR5T memory running at 9600 Mbps. Whether you'll actually notice this remains to be seen.
MediaTek's new SoC also supports up to WQHD displays with a refresh rate of 180 Hz or 4K at up to 120 Hz, as well as two active displays on foldables. Additionally, the APU 790 chip, responsible for artificial intelligence tasks, is expected to process AI data up to eight times faster than its predecessor.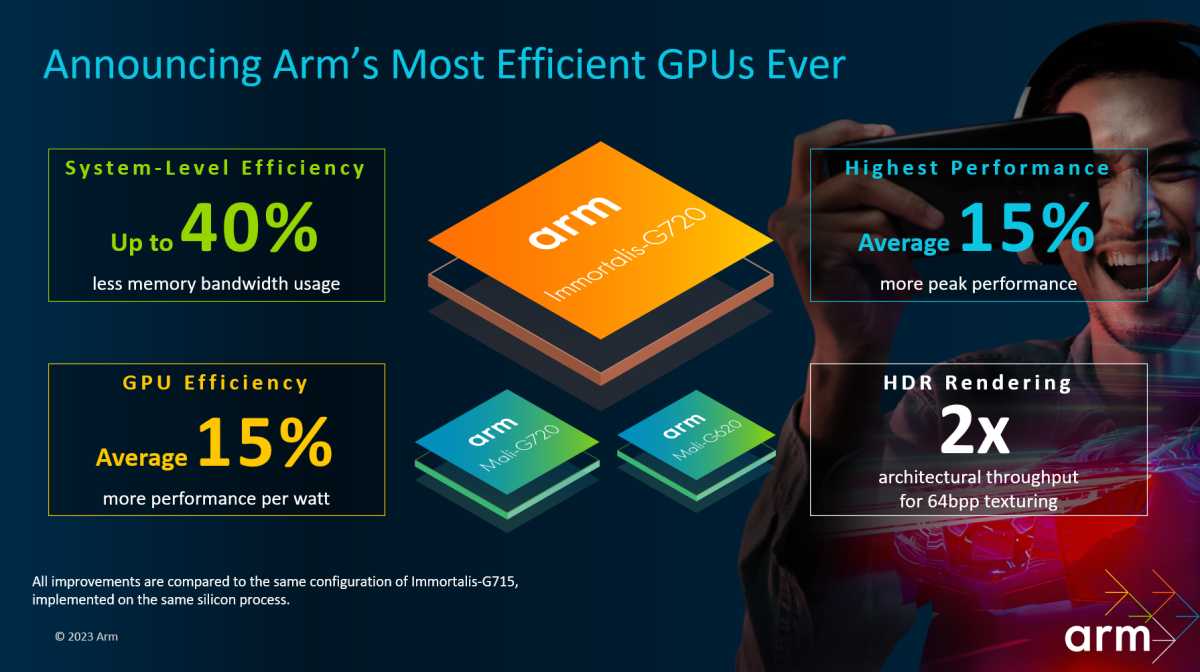 Arm
MediaTek says that the new architecture targets three key processing trends – scene complexity, better graphics, and memory system power. The first is handled by the introduction of the new deferred vertex shading (DVS) pipeline. It's all a bit technical, but the upshot of the innovation is improved FPS, with Arm reporting that early tests show 33% less bandwidth used on Genshin Impact and 26% on Fortnite. 
DVS is also being used to aid HDR in gaming, with more improvements in performance already reported by Arm – hence the better graphics. Finally, the memory system power aim is intended to make better use of system resources to not only improve performance but also help with efficiency and energy use.
Networking
Connectivity is an essential aspect of the user experience, and the Dimensity 9300 shines here as well.
It supports Wi-Fi 7 speeds of up to 6.5 Gbps and integrates MediaTek Xtra RangeTM Technology for improved long-range connectivity. Multi-Link Hotspot technology further enhances smartphone tethering speeds, making it supposedly up to three times faster than some other solutions.
While we wait for the first Dimensity 9300 devices to arrive, see our guide to the best smartphones available right now.