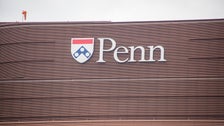 Several staff members at the University of Pennsylvania received "vile" antisemitic emails that threatened violence against the campus' Jewish community, the university said in an email to students Monday.
Liz Magill, the president of Penn, said the university had notified the FBI and local police, who launched a joint investigation after several staff members were targeted with "hateful language." Officials conducted safety sweeps of an on-campus Jewish group and dorm, but no credible threats were found at the time.
"Today, I learned that a small number of Penn staff members received vile, disturbing antisemitic emails threatening violence against members of our Jewish community," Magill wrote in an email to students and staffers. "The perniciousness of antisemitic acts on our campus is causing deep hurt and fear for our Jewish students, faculty, and staff and shaking their sense of safety and belonging at Penn. This is intolerable."
She added the university would work with the authorities to "identify the individual or individuals who are responsible for these hateful, threatening emails and to ensure they are apprehended and punished to the fullest extent of the law."
Penn Hillel, the university's on-campus Jewish organization, said it would continue to monitor the situation after consulting with officials, adding it would keep its building open and in use.
"The safety of the Jewish community and Jewish students at Penn is our top priority — first, foremost and always," the group wrote on Instagram. "All Jewish students deserve a learning environment that is safe and free from antisemitism and hate."
The incident comes amid a dramatic surge in antisemitism and anti-Muslim incidents amid the war between Israel and Hamas.
A student at Cornell University was arrested last week on charges he made antisemitic threats against Jewish students. The man allegedly threatened to "stab" and "slit the throat" of any Jewish men he saw on campus.