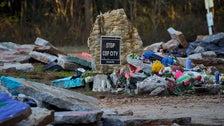 More than 60 individuals were arraigned at the Fulton County courthouse on Monday as part of a massive indictment by the Georgia attorney general's office targeting protests of a police and firefighter training center near Atlanta, informally known by activists as "Cop City." In response to the arraignment, demonstrators gathered outside the courthouse in support of the dozens of people facing charges.
Attorney General Chris Carr (R) announced the indictment against the 61 people in August, accusing the group of being connected to a multi-pronged justice movement to block the Atlanta Public Safety Training Center, its official name, from being completed. Each of the individuals faces RICO charges, which are primarily used against the mafia, and some others additionally face domestic terrorism or money-laundering charges.
Fifty-seven of the defendants heard their formal charges in groups in a packed courtroom, according to a live thread by the Atlanta Community Press Collective on X, formerly known as Twitter. Four of the 61 defendants did not show up to the arraignment, FOX 5 reported. Final plea hearings are set to occur in May or June 2024, per FOX 5.
Supporters of the movement protested outside of the Fulton County Courthouse on Monday, some brandishing signs that read "Drop the bullshit charges" and "Stop Cop City," according to Atlanta Journal-Constitution reporter Riley Bunch.
Plans for "Cop City" boast at least 85 acres of training facilities for law enforcement and firefighters including a mock city and a shooting range. Opponents are worried that the facility will harm the environment, further disenfranchise the nearby Black and Brown population and result in a militarized police force, ANH has previously reported.
The "Stop Cop City" movement is autonomous and has advanced its mission through multiple fronts over the last two years — most notably via protests and demonstrations, while also spreading awareness in person and online, occupying the forest where the facility is set to be constructed and an effort to allow voters to choose the training site's fate on the ballot. Earlier this year, law enforcement killed environmental activist Manuel Terán, drawing even more scrutiny to the site.
While a majority of the "Stop Cop City" efforts remain peaceful, some have led to property damage and violence. This includes one instance in March where more than 20 people were arrested and accused of throwing Molotov cocktails and other objects at officers and construction equipment, Time magazine reported. In some actions against the training facility, opponents have been arrested and charged for nonviolent activities as small as putting flyers on mailboxes.
Carr alleged in the indictment that the defendants are "militant anarchists."
"Looking the other way when violence occurs is not an option in Georgia," Carr said at the time of the indictment. "If you come to our state and shoot a police officer, throw Molotov cocktails at law enforcement, set fire to police vehicles, damage construction equipment, vandalize private homes and businesses and terrorize their occupants, you can and will be held accountable."
After the indictment came down, opponents said they believed that the charges were an anti-democratic tactic from local leadership to suppress political activism against the site. However, protests and actions against the facility have persisted.