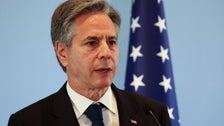 Secretary of State Antony Blinken has met with a group of State Department officials who are involved in formal dissents over President Joe Biden's approach to the Israel-Hamas war, according to one current and one former State Department official.
The previously unreported meeting took place on Oct. 26, the former official told ANH. It came amid huge internal frustration at State over the sense that Biden has disregarded officials' national security expertise and circumvented normal consultation processes in his focus on demonstrating support to Israel.
A spokesperson for the State Department did not immediately respond to a request for comment.
This is a developing story. Please check back for updates.