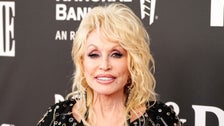 Dolly Parton isn't ruling out a Super Bowl halftime show despite turning down invitations to perform at the big game on a number of occasions.
"Oh, sure. I've been offered that many times. I couldn't do it because of other things, or I just didn't think I was big enough to do it — to do that big of a production," said Parton. "When you think about those shows, those are big, big productions. I've never done anything with that big of a production. I don't know if I could have. I think at the time, that's what I was thinking."
The iconic country musician nearly took part in the Super Bowl halftime show when Katy Perry was the headliner in 2015.
She told GQ in 2020 that she would have done the show because she loves Perry but revealed that her husband, Carl Dean, "was not doing good" at the time, so she didn't want to leave him for the performance.
A future halftime show isn't out of the question, however, with The Hollywood Reporter noting that she "looks at the epic performance slot a little differently" with the upcoming release of "Rockstar," her first rock album.
"It would make more sense. That might change. I might be able to do a production show," said Parton, whose album drops Nov. 17.