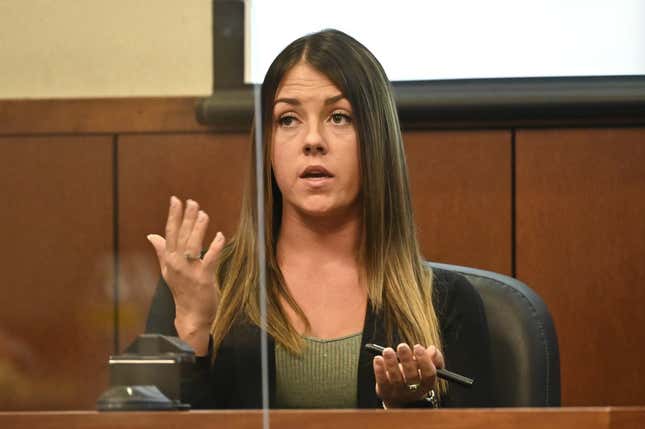 The federal trial has begun for former Louisville officer Brett Hankison, the officer accused of sloppily firing shots into Breonna Taylor's apartment from the sidewalk. Day one kicked off with the testimony of a neighbor who was not only a victim but could've died from the stray bullets.
Small Town Horror Story: The Killing of Aiyana Mo-Nay Stanley-Jones
Chelsey Napper, who was seven months pregnant at the time, lived right next to Taylor and recounted the fateful events the night of March 13, 2020. Napper testified that she heard a loud noise outside followed by a hail of gunfire which were the bullets that flew toward Taylor and her boyfriend after four Louisville officers broke into Taylor's apartment. Authorities said after the initial shooting, Hankison fired ten blind rounds toward the building, per AP's report.
Napper, who was home with her boyfriend and son, said a stray bullet came within 1 to 2 feet of the child.
"I was scared to death, I didn't know what was happening, I didn't know what to think, I couldn't think," she said on the stand. "You are supposed to be able to call the police for help, not them shoot through the windows when you are sleeping."
Read the defense's response from The AP:
Hankison's lawyers argued during opening statements that the former K-9 officer with 17 years of experience was making a "tactical move" when he spun away from Taylor's front door, ran to the side of the apartment and fired shots through a glass door and bedroom window.

"None of Brett Hankison's rounds hit anyone. No one," his attorney, Jack Byrd said during opening arguments Thursday.

Federal prosecutors told the jury that Hankison fired his shots after the gunfire between other officers and Taylor's boyfriend had stopped. Hankison's attorneys disputed that there was a pause between the gunfire between officers at the door and Hankison's shots. None of the officers involved in the raid had turned on their body cameras.
Hankison was the only one out of the four officers slammed with state charges but was acquitted after pleading not guilty, per The New York Times. He is currently facing two federal civil rights charges that each carry a maximum of life in prison upon conviction.