Solid-state drives (SSD) are the modern storage option, and as the name suggests they have no moving parts like a traditional hard disk drive. So not only are they more rugged than hard drives, they're much, much faster. For a big performance boost on your laptop or PC, here are the best SSDs you can buy.
This isn't about go-faster bragging rights though. Yes, you can copy enormous files to an SSD in record time, but it's the massive boost that the drive will give you your computer's responsiveness that will shock you most: applications launch almost instantly, web pages load faster, and Windows simply feels a lot faster.
SSDs come in different sizes and shapes so we've tested a range of different types, predominantly modern M.2 NVMe (PCIe) drives but you might also see traditional SATA and others. Many are even compatible with the PlayStation 5 console and Steam Deak.
Those looking for the latest and greatest tech should get a PCIe 5.0 model but you'll need a compatible slot and the drive will cost you an arm and a leg right now.
We're testing internal drives here but we also have a chart of the best portable hard drives and SSDs if that's what you're after.
Best SSDs 2023
1. Seagate FireCuda 530 – Best Overall
Pros
Blindingly quick
Effective heatsink
Works in a PS5
Special warranty
Cons
Heatsink is a necessity
Expensive
Price When Reviewed:

From $154.99 | Model reviewed$539.99
The FireCuda 530 delivers on everything an SSD should with stellar performance, incredible lifespan and effective thermal management if you use a heatsink.
There's even a special warranty with three years of data recovery should the drive fail – something that's normally reserved for enterprise-class devices.
It's a great choice for PC and console owners who want the best-in-class PCIe 4.0 drive. You just might struggle to afford one, especially at the 4TB capacity.
Read our full
Seagate FireCuda 530 review
2. WD Blue SN580 – Best Value SSD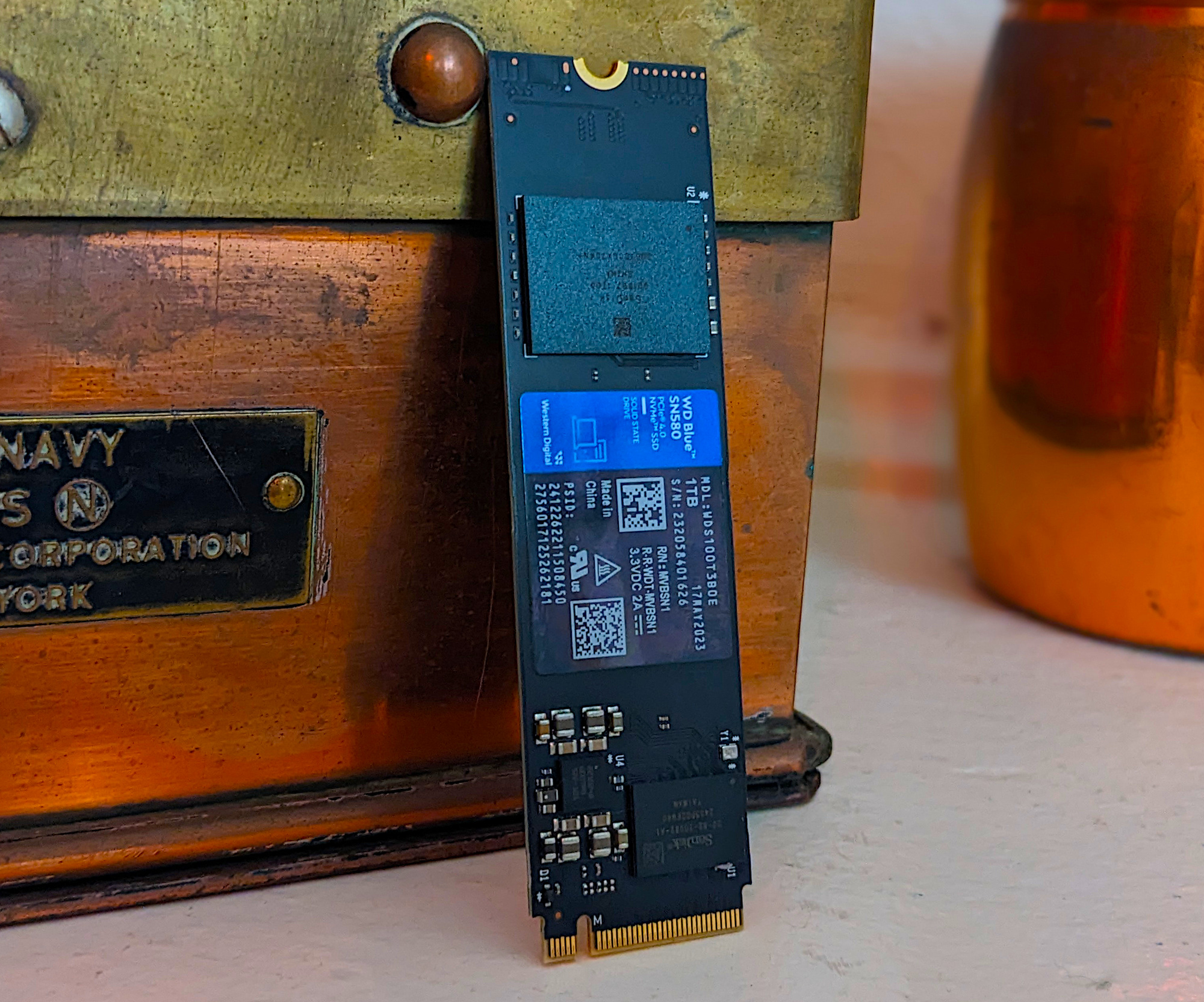 Pros
Fantastically affordable
Super fast real world transfers
Single-sided for laptop upgrades
Cons
Slows to less than 300MBps when writing off secondary cache
Slightly low endurance rating
Price When Reviewed:

From $28 | Model tested $50
The SN580 was extremely close to getting a rare five star review, only falling minorly short of full marks on the basis that its writing speed from secondary cache is a little low and it doesn't have the best endurance rating. 
However, don't let those tiny caveats put you off because this is the best bargain in the SSD world right now and the competition isn't even that close.  
Not only is it affordable, but the SN580 shines in various benchmarks, even beating some PCEe 5.0 rivals in some tests. You're best off getting a capacity larger than you think you need but it's extremely unlikely you'll be disappointed with this drive. 
Read our full
WD Blue SN580 review
3. Crucial T700 – Best PCIe 5.0 SSD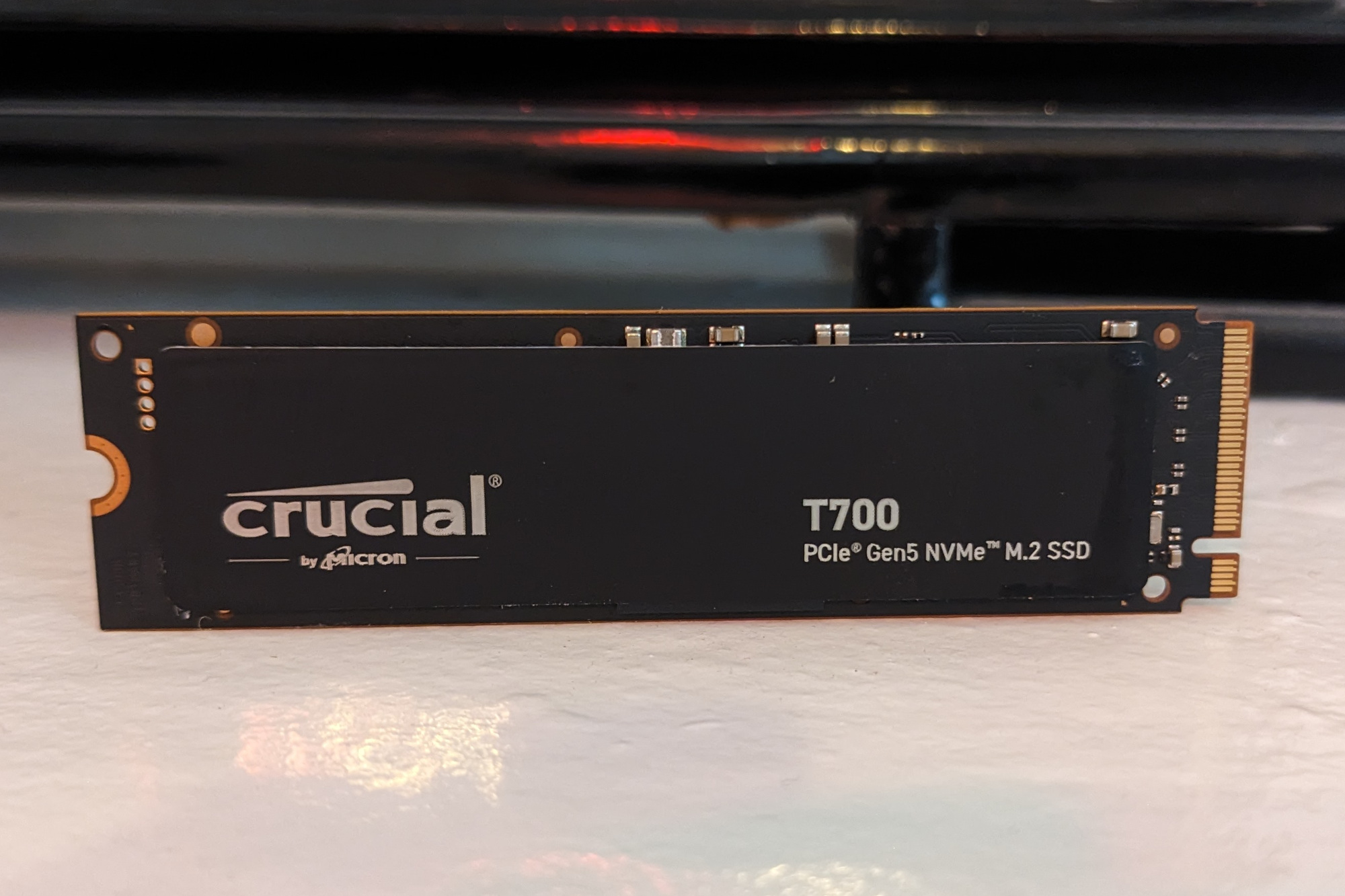 Pros
Breathtaking performance
Available with or without heatsink
Up to 4TB in capacity
Cons
Extremely pricey
Requires the still rare PCIe 5.0 M.2 slot
Price When Reviewed:

1TB/$179.99 I 2TB/$339.99 I 4TB/$599.99
In many ways, the Crucial T700 is the best SSD you can buy right now. However, that's specifically to do with it running the latest PCIe 5.0 technology.
While it's unbelievably fast in terms of raw performance (almost double the sequential read and write speeds of the WD Black SN850X), not many people out there will have a machine capable of utlising its full potential.
If you do have a 5.0 M.2 slot then you will not be disappointed with the T700, although your bank manager might not be too pleased about your purchase since it's roughly twice the price as various PCIe 4.0 rvials. Those with enough cash to splash can go all the way up to 4TB with an optional heatsink.
Read our full
Crucial T700 PCIe 5.0 NVMe SSD review
4. Corsair MP600 Pro LPX – PCIe 4.0 for PC or PS5
Pros
Great performance
Works with PS5
Hardware encryption
4TB option
Cons
Needs Gen4 M.2 slot
500GB model is slower
Price When Reviewed:

From $109.99 | Model reviewed $189.99
There's very little to dislike about the MP600 Pro LPX as long as you avoid the slower speeds of the smallest 500GB capacity.
It comes with a heatsink and unlike the regular MP600 Pro, it fits into the PS5. The performance is actually beyond what Sony's console can take advantage of but the price is cheaper than the FireCuda 530 so it doesn't really matter.
For PC users, firmware enhancements and hardware encryption make the LPX all the more tempting.
Read our full
Corsair MP600 Pro LPX review
5. Sabrent Rocket Q4 – Best 2230 Form Factor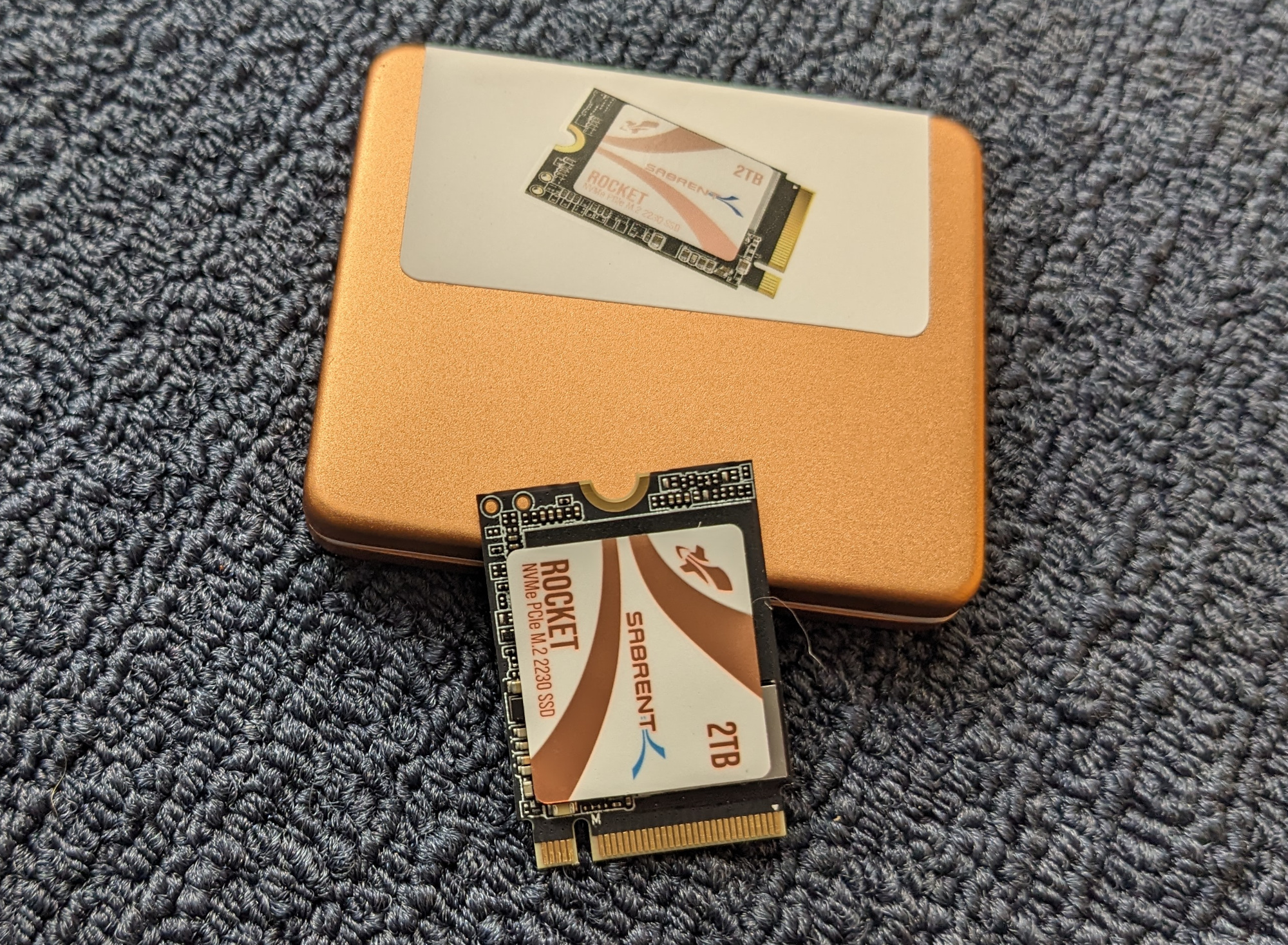 Pros
Tiny versatile form factor
Amazingly fast performance
Decently affordable
Unmitigated five-year warranty
Cons
Writes slow to a crawl when secondary cache is depleted
Price When Reviewed:

$219.99 for 2TB
If you have a device that can't handle a full-size 2280 SSD then the Sabrent Rocket Q4 is an elegant solution with its tiny 2230 form factor measuring just 30mm in length.
That makes it ideal for owners of the Steam Deck, some Microsoft Surface models and more. It goes up to 2TB in capacity and don't be fooled by it's pint-sized nature because performance is very impressive.
Furthermore, it won't break the bank and you get a long warranty, too. As long as you're not regularly writing large amounts of data, then it should be considered even if you have space for a larger 2280 drive.
You can consider the WD Black SN770M if you're looking for an alternative.
6. Lexar NM790 – Good Value PCIe 4.0
Pros
HMB 3.0 and Dynamic SLC Caching
Lower power consumption
Good TBW
Cons
No 4TB option, yet
Lacks hardware encryption
No heatsink option
Price When Reviewed:

512GB: $50 I 1TB: $70 I 2TB: $125 I 4TB: $210
If you're looking for a great all-rounder then the Lexar NM790 is an excellent choice, offering top value for money in spades.
It demonstrates how far Gen 4 NVMe drives have come in the last couple of years. Not only is it more affordable than much older rivals, with similar performance levels, but it also offers exceptional power conservation and good thermal control making it ideal for devices like laptops.
There's no hardware encryption and those looking for an NVMe drive with 4TB of space and a heatsink will need to look elsewhere.
Read our full
Lexar NM790 review
7. Samsung 990 Pro – Best PCIe 4.0 Performance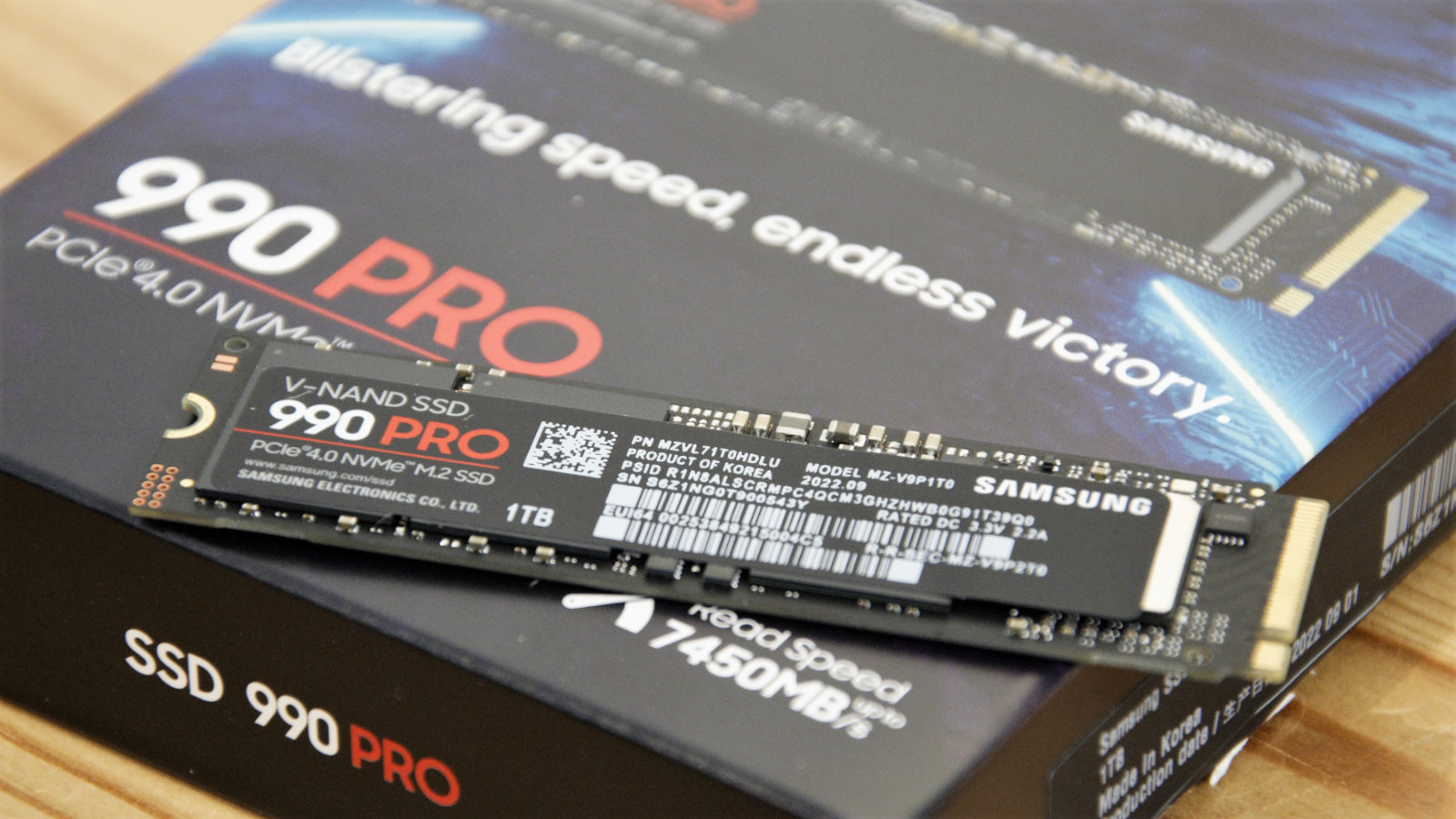 Pros
Top-notch performance
Hardware encryption
Heatsink an option
Cons
Not a bargain
No 4TB option, yet
TBW surpassed by other drives
Price When Reviewed:

1TB: $169.99 I 2TB: $239.99
The 990 Pro is exceptionally fast. However, as these designs run into the bandwidth limitations of PCIe 4.0, they approach full saturation of the connection to the PC, and there are few genuine gains to make. The 990 Pro is probably the quickest Gen 4 drive, but the differences between this and other recent NVMe launches are subtle.
Being faster than other products is important to Samsung, possibly trading resilience to achieve those raw speeds. The 990 Pro drives are also expensive, and with a max capacity of 2TB at launch this won't be enough for everyone.
The Samsung 990 Pro is made for those that want the absolute fastest drive available and aren't overly concerned about the cost or the lack of a larger capacity. It isn't for those that are looking for the best value or who expect added features like a heatsink to be included by default.
Consider the Solidigm P44 Pro if you're after an alternative.
Read our full
Samsung 990 Pro NVMe SSD review
8. Kingston KC3000 – High Performance in PC or PS5
Pros
Great performance
5-year warranty
Ideal for a PS5 & PC
Cons
Expensive
Idle power consumption is high
No hardware encryption
Price When Reviewed:

From $106.99 | Model reviewed $399.99
Kingston's latest effort is another good option – alongside Seagate and Corsair – for those wanting a Gen 4 drive in a PC or PS5.
The KC3000 offers excellent performance in a range of challenging use cases and the heat spreader is thin enough to ensure it fits neatly into Sony's next-gen console.
There are only minor points putting it behind the competition such as the price, the lack of hardware encryption, and a small power consumption issue.
Still, if you see it on offer somewhere it will make for a decent drive.
Read our full
Kingston KC3000 review
9. WD Black SN850X – Speedy PCIe 4.0 for PC or PS5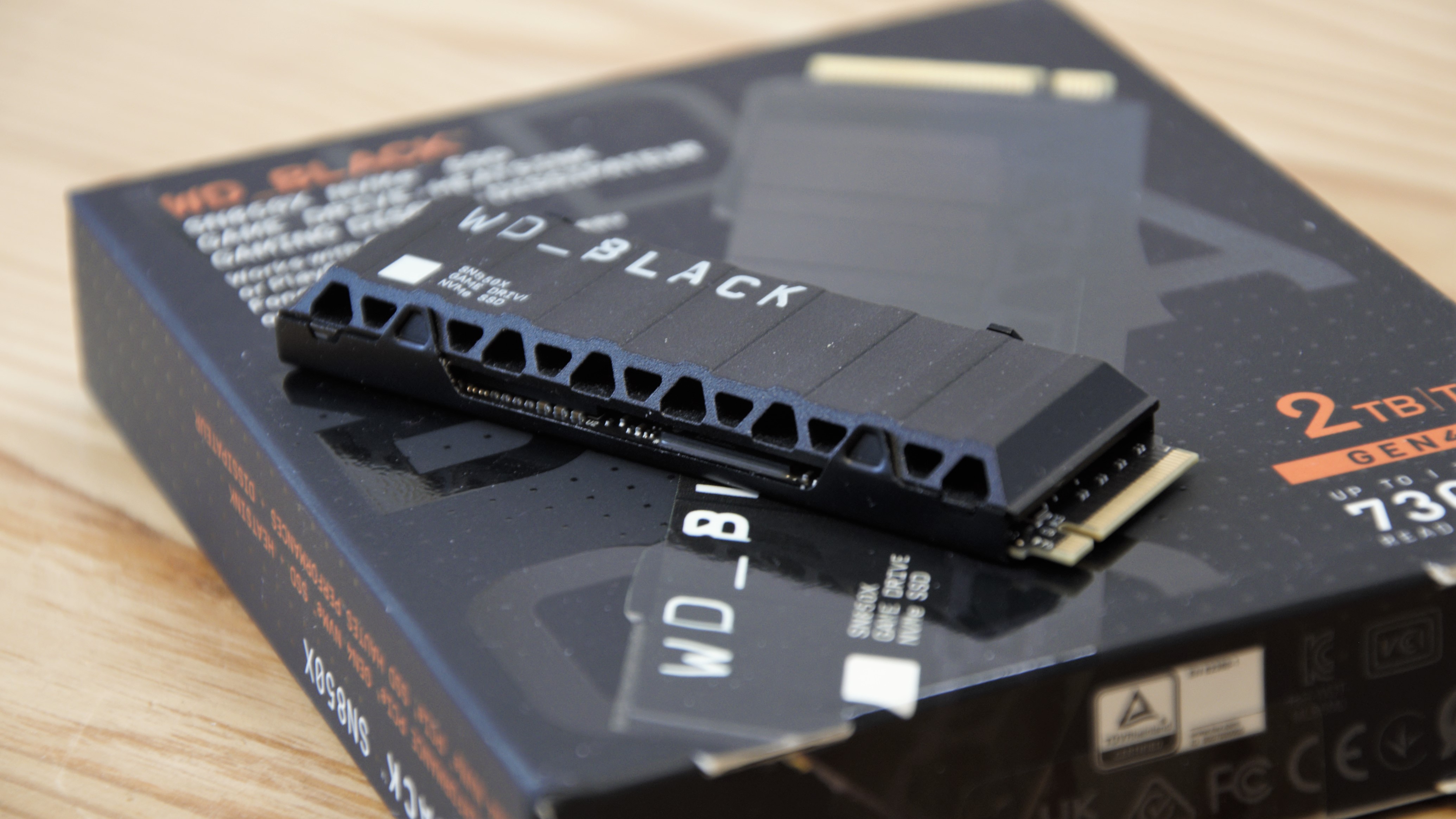 Pros
Excellent read/write speeds
Up to 4TB capacity
Heatsink option
Cons
No hardware encryption
Can get warm without ventilation
No heatsink on 4TB drive
Price When Reviewed:

$159 for 1TB I $289 for 2TB I $699 for 4TB
It's not the most affordable PCIe 4.0 drive but it's easy to see why the SN850X is a successful successor to the SN850.
The drive now comes in up to 4TB and there's a clear boost in performance with 7,300MB/s read speeds with write speeds not far behind. It's compatible with PC and PS5 but there are some caveats.
Although the drive has a stylish heatsink, this is not available on the 4TB option making it a no go for PlayStation 5 owners who want that much space. You'll also want to avoid paying the full RRP and note that hardware encryption remains AWOL.
Read our full
WD Black SN850X review
10. Seagate FireCuda 540 – PCIe 5.0 with Longevity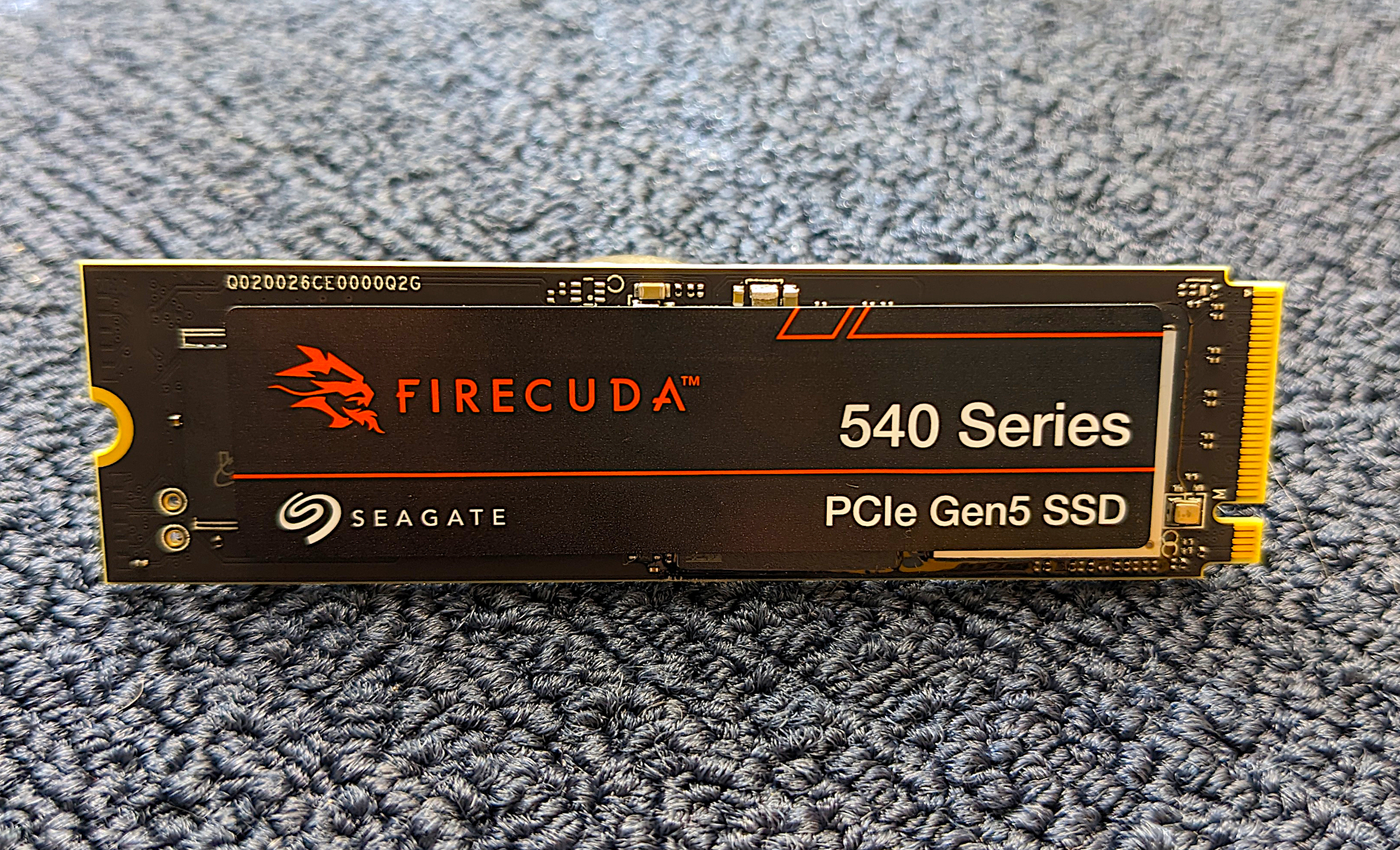 Pros
Excellent performer
Slightly cheaper than the PCIe 5.0 competition
Excellent TBW rating
Five-year warranty
Cons
Slightly slow at our 450GB write
No 4TB option
Price When Reviewed:

1TB/$179.99 I 2TB/$299.99
There's so much competition in the SSD world that for any individual drive, it's near impossible to beat rivals in all areas. 
The FireCuda 540 isn't the outright best PCIe 5.0 drive you can get but there are certainly reasons why you might choose to get one. For starters, its impressive 48GB transfer performance bodes well for the average user. 
It's also a little cheaper than the Crucial T700 in the 2TB capacity. There are cheaper drives with similar speeds, but the FireCuda 540 does stand out when it comes to longevity thanks to a very generous TBW rating and a long five-year warranty. 
Read our full
Seagate FireCuda 540 NVMe SSD review
What to look for in an SSD
For those seeking the very best performance, there's still a case for finding the fastest rather than just choosing the cheapest SSD.
This is where you have a choice. There are two different types of SSDs: SATA and PCIe.
SATA is the type you're probably most familiar with as it has been around for years and is used in PCs and laptops for hard drives and DVD drives. Most SATA SSDs are 2.5in wide as they're designed to fit in laptops. But they're also compatible with all recent PCs.
For laptop users specifically, you'll want to also know the exact height of the SSD to ensure it will fit: some are 9.5mm thick rather than 7mm.
The other type is a PCIe SSD. It gets confusing because there are other acronyms and terminology too: NVMe and M.2. Put simply, PCIe (PCI Express) supersedes SATA because it is a much faster interface.
Most commonly you'll see PCIe drives referred to as NVMe. This stands for Non-Volative Memory Express) but what's most important to note is the form factor – the size of the drive – because that's which determines if the thing will actually fit in your PC or laptop. They're long sticks that look similar to RAM, only with the connector at the end.
This is where M.2 comes in. It's a relatively new type of slot you'll find on recent motherboards and in some laptops. Most M.2 SSDs are the 2280 type, which simply means 22mm wide and 80mm long. You can check your motherboard manual or contact your laptop manufacturer to find out if such a drive will be compatible.
Note: Just because an SSD has an M.2 interface does not mean it is an NVMe drive. You can buy SATA SSDs with M.2 connectors which will still be limited to SATA speeds, so watch out for this when buying. As we said, it can get a bit confusing.
If your PC's motherboard doesn't have an M.2 slot, don't worry. you can buy a PCIe adapter card for around £15/$15. Some M.2 SSDs are sold with the adapter, such as Kingston's KC1000. Or you can now get drives like the WD Black AN1500 which give you better than PCIe 3.0 performance without an M.2 slot.
PCIe comes in different versions like a lot of tech and while PCIe 3.0 is still the most common, PCIe 4.0 drives are now on sale – such as the Samsung 980 Pro. They are twice as fast but as is common with a new standard, the price is high and it's likely you'll need to upgrade other parts of your machine like the motherboard in order to get the most out of it.
Find out how to install an SSD in your PC.
Aren't SSDs really expensive?
It's taken years, but we are now at the stage where an SSD is a truly affordable component for everyone. And if your budget will stretch to only £50, you can still get Crucial's MX500 for under £40 from Amazon or jump to NVMe with the Corsair MP510 at only £43.
Sure, you get much more storage if you buy a traditional hard drive for the same money, but if you have a PC you can always install Windows and your most-used programs on an SSD and keep your music, video and photo libraries on a huge hard disk where performance isn't as important.
How much space do I need?
Of course, the 250GB size of SSD (although you can find smaller) is going to be the cheapest and therefore the most tempting.
However, there's nothing worse than getting a notification of your drive being full, resulting in lots of admin to sort out what to keep, delete or move. Also be careful for when smaller drives have worse specs.
So carefully consider what you're going to need the drive for. If it's just for the operating system and a few applications then 250GB will be fine – especially if you're going to have another drive for storing files.
However, if this is going to be the only drive in your machine and you're going to be storing lots of applications, files and games then you'll need to go for more. 1TB will obviously cost more but will be necessary.
Performance
Getting back to performance, this has effectively plateaued among SATA SSDs. It's not that flash memory has reached its limit, it's that they're hitting the limit of what the SATA interface is capable of.
The fastest SATA SSDs can read at around 550MB/s, but the fastest PCIe 4.0 NVMe drives can read at over 6000MB/s.
Really, you should only use a SATA drive if you have no other choice.
What about MLC, TLC and SLC?
There are various memory technologies used on SSDs, from multi-level cell (MLC), to the cheaper triple-level cell flash (TLC) architectures. You might even come across the rare and most expensive single-level cell (SLC) drive. The differences between the cell technologies boil down to the amount of bits (data) that a single cell (within the SSD) can handle.
TLC handles three, MLC two, and SLC one. The greater the number of bits per cell, the increased likelihood of failure, inconsistencies and – most importantly – performance. However, as this is a general sweeping statement, manufacturers have found ways around the limitations of SSD technology.
When buying an SSD, look out for long warranties and high write limits (expressed as a TBW value) if you prize data integrity, although with the help of proper backup routines, data loss isn't really an issue today.