It's hard to believe, but Microsoft's Surface range only began life just over a decade ago. 2012's initial launch of the original Surface was underwhelming, and it struggled to convince people to ditch their traditional laptop in favour of a tablet with a detachable keyboard.
But the range has come a long way since then. The original Surface morphed into the Surface Pro, joined by an affordable alternative in the Surface Go – both of which work with a keyboard cover.
Microsoft also makes regular laptops, with the thin-and-light Surface Laptop and budget alternative in the Surface Laptop Go – now on third edition. While the detachable Surface Book has now been retired, it's been replaced with the Surface Laptop Studio, a true 3-in-1 device – now in its second generation.
However, we shouldn't forget that Microsoft has started making phones again – sort of. The Surface Duo is more of a mobile productivity device, but it runs Android and can replace your phone.
All the other entries in this chart run Windows 11, but there are plenty of alternatives available in our best laptop chart. We also have separate guides covering 2-in-1s, student laptops, budget laptops and business laptops.
But if you're set on Microsoft hardware, you've come to the right place. This guide runs through the best Surface device for specific use cases, also linking out to our full reviews. While they can be expensive, Microsoft and other retailers have great deals on Surface products throughout the year.
Best Microsoft Surface 2023
1. Surface Pro 9 – Best 2-in-1
Pros
Great design and display
Excellent keyboard and pen
|Impressive battery life
Great webcam
Cons
Poor port selection
Performance and compatibility issues on ARM
Expensive, with accessories still sold separately
Price When Reviewed:

From $999.99
Your experience with the Surface Pro 9 will vary hugely depending on the model you choose.
The Intel version is the best Surface device you can buy, combining 12th-gen Intel CPUs with everything that made 2021's Pro 8 so great. That includes an excellent 120Hz display, premium design, solid performance and impressive battery life.
Swapping out Intel for the SQ3 chip on ARM models takes battery life to the next level and adds 5G to the Surface Pro for the first time. You also get some exciting new features for the already excellent webcam, but the compromises simply aren't worth it for most people.
Performance takes a big hit, to the extent that some everyday tasks cause stutters and hesitations. There's also the issue of app compatibility, with many apps still relying on emulation rather than running natively. As a result, everything just feels that bit less slick and smooth.
When you're paying so much for just the tablet (the keyboard cover and other accessories are sold separately), you want a device that can be relied on. When it comes to the Surface Pro 9, that can only be said for Intel versions.
Read our full
Microsoft Surface Pro 9 review
2. Surface Laptop 5 – Best laptop
Pros
Solid performance
Great keyboard
Thin-and-light build
Cons
Dated design
No option for AMD CPUs
Can get expensive
Price When Reviewed:

From $999
The Surface Laptop is no longer the groundbreaking laptop it once was, but it remains a great option – provided you're happy with Intel processors.
Microsoft has ditched the option for AMD on both the 13.5in and 15in models, and it's expensive once you go beyond the cheapest configurations.
But if you're willing to spend in excess of $1,000/£1,000, this is a solid option. Microsoft's trademark thin-and-light build is here, alongside one of the best keyboards in the business and Windows 11 software that's now very easy to use.
However, you will have to contend with that dated design, which hasn't been updated since the Surface Laptop made its debut. It's still the best Microsoft laptop for most people, but other companies offer more in the Windows space.
Read our full
Microsoft Surface Laptop 5 review
3. Surface Go 3 – Best budget 2-in-1
Pros
Solid Core i3 performance
Premium build
Great for video calling
Cons
Poor battery life
Dated design
Can get expensive
Price When Reviewed:

From $399.99 | Model reviewed $629.99
The Surface Go 3 was one of Microsoft's more cautious 2021 updates, but it did get a useful performance boost. Despite being a 10th-gen chip, the new Intel Core i3 processor makes everyday use much smoother and more reliable.
Aside from that, this is essentially the Go 2 from 2020. The 10.5in LCD display is still a highlight, despite sticking at a 60Hz refresh rate. The fairly chunky bezels mean it's starting to look dated, while battery life is underwhelming.
However, it does retain that premium build quality, with an excellent built-in kickstand. The combination of 1080p webcam and dual mics also makes for a great video calling experience.
Combining the i3 model with a Type Cover and mouse makes the full Go 3 experience relatively expensive. Pentium Gold performance is still an unknown, but that's where you'll find better value for money.
Either way, it's still a capable yet ultra-portable Windows tablet, running a full version of Windows 11 out of the box.
Read our full
Microsoft Surface Go 3 review
4. Microsoft Surface Laptop Go 3 – Best budget laptop
Pros
Lightweight & attractive
Touchscreen
Excellent keyboard
Quiet
Cons
Limited ports
Middling performance
Price When Reviewed:

From $799.99
Being Microsoft's cheapest in the Surface range, it's no surprise that the Laptop Go 3's strengths don't lie in performance or fancy features.
Instead, the appeal here lies in value for money where you're getting a reliable laptop without breaking the bank. It's very similar to the Surface Laptop Go 2 so that's worth considering before hitting the buy button.
There's a lot to like about the Laptop Go 3 making it a compelling laptop for users such as students and anyone who just wants a simple but effective daily driver. It's more elegant and well-made compared to rivals from other manufacturers and also has benefits such as a lightweight design, exemplary keyboard and the PixelSense touchscreen.
It's not going to blow your socks off but that's not the point here.
Read our full
Microsoft Surface Laptop Go 3 review
5. Microsoft Surface Laptop Studio 2 – Best for power users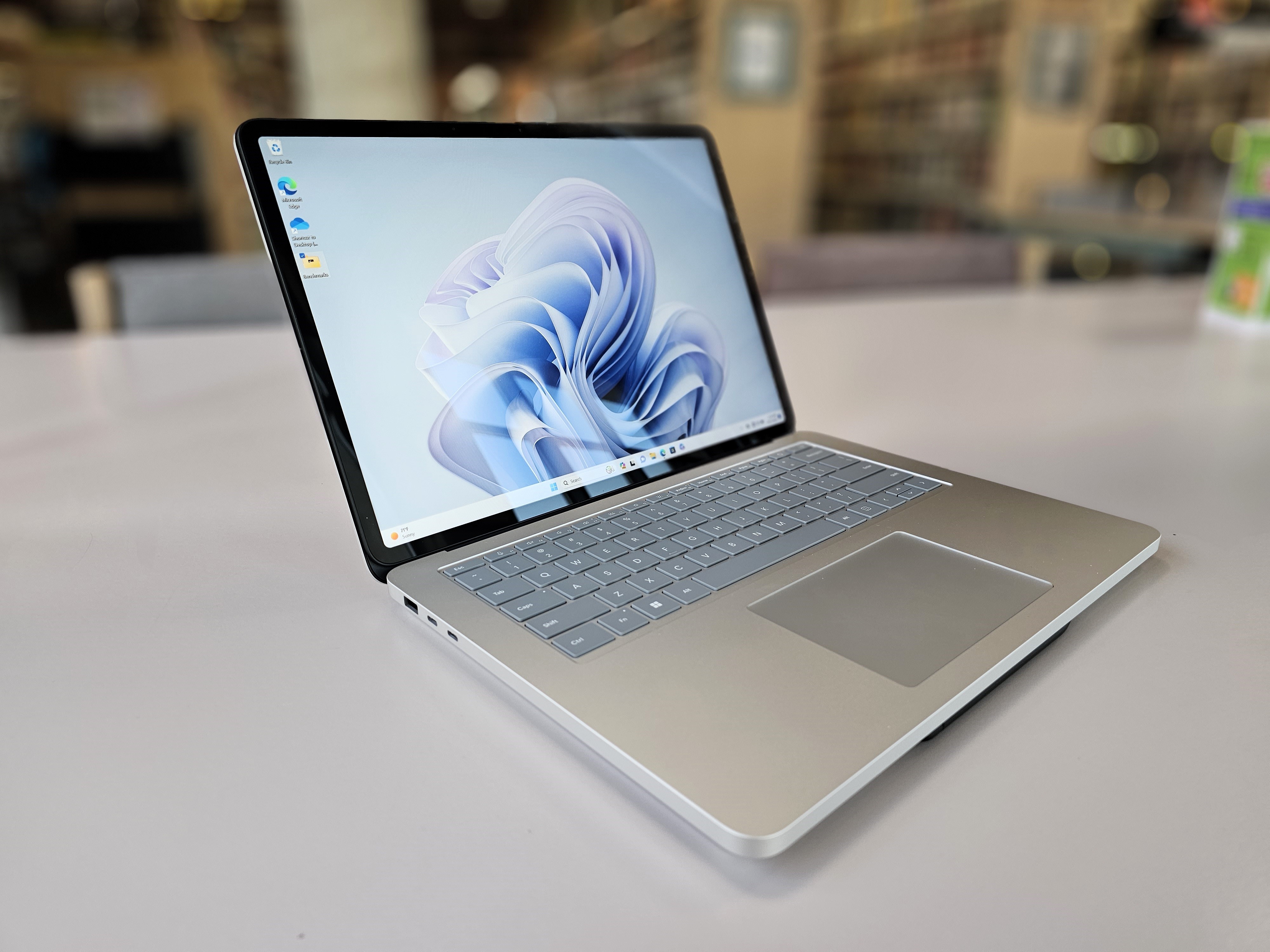 Pros
Almost unique pull-forward display
Excellent content consumption experience
Designed for inking
Solid gen-over-gen performance increase
All-day battery life
Cons
The Surface price premium persists
Pen costs extra
Poor performance, unless performance mode is enabled
AI features aren't all that, yet
Price When Reviewed:

From $1,999.99
The Surface Laptop Studio, now in its second generation, remains something of a niche purchase within Microsoft's range. It's both an overpriced content-creation laptop and an underappreciated content-consumption device.
It demands a premium price and one that is understandably too high for many prospective buyers and we wouldn't recommend getting the $2,000/£2,000 entry-level model with just 16GB RAM, 512GB storage and, worst of all, integrated graphics. However, the pull-forward design of the screen will once again be a real boon for the right user and the more powerful models are far more compelling.
It's got quite the boost compared to its predecessor when you dial up the performance slider and it's got superior inking and audio credentials compared to cheaper rivals.
If you're serious about this type of machine then it will serve you well but look out for sale prices and consider the Surface Laptop Studio original if you see a good deal.
Read our full
Microsoft Surface Laptop Studio 2 review
6. Surface Pro 8 – Best value for money
Pros
Excellent 120Hz display
Slick, modern design
Impressive battery life
Plenty of discounts
Cons
Expensive
Very limited ports
Still not great as a tablet
Price When Reviewed:

From $1,099.99 | Model reviewed $1,599.99
The Surface Pro 8 isn't the latest model anymore, but it remains a great 2-in-1 that's regularly discounted.
Microsoft finally updated the design here, with a 13in display within almost the same footprint as previous 12.3in devices. The screen itself is now 120Hz, meaning the great viewing experience has a super-smooth refresh rate. 
Performance from 11th-gen Intel chips is impressive, while both cameras are solid and speakers are excellent. However, a lack of ports means you'll probably need to connect adapter or hub.
It's also worth highlighting the accessories, which transform the Pro 8 into a laptop replacement for many. The Signature Keyboard and Slim Pen 2 stylus are the best they've ever been, but also quite expensive. 
Given Windows 11's continued limitations as a pure tablet, you'll want to pay extra for the accessories. But with the Pro 8 itself already significantly more expensive than it's predecessor, this isn't something everyone will be able to justify.
Read our full
Microsoft Surface Pro 8 review
7. Surface Laptop 4 – Still a great laptop
Pros
Impressive display
Solid performance
Great battery life
Cons
Outdated design
Loud fans
Quickly gets expensive
Price When Reviewed:

From $999.99 (13.5in) | From $1,299.99 (15in)
The Surface Laptop 4 is a minor upgrade over its predecessor, but there are still a few reasons to buy it over the Surface Laptop 3.
The big one here is processor – you can now choose between Intel's latest and powerful AMD Ryzen chips across both 13.5in and 15in models. These chips deliver a significant improvement to power efficiency, and it shows – battery life is very solid, even when playing 4K videos.
Many of the reasons why the Laptop 3 was so good still apply. The displays offer a compelling viewing experience, continuing to support touch and pen input. There's also a solid keyboard and lightweight, premium design. 
However, it's not perfect. This tried and tested design could do with a refresh, while noisy fans regularly kick in during everyday use. It can also get expensive, particularly if you need. 
But if you're set on Microsoft hardware, the Laptop 4 offers the best pure laptop experience right now. That may change soon, though, with the Surface Laptop 5 expected soon.
Read our full
Microsoft Surface Laptop 4 review
8. Surface Duo 2 – Best phone
Pros
Impressive performance
Stunning displays
Decent cameras
Cons
Buggy software
Most apps not optimised
Expensive
Price When Reviewed:

From $999.99
The original Surface Duo was a bit of a disaster, but its successor is a huge improvement.
Microsoft has almost nailed the hardware here, with a premium build and two gorgeous 90Hz OLED displays connected via a tough hinge. A new triple rear camera system delivers impressive results in good lighting, while battery life has also been upgraded. Performance and stereo speakers are among the other highlights.
But its the software side that really lets the Duo 2 down. Android simply isn't optimised to work on this dual-screen device – many apps either crash or stutter when you try to open them full-screen. Microsoft's apps are designed to take advantage of both displays, but few third-party options are. There's also the issue of content between the screens being obscured.
At this price, it's a dealbreaker for most people. It's the best smartphone Microsoft makes right now by far, but that's not saying much.
However, there are signs Microsoft has made significant progress following software updates. That should make the Surface Duo 3 a significantly better buy once it arrives.
Read our full
Microsoft Surface Duo 2 review
9. Surface Book 3 – Most versatile
Pros
Gorgeous display
Excellent keyboard
Great port selection
Cons
Hit-and-miss performance
Expensive
Price When Reviewed:

From $1,599.99
Despite sporting only minimal upgrades over its predecessor, the Book 3 is a solid final iteration of this unique form factor – the Surface Laptop Studio has now replaced it in Microsoft's lineup.
A gorgeous display, excellent keyboard and solid port selection provide the foundation for a great laptop experience.
However, performance is seriously mixed. The Book 3 copes just fine in most situations but is a serious letdown when it comes to gaming performance. That wouldn't usually be much of an issue, but Microsoft has specifically advertised its suitability for gaming.
That's far from the only drawback, with chunky bezels, mediocre speakers and lack of fingerprint scanner among the most prominent.
But with some big discounts, these shortcomings are easier to excuse. If a fully detachable laptop screen appeals to you, this is the device to go for. It'll work with Windows 11 just fine, and remains relatively well future-proofed.
Read our full
Microsoft Surface Book 3 review
10. Surface Laptop Go – Still a great PC
Pros
Impressive display
Solid keyboard
Excellent audio
Cons
Power comes at a price
Poor battery life
Price When Reviewed:

From $549.99
The strength of its successor means the original Surface Laptop Go isn't what we'd recommend for most people, although there are some big discounts around.
However, you'll need to pay significantly more than the starting price for a model that's worth buying. Battery life is also a concern, with the device struggling to make it through a full working day on a single charge.
Nonetheless, there's still plenty to like about the Surface Laptop Go. Performance on the top-spec model is solid, while including a great keyboard and display in such a slimline body is really impressive. The Dolby Audio speakers and dual studio mics also make for a great audio experience.
There are plenty of laptops that also excel in these areas, though, many of which are more affordable or offer a better all-round experience.
Read our full
Microsoft Surface Laptop Go review