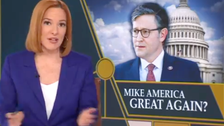 MSNBC's Jen Psaki on Sunday said the "obvious question" about new House Speaker Mike Johnson (R-La.) is about how his deeply religious convictions "square with his fierce loyalty" to former President Donald Trump, whose efforts to overturn the 2020 election Johnson staunchly backed.
Trump is "a guy who has been married multiple times, paid hush money to a porn star and joked about grabbing women," noted Psaki, a former Biden White House press secretary. Johnson, meanwhile, has said his worldview can be found in the Bible and has fiercely opposed LGBTQ+ and abortion rights.
"I would love to know which passage in the Bible told Johnson to become one of the most important architects behind Trump's effort to overturn the 2020 election," said Psaki. "Which passage? Was it God whispering in his ear to ignore the Constitution and disenfranchise millions of voters?"
Johnson "clearly envisions a country that's less democratic and less tolerant," Psaki added.