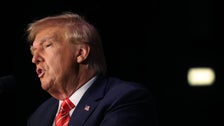 The federal judge overseeing Donald Trump's 2020 election interference case reinstated a gag order on the former president on Sunday, once again barring him from disparaging prosecutors, court staff and any potential witnesses.
U.S. District Judge Tanya Chutkan first imposed the limited gag order this month after special counsel Jack Smith's team warned Trump's near-constant attacks on anyone involved in the case could intimidate potential witnesses. The judge said at the time Trump would be allowed to criticize the Justice Department and continue to make remarks that the case was a political witch hunt.
But Trump's lawyers quickly filed an appeal, and Chutkan issued a temporary freeze while she considered arguments in the matter.
"By restricting President Trump's speech, the Gag Order eviscerates the rights of his audiences, including hundreds of millions of American citizens who the Court now forbids from listening to President Trump's thoughts on important issues," Trump's attorneys wrote at the time.
The former president continued his spree of attacking those in the case after Chutkan temporarily lifted the order, including attacks against Smith. He also posted comments about his former chief of staff, Mark Meadows, a likely witness in the trial.
Trump is subject to a separate gag order in his ongoing civil fraud trial in New York over his business practices. A judge fined the former president $10,000 last week for impromptu remarks outside a courtroom in which Trump appeared to attack court staff.
It was the second time Trump has been found in violation of that order, and the judge warned the former president any other offending comments could bring an increased punishment.