A man wanted in the fatal shooting of 18 people at a bowling alley and a restaurant in Maine was found dead on Friday, ending a frantic statewide search.
Robert Card, 40, of Bowdoin, Maine, was wanted on eight counts of murder following two separate shootings Wednesday evening in Lewiston, state police said. Thirteen people were injured in the shootings, according to authorities.
Card's body was found with an apparent self-inflicted gunshot wound at 7:45 p.m. local time near the Androscoggin River in Lisbon Falls after an extensive 48-hour manhunt, Maine Department of Public Safety Commissioner Mike Sauschuck said at a news conference late Friday at Lewiston City Hall. Lisbon Falls is about 10 miles southeast of where the shootings took place.
Families of the victims and the suspected gunman were among the first to be informed when Card's body was found. Officials declined to provide additional information about how the body was discovered but said they will share more at a briefing at 10 a.m. Saturday.
Only eight of the victims had been identified at the time that an arrest warrant was issued for Card, resulting in the eight counts of murder, state police said Thursday morning. At a news conference Friday, the Maine Department of Public Safety released the names, ages and photos of all 18 people killed on Wednesday night.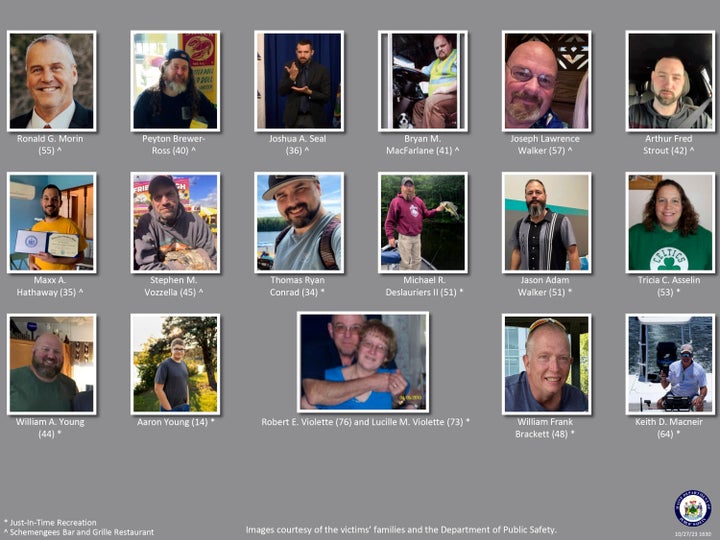 The shootings took place around 7 p.m. and placed multiple nearby cities under shelter-in-place advisories as authorities warned that Card might have been armed and dangerous.
Schools across the region, including in the state's most populous city of Portland, 30 miles south of Lewiston, were canceled on Thursday and Friday, and businesses also announced they were shutting down amid the manhunt.
Shruti Rajkumar contributed to reporting.