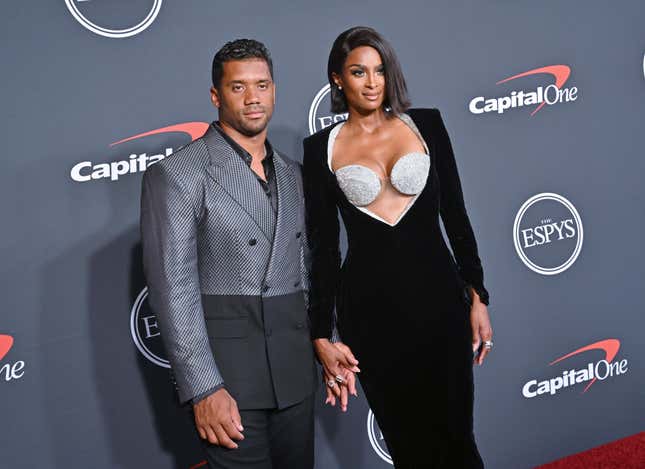 On Thursday Ciara took to her Instagram to show yet another reason why Russell Wilson is one of the best celebrity husbands we know! She posted a video of her birthday gift from her NFL husband, a rented-out Waffle House.
Jeezy Talks New Book, Life Lessons, His Love For Taylor Swift & More
If you've never been to Waffle House, then you don't know happiness. The Georgia native talked about her love for the Southern-founded chain's chicken melt with onions in an interview earlier this month, proving that her man pays close attention to her.
The birthday video begins with the "Goodies" singer getting out of her car to meet Wilson and saying, "Oh my gosh, babe, this is like next level, this is like top, top!" As the couple walks in you can see the restaurant decorated with balloons and a red carpet. Ciara is seen wearing a black Gucci sweatshirt and sweatpants stuffed into a pair of cozy Ugg boots, while her hubby wears a similar sweatsuit. It looks like those annoying debates about dressing up for fancy restaurants don't apply to this couple!
Once the couple sits down after a mini photoshoot in the waffle haven, Wilson says, "I know that pregnant belly wants some waffles and some eggs." Ciara is currently pregnant with the couple's third child together, she had her son, Future, with the rapper of the same name.
She showed off her delicious meal of her favorite food, that chicken melt and a side of hashbrowns under a slice of cheese. Then, the wait staff turned off the light and walked towards the couple's table decorated with a fancy white tablecloth and a flower centerpiece placing a plate of frosted donuts, topped with lit candles for the birthday girl.
Ciara and Russell Wilson have become couple goals amongst the Black community, constantly showing people the love that we don't often see between celebrity relationships nowadays. Earlier this month the "One, Two Step" singer discussed when she knew it was time to move on from her previous relationship with ex, Future, believing that she needed a new sense of joy in her life, "I want joy. I want to make sure my cup is full. When you're tired, you're tired, and don't nobody wants to be tired all the time. Those are things that come to my mind when I process when I was making a pivotal moment in my life."