Napoleon has fascinated Ridley Scott for years. No wonder – the famous Frenchman was a complex figure who greatly impacted 18th- and 19th-century Europe. In his new film, the director wanted to create a multi-dimensional portrait of Napoleon, focusing not only on his military and political achievements, but also on his psychology.
Scott set himself the task of portraying the French emperor as a brilliant politician and strategist, as well as a narcissistic conqueror and a brutal tyrant. As the director said in an interview with Empire:
I compare him with Alexander The Great. Adolf Hitler. Stalin. Listen, he's got a lot of bad shit under his belt. At the same time, he was remarkable with his courage, and in his can-do and in his dominance. He was extraordinary.
Napoleon will hit cinemas soon, but before that happens, here's everything you need to know about the movie. You may also be interested in an equivalent article on Dune: Part Two.
Napoleon release date
Ridley Scott's new movie will premiere on Wednesday, 22 November 2023.
It's worth noting that Disney's Wish will drop on cinemas on the same day, so we are in for another box-office clash of giants this year.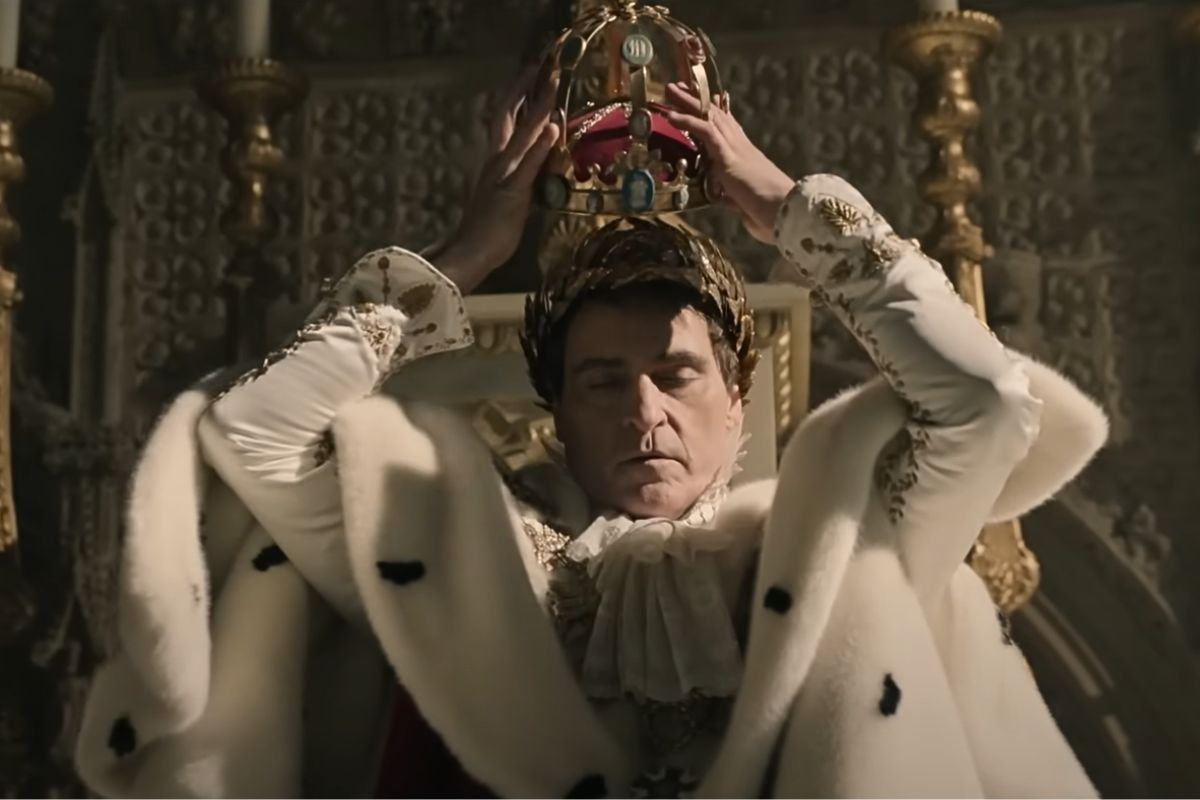 Apple Studios
When is Napoleon available to stream?
Napoleon is co-produced by Apple Studios, which has decided to launch the movie on its streaming platform.
We don't know when Scott's film will premiere on Apple TV+, but it's unlikely to be at the same time as the cinema release. We'll updated this article once a date is confirmed.
On Apple TV+, there will be also available a director's cut of Napoleon, which will be over four hours long.
Napoleon plot
Ridley Scott's film will tell the story of both Napoleon's political and military achievements and his private life.
The official synopsis reads:
"Napoleon" is an original and personal look at Napoleon's origins and his swift, ruthless climb to emperor, viewed through the prism of his addictive and often volatile relationship with his wife and one true love, Josephine. The film captures Napoleon's famous battles, relentless ambition and astounding strategic mind as an extraordinary military leader and war visionary.
Napoleon trailers
Napoleon cast and crew
Ridley Scott's new film will feature a host of historical characters, played mainly by British and French actors, though not exclusively. The following cast members will appear in the movie:
Joaquin Phoenix – Napoleon Bonaparte
Vanessa Kirby – Empress Joséphine, Napoleon's first wife
Tahar Rahim – Paul Barras, the main executive leader of the Directory regime
Ben Miles – Caulaincourt, a diplomat
Ludivine Sagnier – Theresa Cabarrus, a socialite and noblewoman
Matthew Needham – Lucien Bonaparte, Napoleon's brother
Youssef Kerkour – Marshal Davout, one of Napoleon's finest commanders
Phil Cornwell – Sanson 'The Bourreau,' the executioner who guillotined king Louis XVI
Edouard Philipponnat – Tsar Alexander
Paul Rhys – Talleyrand, a leading diplomat of France
John Hollingworth – Michel Ney, the Marshal of the Empire
Gavin Spokes – Moulins, general of the French Revolution
Mark Bonnar – Jean-Andoche Junot, general of Napoleon
Anna Mawn – the Archduchess Marie-Louise, Napoleon's second wife
Scott Handy – Louis-Alexandre Berthier, chief of staff to Napoleon
Rupert Everett
Ian McNeice
The screenwriter for Napoleon is David Scarpa, who wrote the script for Scott's All the Money in the World. Dariusz Wolski, who has worked with Scott on multiple projects, is in charge of cinematography, while Martin Phipps (Peaky Blinders) composed the score.
Ridley Scott, Joaquin Phoenix, Kevin J. Walsh and Mark Huffam all also serve as the film's producers.