At a glance
Expert's Rating
Pros
Very comfortable typing experience
Hugely customisable
Great software
Takes pressure off of hands, wrists and shoulders
Cons
Expensive
Sharp inclined positions are not comfortable
Takes time to relearn typing positions
Our Verdict
The Dygma Raise is an impressive achievement both in terms of design and usability. Yes, it's a serious investment, but if you use it everyday for the next few years I'm sure it will feel like it's paid for itself when your hands aren't screaming at you. The only problem is that it will probably ruin you for using any other keyboard.
Price When Reviewed
$419
Best Prices Today: Dygma Raise
Most of us spend a lot of time on our keyboards, but they might not be helping us in terms of posture or hand health. Dygma is a company that specialises in unorthodox typing devices designed to keep your digits working, even if your typing demands are high.
One such product is the new Raise, which not only splits in half but also tilts at a sharp angle to change the pressure on your wrists. So, is it something that can help keep your hands pain-free or will it induce headaches from having to relearn the basic principles of using a keyboard? 
Design & Build
High quality components
Many configuration options
Split construction and tilting stands
Mechanical keyboard with programmable backlights
As any good chef will tell you, the first bite is with the eye. With that in mind, Dygma lays out a veritable feast before you even get to the keyboard itself.
Opening the packaging reveals a collection of boxes that contain the raising kit that you screw into the bottom of the Raise, an enhancement kit with keycap removers, 'O' rings you can use on each key, plus a cleaning cloth. Then there's the gorgeous padded and fur-lined case in which the actual keyboard itself resides, along with the braided cables and 'Neuron' adapter you need to attach it to your computer. It all looks and feels premium.
Martyn Casserly
The Raise presents an interesting design, with two separate halves of the keyboard that you can plug into each other to make a more standard layout. The halves are not exactly the same size, with the left side measuring 153.8mm and the right a slightly larger 177.3mm. This is mainly due to the H and Y keys jutting out a little bit, due to the fact that keyboards are not designed to be exactly symmetrical. Go on, have a look at yours now, you'll see that the keys don't line up above each other, they're staggered.  
An anodised aluminium key plate holds everything in place, with extended palm rests to make things comfy. Mine is Atlantis Blue, but there are a range of other colours available: Daredevil Red, Egyptian Gold and Royal Purple each with the choice of black or white key caps and palm pads. You get two pads in the box that you can stick onto the spaces beneath the keyboard, which adds to the relaxed feel you get when using the Dygma Raise.
The pads can also be removed, washed and stuck back on, so you don't need to worry about the aesthetic becoming tatty after some use. 
The two halves of the keyboard lay flat on a desk, with no adjustments to tilt them upwards. Obviously, the raising kit offers some elevation, but only sideways, so the typing surface can feel a little low if you're used to tilting up the back of a keyboard. It's a small thing, but I would like to have had a way to adjust this manually. 
You'll need to screw the raising kit onto the base plates of the keyboard (everything is included), which then gives you the option to tilt the separate pieces to angles that suit your preferred typing position. 
As this is a mechanical keyboard, there are switches under the PTB double shot keycaps, all of which can be configured when ordering the Dygma Raise. My review sample came with Kailh Speed Copper switches, but there are another eight you could choose from including various Cherry MX variants and Gateron GT Pro 2.0, with only a maximum of $26 added to the cost in most cases.
If you prefer to use your own or have a favourite set, then the Raise is hot-swappable with any switches that use 3- or 5-pin switches with an MX stem.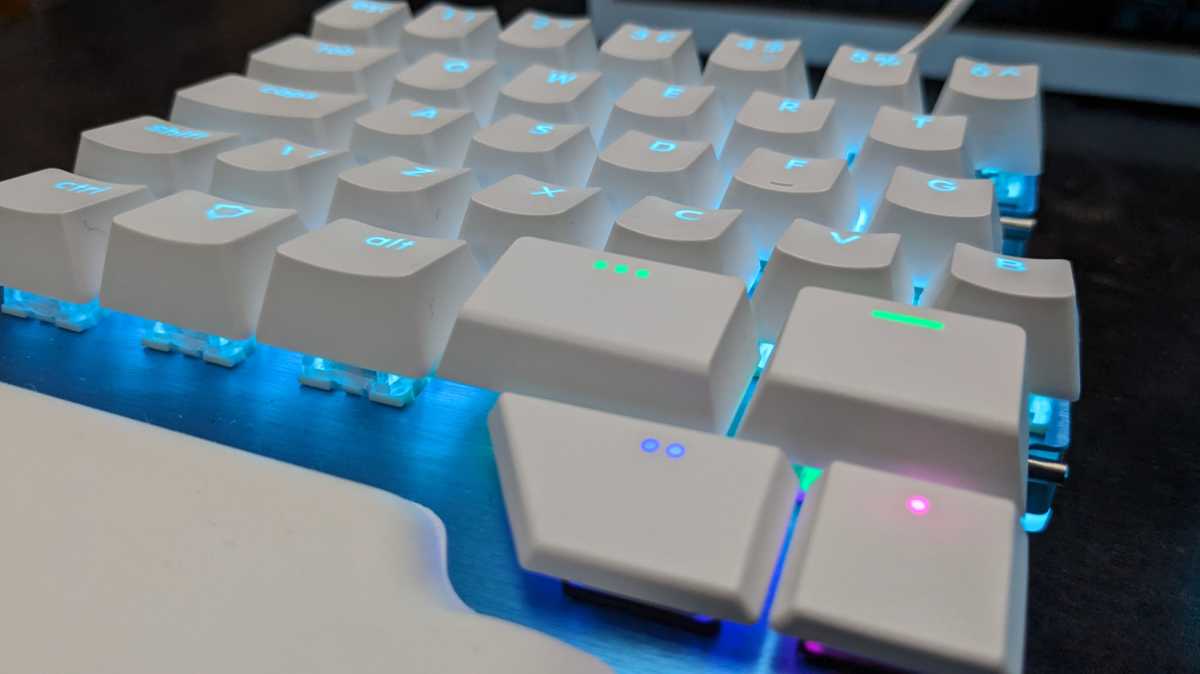 Martyn Casserly
Illumination comes from RGB lights and LED strips under the keys and key plate that shine brightly and in a range of colors. These can be configured via the accompanying software (more on that later) with the ability for individual keys to be highlighted in different tones. 
The two halves connect by slotting them into each other with the help of internal magnets, it's a good fit and very easy to quickly fix in place or take apart. Due to the separate sections, there are USB-C ports on both, with the included cabling allowing you to route them through the Neuron connector so they only take up one port on your computer. 
Keyboard feel and typing experience
60% layout with programmable thumb keys
Split keyboard helps with arm and chest alignment
Tilted position takes a lot of getting used to
Looking at the keyboard it's immediately apparent that there are a few things missing. As this is a short layout, you won't find a number-pad on the Raise, nor (more sadly) are there arrow keys. At least, not dedicated ones. Beneath the split space-bar there are two 'layer' keys that allow you to access the special characters and features that are defaulted to the second and third layers (kind of like advanced Shift keys), although more layers can be set up in the software.
So, pressing down and holding one will instantly make the ESDF keys glow, transforming them into a temporary set of arrow keys. While this is initially quite off-putting (I use arrow keys a lot it turns out), you can quickly adjust to the feature, with the added bonus that you don't have to change your hand position to navigate through documents.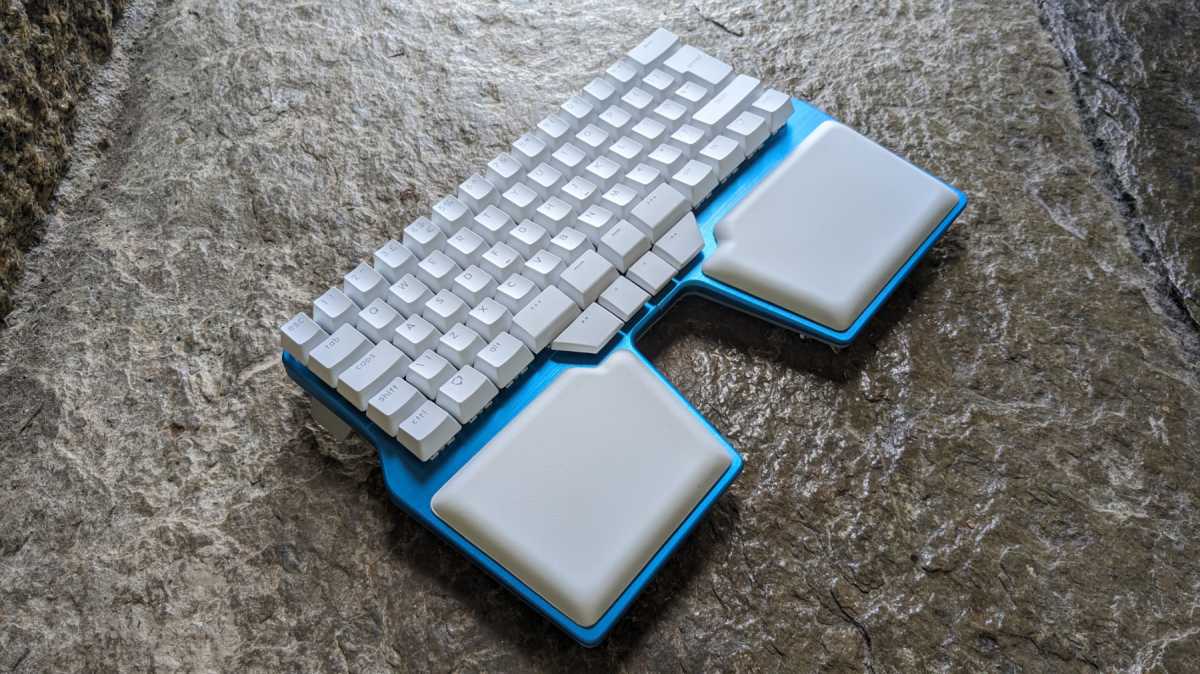 Martyn Casserly
This is important, as much of the design ethos behind the Raise is for efficient and ergonomic typing or general keyboard use. As a standard keyboard, it's responsive and comfortable to use. The feedback from the keys is solid without being too clacky, and the travel feels enough so that you know you've pressed the key but don't find your fingers sitting too high.
If you're a touch-typist like myself, you may find the first few hours a bit disorientating, as you try to hit the space-bar or other keys in that region with varying success. Stick with it though and you should find that you get back up to full speed in no time at all. 
Of course, once familiarity with the layout is achieved, it's time to pull the keyboard apart! 
The split mode is the first major change when it comes to typing positions. The principle is that your shoulders are more open when you separate the different sections, which should help with pains in that region as well as with the neck. Admittedly it does feel weird at first, but I was surprised how quickly I adjusted to the new angles and was able to type at a fast speed once more.
It's also a good idea to try angling the halves so that they don't sit in the traditional straight line that a normal keyboard demands. This can take pressure off of your wrists and loosen up the back and shoulders. It was curious how immediately I felt a difference in how the muscles were being used. Thankfully, the positioning can easily be tailored to your personal preference, making it a straightforward process of testing orientations to see which is the most comfortable to use.
There's definitely some trial and error here, but it's quite fun experimenting.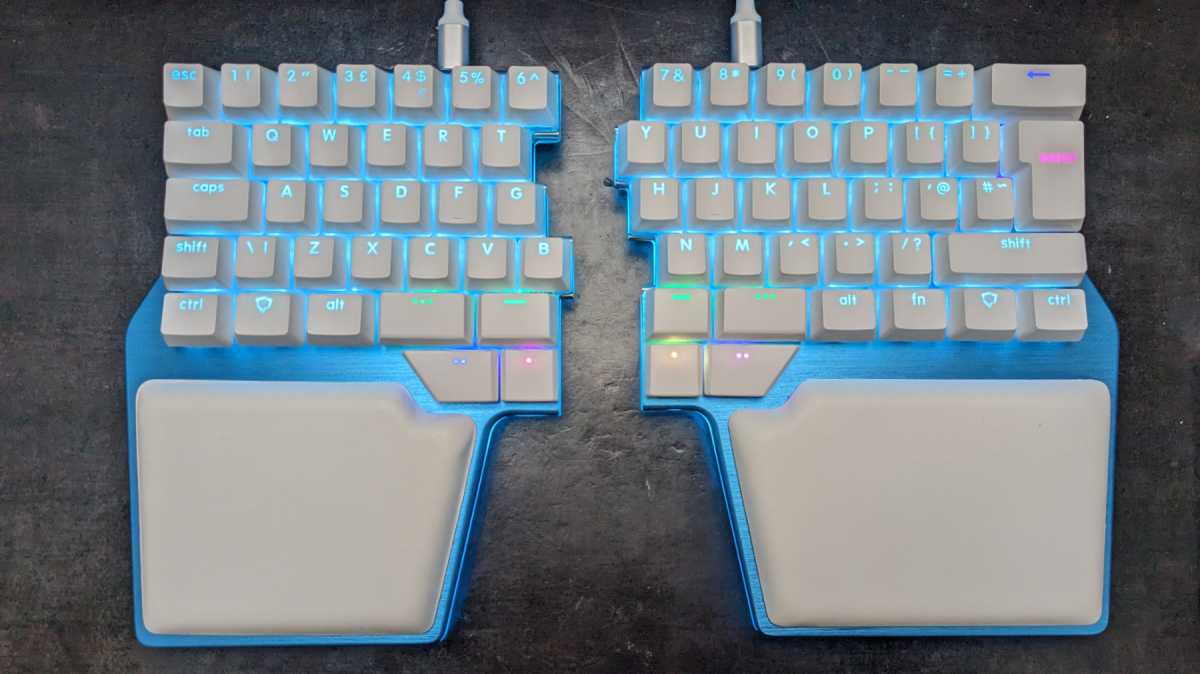 Martyn Casserly
As someone who suffers with a collection of typing related maladies, I did find that using the Raise in the split configuration was probably my favourite and noticed that my shoulders didn't ache as much as they usually do after a long day. There's also quite a lot of scope in terms of how far apart you can place the two segments, thanks to the generous length of the cables. So if you want you can place a mouse or trackpad in the gap you can. Cups of tea are also an option, just don't spill them on the keyboard.
Of course, with a name like Raise, there's the last mode to explore where the two sides are tilted upwards to form a kind of tent. This is achieved via the four legs underneath. You pull these out from their basic flat setting, then unfold the arms and push them in the notches in the base. Sounds a bit complicated, but it's incredibly simple and only takes a few seconds. There are four notch options, each one increasing the angle of the tilt. These go from a slight 10-degree slope up to a sharp 40-degree incline.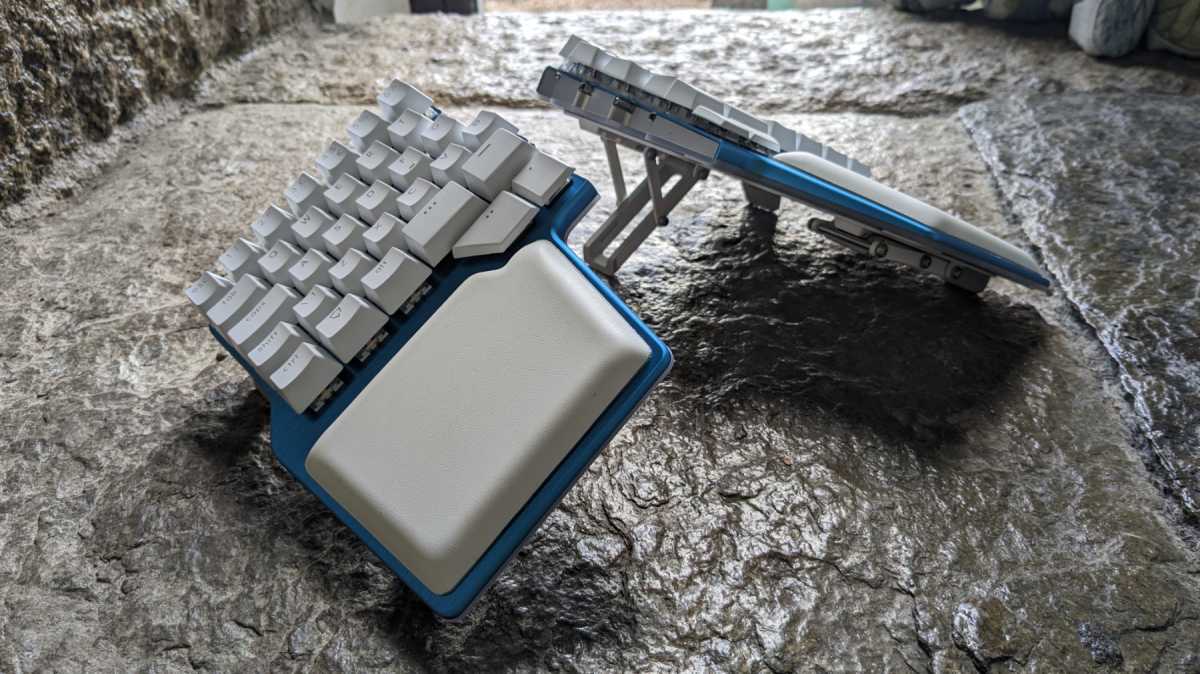 Martyn Casserly
I found the lower settings quite comfortable to use, with the angle seemingly taking a little pressure off my wrists. This changed though as I increased to the higher angles, where I found it uncomfortable to hold my hands up, even with the support of the palm rests. I do have a few issues in this area though, with a long history of shoulder problems and arthritis, so this could just be my own personal alignment rather than the keyboard. 
Software and programmable features
Bazecor software suite
Create different layouts and color schemes
Programmable macros
Superkey feature
Alongside the impressive number of ways you can physically adapt the Raise to your personal tastes, the software that accompanies the keyboard is where you can really tweak things to an almost ridiculous degree. 
The Bazecor name of the suite might sound like a villain from the Wheel of Time, but there's nothing monstrous about it. Once it's downloaded and installed on your PC or Mac you are taken by the hand through the various ways you can configure the keyboard. 
Everything is laid out in a logical manner, with visual cues making it clear how to get to grips with the tools on offer. There is also a range of very good tutorial videos on the Dygma site that take you through the capabilities of the Raise.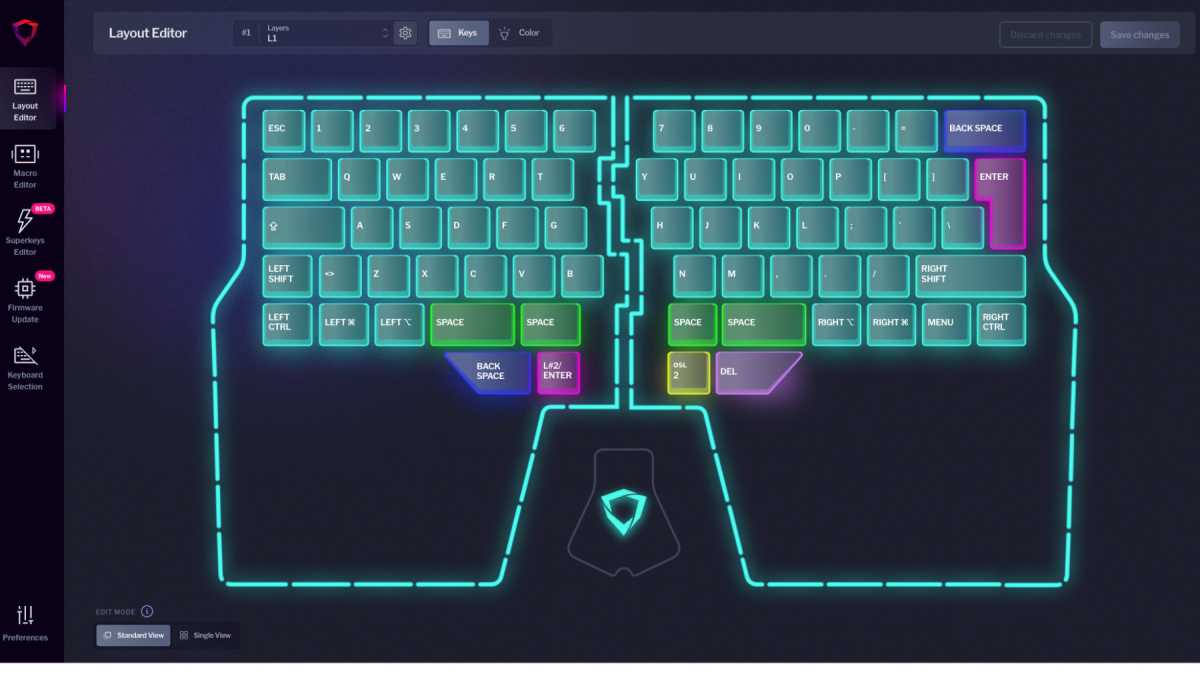 Martyn Casserly
First up there's the key editing section. Here you see a map of the board with all of the current keys. You can select from different layers, of which there can be a maximum of 10! If you want to add special features to any key then just click on it and you'll then be able to select the various combinations of keys that you want to trigger when you hit it.
Alternatively, if there's one you don't use very much, you can map it to another one from the full sized keyboard displayed on the page. For instance, I looked at the second layer of my setup and found a key that wasn't assigned. So I selected it, then put in the combination for a screenshot and assigned the key a specific color to remind me. Then, whenever I switched to layer two, the key would light up red and immediately take a screenshot when pressed. Very handy. 
For more complex tasks there's the macro option. In this menu, you can configure or live record macros that will paste in a preset text to a document or complete a series of commands to accomplish a task. Again, the programming is visual and simple to get to grips with, making this a very powerful and usable feature. 
There's also something called Superkeys where you can assign up to five commands to any key. These are then accessed by a combination of taps and holding down that particular key. As an example, you could map a macro to a key, but it will only trigger if you tap the key then immediately tap again and hold it down.
There are five possible actions you can use to trigger the key, and while they may take a little learning, the sensible implementation by Dygma means that it's not hard to master them quickly. You can always refer to the Bazecor software to remind yourself which keys are mapped and what commands they will execute. 
Alongside this, the software allows you to upgrade the firmware for the keyboard, as well as tweak all the general settings to an impressive degree. 
Price & Availability
If you're used to picking up any old keyboard so long as it's cheap, then the Dygma Raise probably isn't for you. This is a premium product through and through, and that's not only reflected in its quality but also the price. 
On the Dygma site, the baseline configuration starts at $419 (approx £345) and you can upgrade various features for additional costs. It should be noted though that the alternative switches and other upgrades are all reasonable, with the most expensive variant only adding $26 (approx £21) to the final bill, so you're not being encouraged to add loads of extras on top to get the configuration you want.
Out of the box, the Dygma Raise is ready to go and has all the features mentioned in this review. 
In the mechanical keyboard world, there are also other options, such as the OnePlus Keyboard 81 Pro, although that lacks any backlighting, can't be split and doesn't come with palm rests. It does cost less, at $219/£249, so that's something to consider. If you just want a basic ergonomic keyboard with a curved typing surface, then the Logitech Wave Keys can do the job for $59.99/£69.99.
There's also the Truly Ergonomic Cleave keyboard, which doesn't split or raise but does feature an angled positioning of all the keys which can take pressure off your wrists. It's fully mechanical and configurable and will set you back $299 (approx £247).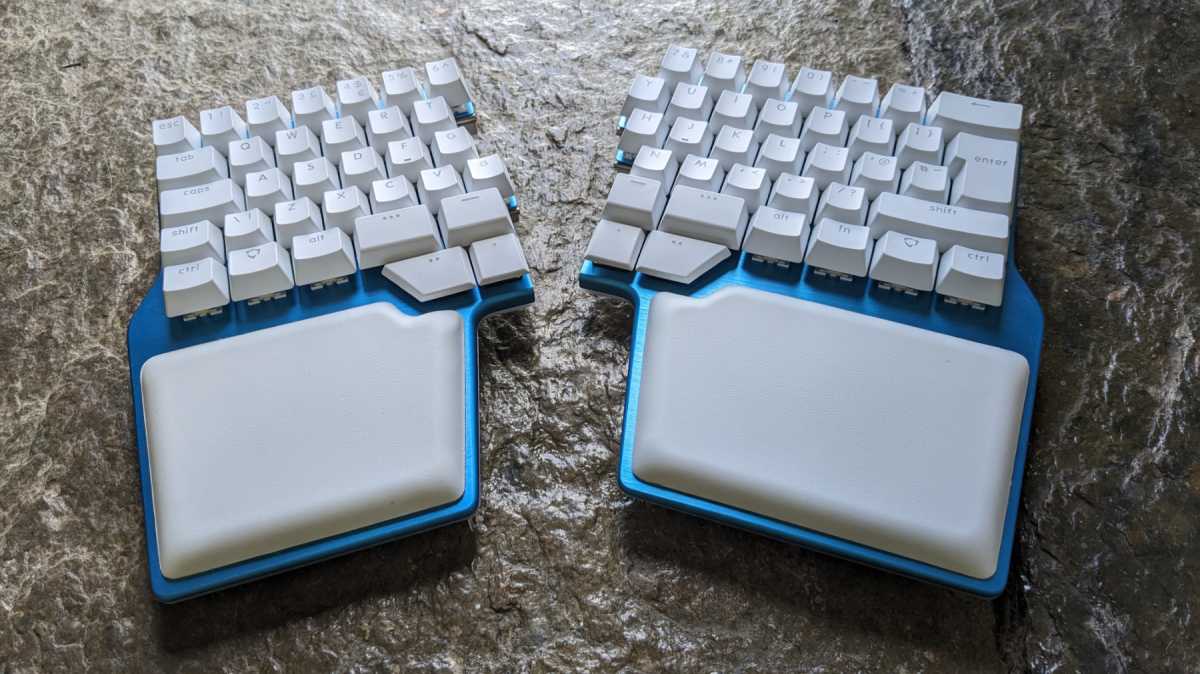 Martyn Casserly
Should you buy the Dygma Raise?
Paying top dollar for a keyboard might not be high on a lot of people's list of priorities, but in an age where shelling out nearly a grand on a phone isn't unusual, I'd say investing in a quality keyboard that you could use every day for years is something worth serious consideration.
The sheer level of flexibility and customisation available in the hardware and software makes the Dygma Raise one of the most versatile and interesting products I've reviewed in a long time. Even after a few weeks with it, I kept discovering new things it could do to make my typing life a bit easier.
It does feel a little intimidating at first, and relearning to type can fry your brain for a few days. I also didn't get on that well with the steeper inclines in the tent position but you might.
I've found the layout, great software experience and tutorial videos mean that rather than being overloaded with features you'll never use, the Raise is like a precision tool that can turn the humble keyboard into a powerhouse control centre for your computer. More importantly, my hands felt less painful than they usually do when I use my traditional old keyboard for a full day's work. And you can't put a price on that. 
Specs
64(ANSI version) / 65(ISO version) mechanical switches and 4x low-profile mechanical switches (hot-swap sockets for Mx switches and 4x Kailh hot-swap sockets for Choc switches.)
PBT double-shot keycaps (English US and UK) and high-end laser-etched ABS OEM profile keycaps for dash and non-English languages.
Customizable RGB LEDs on the keycaps and 60 LEDs for the underglow.
Atmel tiny 88 U-CN Keyscanner Microcontroller
Sonix Sled 1735 LEDs Microcontroller
Annodized aluminum Key plate
Atmel ATS AMD 21G18A-U ​​Neuron Microcontroller
Splittable chassis
Raising kit for angling two keyboard sections (between 10 and 40 degrees)
USB-C
Neuron interface only requires single USB-C slot on PC
Programmable via Bazecor software suite
315.63 mm x 201.76 mm x 33.6 mm.
895g