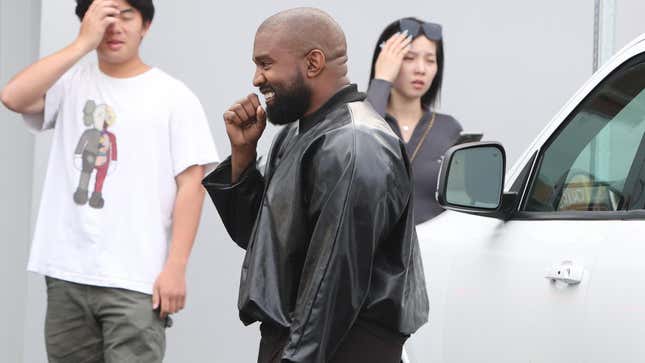 Even though Adidas dropped Kanye West a year ago due to his deranged comments about the Black Lives Matter movement and Jewish people, that never stopped the speculation about how they could keep the controversial star for so long.
Kanye West Needs To Stop Bullying Black Women
The New York Times launched an investigation into West's behavior during his lucrative partnership with the brand. According to the report, West (who now goes by Ye) "subjected employees to antisemitic and crude sexual comments and routine verbal abuse."
The publication conducted interviews with current and former employees of Adidas and West. In addition, they examined contracts, financial documents and internal records. The rapper's first contract with Adidas was in 2013.
In 2016, West received more money but Adidas was allowed to include a morals clause where the partnership could end if West does something that could lead to"disrepute, contempt, scandal."
West would regularly meet at Adidas' company headquarters—which are located in Germany—would draw swastikas on sketches and even told a Jewish Adidas manager to kiss a picture of Hitler everyday.
West also made Adidas executives watch porn during a meeting at his Manhattan apartment and continuously showed pornography to Adidas employees at work. Employees also claimed that West made upsetting, sexually offensive comments to them directly.
West, who suffers from bipolar disorder, also had tremendous moodswings and in 2019, suddenly moved his Yeezy operation to Wyoming. Instead of dealing with West, managers and executives started a group text chain called "Yzy hotline" to address his behavior.
Even though the partnership is over, in May the company began releasing the remaining $1.3 billion worth of Yeezys. Some of the proceeds go to charity, but most of it will go to Adidas and West as well.
Ultimately, the company knew just how gross the artist's misconduct was but prioritized profits over people.