Samsung's Galaxy S23 series launched earlier this year, instantly becoming the go-to set of Android smartphones for many people.
We were impressed with the Galaxy S23, S23 Plus and S23 Ultra, but there's room for improvement on all three handsets.
That makes the prospect of the Galaxy S24 series very exciting. And with lots of rumours already flying around, we already have a decent idea of what to expect. Here's everything you need to know.
When will the Samsung Galaxy S24 be released?
As expected, Samsung is yet to confirm a date for the Galaxy S24 unveiling at this stage. But the launch date of recent generations gives us a good idea of when the new phones will be announced:
It'd be a big surprise to see Samsung deviate from this schedule. But in a post on Chinese social media site Weibo, leaker Ice Universe suggests it'll be slightly earlier than the last couple of years:
Weibo
Ice Universe has a strong track record for Samsung news, so it's likely to be around this time. If true, expect the phones to be released in late January or early February 2024.
How much will the Samsung Galaxy S24 cost?
We're not sure of the exact price yet, but we can make good guesses based on the prices of previous models:
Regular model
Galaxy S23: $799/£849/€959
Galaxy S22: $799/£769/€879
Galaxy S21: $799/£769/€849
Plus model
Galaxy S23+: $999/£1,049/€1,219
Galaxy S22+: $999/£949/€1,079
Galaxy S21+: $999/£949/€1,049
Ultra model
Galaxy S23 Ultra: $1,199/£1,249/€1,419
Galaxy S22 Ultra: $1,199/£1,149/€1,279
Galaxy S21 Ultra: $1,299/£1,149/€1,249
As you can see, Samsung seems to have settled around remarkably consistent pricing in the US, with only slightly more variation elsewhere – mostly price hikes in the UK and Europe this year, driven by inflation. Let's hope the company can avoid raising rates for two years in a row.
What specs and features will the Samsung Galaxy S24 have?
As Samsung hasn't released any details about the S24 line yet, we don't have any confirmed upgrades at the time of writing. Of course, that hasn't stopped the rumour mill from doing its thing, and several leaks have already appeared which suggest Samsung fans could have something to look forward to, especially in the Ultra.
Design
It doesn't look like there'll be huge changes to the design of the S24 and S24 Plus. Leaker Tech_Reve tweeted in May that they'll "keep the same design as their predecessors,", though there may be some minor tweaks.
Judging by renders from OnLeaks (via Smartprix), the regular S24 will shift to a flat frame, as opposed to the rounded corners seen on previous models. It also looks like the bezels are smaller than on the S23: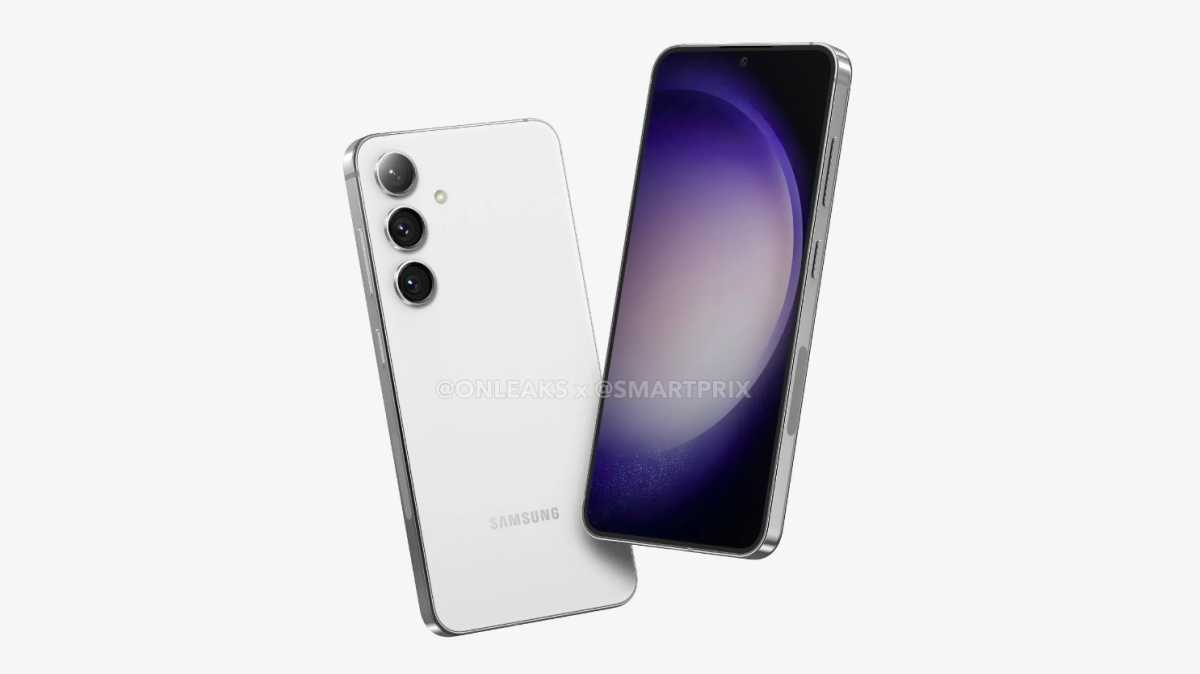 OnLeaks / Smartprix
It's a similar story for the S24 Plus, with more OnLeaks renders (this time via GizNext) revealing a new, totally flat screen. The camera flash has also been moved down slightly: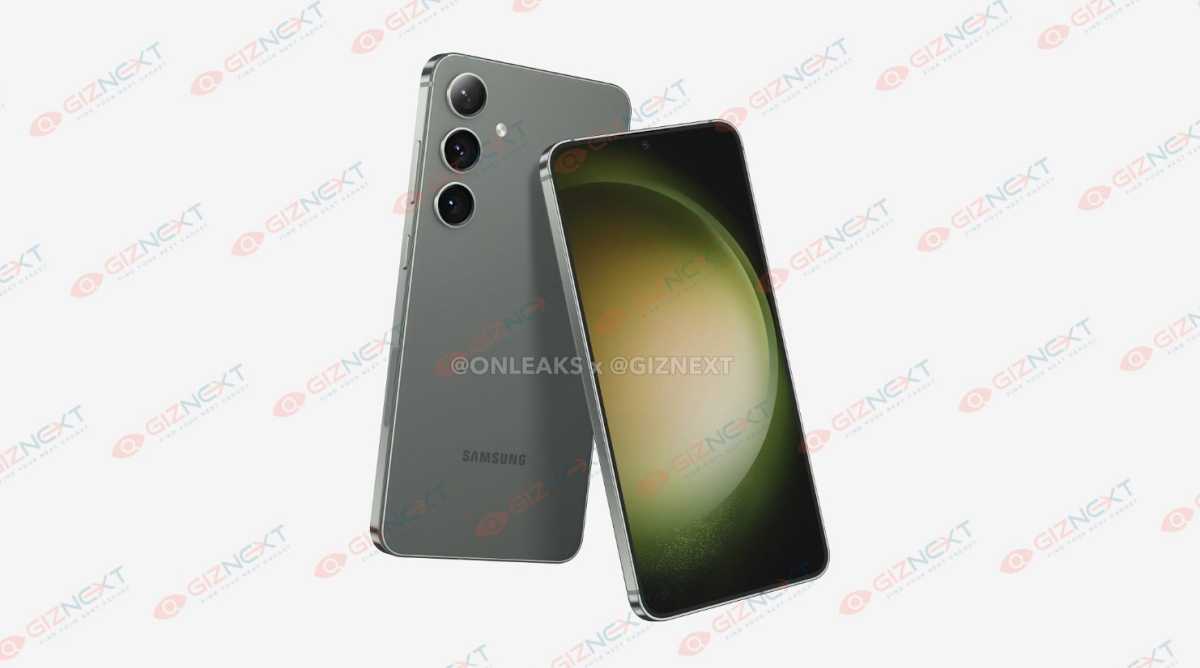 OnLeaks / GizNext
Then there's the S24 Ultra (via Smartprix), which looks very similar to the S23 Ultra but may also ditch the curved screen. It also looks like the bezels are even slimmer: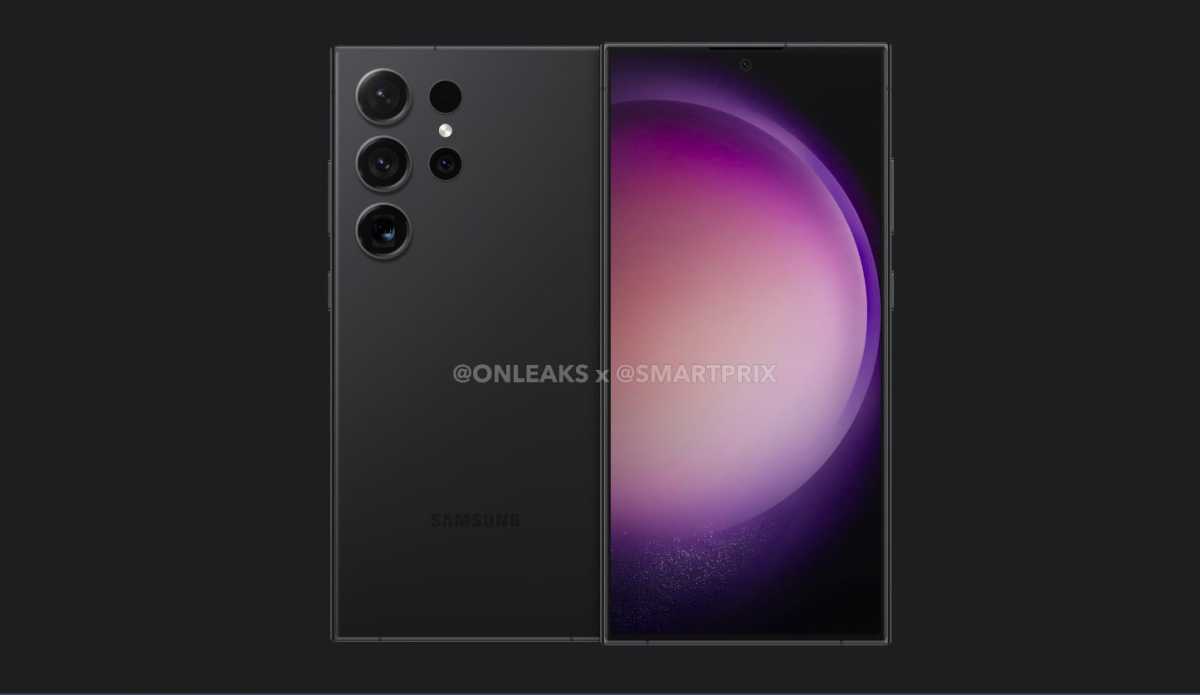 OnLeaks / Smartprix
This move away from the curved screen is something leaker Ice Universe also believes will happen, at least on the Ultra:
However, an OnLeaks renders suggests it won't be fully flat:
Samsung has gradually been moving away from curved panels in recent years, so this won't be a huge change. But it might make the S24 Ultra easier to hold.
According to Forbes, the S24 Ultra may also shift to a titanium build, joining the iPhone 15 Pro and Pro Max in using the material.
Display
Samsung currently uses 120Hz panels on all three Galaxy S23 phones, but according to a leak by SamLover, this could be upgraded to 144Hz with the S24 Ultra. This should make the device silky smooth when scrolling, plus open up all that power and make it a dream for mobile gamers.
However, in the "Expected Specifications" on Smartprix, a 120Hz refresh rate is still quoted.
Elsewhere, according to Ice Universe, the S24+ will join the S24 Ultra in getting a higher-quality WQHD+ resolution:
Performance
As you'd expect from a flagship phone, the processor inside will be from the very top drawer. And it looks like that'll be Qualcomm's latest and greatest Snapdragon 8 Gen 3.
In an official video showcasing the company's 200Mp Isocell cameras, Samsung says the feature is "accelerated by the Qualcomm AI Engine". Given the Galaxy S23 Ultra had a 200Mp camera and used the Snapdragon 8 Gen 2, this is highly likely.
According to SamMobile, the new chip could have a GPU that's around 50% faster. But will we see the 8 Gen 3 across all S24 models?
In March 2023, Won-Joon Choi, Samsung's Executive Vice President of Mobile R&D, wouldn't rule out a return to the Exynos processors that the company has deployed in its non-US models for a number of years in an interview with Tech Advisor.
According to leaker Tech_Reve, the S24 and S24+ will be available with both the Snapdragon 8 Gen 3 and Exynos 2400 (likely dependent on region), but the S24 Ultra will only be sold with the Qualcomm chip:
But on the S24+, Giznext suggests it'll be the Snapdragon 8 Gen 3 in the US or Exynos 2100 in India and "other markets".
Indeed, GSMArena believes that Snapdragon and Exynos chips will be available on the Galaxy S24+. And Geekbench 6 listings from 12 October and 27 October hint at models with 8- or 12GB of RAM, though this appears to only be for the Korean versions.
Cameras
The cameras on the Galaxy S23 phones are already impressive, and unfortunately it looks like Samsung may be using that as an excuse to not change much – at least in the Ultra.
We've heard slightly conflicting reports here. Leaker Ice Universe shared a report on the rear camera specs for the Ultra model in June, showing four lenses that are almost entirely unchanged from the previous generation. In fact, the only hardware change was to the 10x telephoto, which is apparently switching to the IMX754+ sensor – but only after previously using the very similar IMX754.
This report is in contrast to claims from other leakers that Samsung is planning to drop down to three rear lenses on the Ultra. RGcloudS first reported that Samsung was planning to drop one lens, combining the 3x and 10x telephotos into a single variable zoom lens.
SamMobile has instead reported that Samsung will adopt a 5x optical lens for the Ultra, which seems to be a natural midpoint. Ice Universe now agrees, describing it as "the truth".
But rival leaker Tech_Reve previously disputed that claim, and leaked renders from OnLeaks (via Smartprix) show four rear cameras. It remains to be seen what will happen in the final product:
Elsewhere, in a now-deleted news article (reported by GSMArena), Samsung appeared to describe 200Mp telephoto cameras as "the next big thing in smartphone photography". Does that mean we'll see an improved one on the Galaxy S24 Ultra?
It's looking possible, judging by an October 2023 Samsung video:
In the clip above, this 'Isocell Zoom Anyplace' lens enables you to film wide-angle and zoomed-in video at the same time. You can also use it to automatically track subjects as they move across the frame.
Battery and charging
With all the power that the Samsung S24 is bound to have on tap, it will need an efficient and capacious battery inside to keep the show on the road. This shouldn't be a problem if a report from GSMArena turns out to be true. This states that Samsung is working on a new stacked battery design that is inspired by electric vehicles.
This would allow a higher density cell to be squeezed into the same space as the older ones, giving an instant boost that would mean longer times between recharging. If Samsung can pull it off, then expect to see this becoming the norm in the industry over the coming years.
Charging speeds are one of the key weaknesses of the 2023 phones, with the S23 limited to 25W and S23 Plus and Ultra maxing out at 45W. But according to RGCloud5, a leaker with a generally good track record, we can expect charging to peak at 65W:
However, it looks like this might only be for the S24 Ultra. It might not even make it there, with Smartprix suggesting the phone will still be limited to 45W.
The X post above also suggests the S24 Ultra will stay with a 5000mAh battery, but that it'll be joined at that capacity by the Plus (from the current 4700mAh). There's no word on if we'll see an improvement to the regular S23's 3700mAh cell.
Software
The S24 series will no doubt ship running Android 14 along with the latest version of Samsung's One UI software, and a generous software support guarantee.
One extra thing it will get is Google. By which we mean, Samsung has reportedly decided to stick with Google as the phones' default search partner, after making headlines by mooting a switch to Bing.
The Wall Street Journal reports that Samsung held an internal review which decided in favour of Google, on the basis that a switch might confuse users and sour the relationship with the Big G.
That's all we've found so far but be sure to check back regularly as we'll be updating this article as more information comes to light. Until then, take a look at our currently picks of the best Android phones, plus the best phones coming in 2023 and beyond.