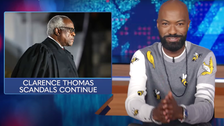 "The Daily Show" guest host Desus Nice on Thursday had a message for the wealthy executive who reportedly loaned Supreme Court Justice Clarence Thomas a quarter-million-plus dollars which financed Thomas' purchase of a high-end RV, and which Thomas reportedly "never repaid" in full.
"You want to hang sometime?" Nice cheekily asked.
"Yo, let's catch a Knicks game," he continued. "We got courtside tickets if you pay for them."
Thomas has "accepted more gifts than Make-A-Wish kids," joked Nice.
Watch Nice's full monologue here: