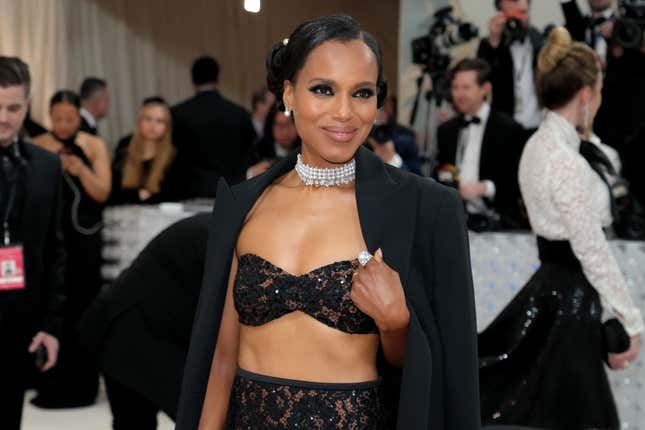 Actress, director, and producer Kerry Washington is preparing for the world to know some of the deepest secrets of her life in her upcoming memoir, Thicker Than Water, set to release on September 26.
Tracy McMillan, Creator of Hulu's Unprisoned, Talks New Show, Incarceration And Family
In a promo interview with Good Morning America's Robin Roberts, she revealed that she had a dangerous relationship with body image and food in her young adult years.
Washington was in college at the worst point of her issues, but was great at hiding that she was struggling, adding in the interview, "I was good at performing perfect, I was good at control. I could party all night and drink, smoke, and have sex and still show up and have good greats… I was so high functioning, and the food took me out like the body dysmorphia, body hatred, it was beyond my control."
She finally categorized her disordered eating to be abusive and knew that she needed someone or something to help her because she felt like she was dealing with "tiny little acts" of hurting herself. In an excerpt from her memoir, she wrote specifically that the disorder was a "toxic cycle" of "starvation, binge eating, body obsession and compulsive exercise."
Robin Roberts proceeded to push forward and ask her, "So you actually contemplated suicide?" to which Washington simply responded: "Yeah."
When she felt like she was spinning out of control, she told Roberts that she dropped to her knees for the first time and started to pray for help. She later admitted in the interview that she struggles with food at times but it is not to the deadly extent that it was in her college years. Now, she has some occasional uncomfortable moments with food but "checks herself" to understand why she feels that way about the food, building a healthier way to continue eating without guilt or shame.
Washington's memoir took over four years to complete, making her announcement from a recording booth in June 2023 about it's completion. There will be an accompanying audiobook. She told People that she looks forward to the book allowing readers to have "compassion for themselves and others."