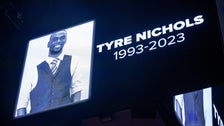 A federal grand jury has indicted the five Memphis police officers involved in the January killing of 29-year-old Tyre Nichols on Tuesday, CNN reported, citing court filings.
The indictment comes months after officers Tadarrius Bean, Demetrius Haley, Emmitt Martin III, Desmond Mills Jr. and Justin Smith were captured on body camera footage brutally beating Nichols, prompting a Justice Department investigation into the department's policing.
This is a developing story. Please check back for updates.