Now that September has rolled around again, the world – or at least a large proportion of phone enthusiasts around the globe – are eager to find out what Apple has in store for its new iPhone range, due to be revealed in under a fortnight.
There are loads of rumours about the new phones, which may or may not turn out to be true, but that doesn't mean it's not interesting to read about predictions from analysts and "leaks" which might give away clues before the big day.
So, here's what to expect from Apple's next-generation iPhone 15 range, from its release date and what each model is likely to cost, to speculation about the specs and features they might include.
Learn more about the iPhone 14 and iPhone 14 Pro if you can't wait and need a phone immediately. But otherwise, read on.
When will the iPhone 15 be released?
Apple updates its iPhone range on a yearly basis with a predictable schedule. This means that predicting September as the new iPhones' release date isn't hard.
Setting aside the delayed release of the iPhone 12 due to the pandemic, Apple has favoured September reveals for its flagship iPhone range since the release of the iPhone 5 back in 2012. It's always customary for the Cupertino-based company to announce the exact day of the event two weeks ahead, and so we know exactly when the iPhone 15 will be unveiled.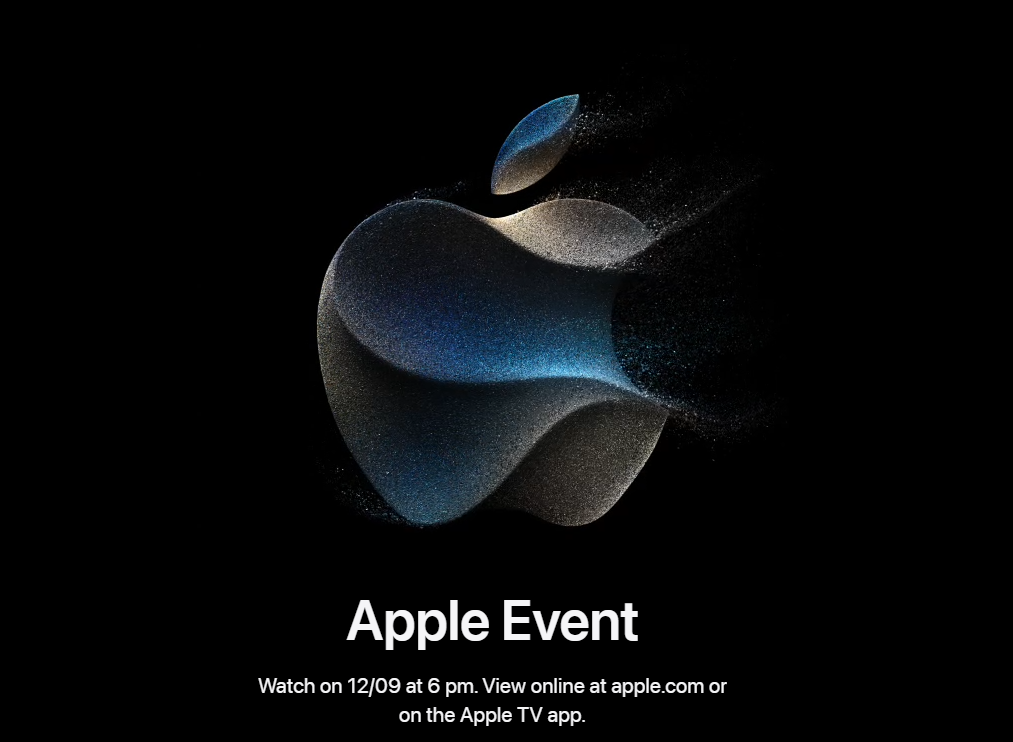 Apple
The upcoming Apple Event, this time with a tagline "Wonderlust", has been announced and will take place on September 12, at 6 pm UK time/10 am PT. The event will have a small in-person attendance, but every Apple fan can also watch it live from home.
How much will the iPhone 15 cost?
While the iPhone 14 range matched the pricing of the iPhone 13 range in the US, the same can't be said in regions such as the UK, where the standard iPhone 14 is £70 more expensive, and the iPhone 14 Pro comes in at an extra £150 compared to last year.
iPhone 14: From $799/£849
iPhone 14 Plus: From $899/£949
iPhone 14 Pro: From $999/£1,099
iPhone 14 Pro Max: From $1,099/£1,199
The question is, should we expect the same with the iPhone 15? Of course, Apple tends to keep prices at roughly the rough level, but currency fluctuations could see price increases everywhere this year.
An anonymous Weibo leaker has claimed that a price hike will apply to the Pro models, to increase the gap between them and the regular phones, though doesn't offer any specific pricing.
The same sentiment has been echoed by Mark Gurman, and the expected price in USD for the iPhone 15 Pro and Pro Max might rise by at least $100. This means that, for the first time, both Pro models will cost more than $1000.
Even worse news comes from MacRumors. According to the site, iPhone 15 Pro Max might cost as much as $1299 for the cheapest configuration. This price hike is supposed to be caused by higher margins that Apple wants to adopt, as well as the pricier materials used to make the phone.
The possibility of a price hike for the Pro models lines up with comments made by Tim Cook himself, discussing the willingness of fans to pay extra for premium models during an earnings call: "I think people are willing to really stretch to get the best they can afford in that category."
One complicating element here is whether Apple is re-branding the Pro Max to the Ultra, which would give it more of an excuse to up the price. Initial rumours seemed to suggest that there would be an iPhone 15 Ultra. However, with time, these have faded away and now we expect Apple to release the same line-up as last year: two standard and two Pro models.
However, Mark Gurman has since reported on Bloomberg that the Ultra will be a fifth iPhone model, sitting above both the Pro and Pro Max in the range, but that if so it wouldn't be introduced until next year's range. "Internally, the company has discussed doing just that," he writes, "potentially in time for the 2024 iPhone release."
What to expect from the iPhone 15 specs
As you can see, the release date of the new iPhone is just days away now. It's the time where the internet is awash with new leaks and rumours, as everyone anticipates the big event. Even better- most of them suggest that we are in for quite a ride with several big changes on the way.
More power
We're expecting Apple to unveil a new A17 Bionic chip to power the Pro models while upgrading the regular models to last year's A16 Bionic. That shouldn't be a surprise to anyone that knows iPhones.
A17 Bionic is shaping up to be quite a beast, mostly thanks to the new and improved 3nm manufacturing process from TSMC that it uses. In an interview with Bloomberg, TSMC's chairman Mark Liu confirmed that this node is expected to yield a 10-15% increase in processing power, while also being around 35% less power-hungry. This means not only much better performance but also even better battery life for this year's iPhones.
Simultaneously, market analysts TrendForce report that Apple will "bump up the capacity and specifications of the DRAM solutions featured in the next generation of the iPhone that is scheduled for release this year."
That means more RAM, and faster performance. The report doesn't specify which phones will get a bump, but previously the company had reported that the iPhone 15 Pro will jump from 6GB of RAM up to 8GB, so that's still the best guess. On the other hand, MacRumors suggests that the RAM increase might not happen after all, and that we should expect 6GB of RAM in every iPhone 15 model.
Another possible Pro perk comes from leaker Unknownz21, shared via MacRumors, who found an antennae diagram that appears to reveal that the Pro models will be getting an upgrade to the faster and more reliable Wi-Fi 6E standard this year, while the two cheaper phones won't. That won't matter to you too much unless you have a Wi-Fi 6E router – or regularly connect to one at work, perhaps – but it is an important bit of future-proofing Apple is already behind the competition on, and it looks like only the Pro models are catching up.
A refreshed design
The iPhone 14 range certainly looks premium, but the same could be said of the near-identical iPhone 13 and iPhone 12, which is to say that it has been a few years since Apple updated the design of its smartphone range. Unfortunately, it seems that iPhone 15 will continue this tradition and again pass up on any bigger changes in its design. There will be, however, some minor ones.
Probably the most anticipated change design-wise is the upcoming titanium frame for iPhone 15 Pro and Pro Max. The rumour originated via leaker ShrimpApplePro, who took to Twitter (now X) to claim that the iPhone 15 Pro phones will have titanium sides, a serious upgrade even compared to the stainless steel finish of the iPhone 14 Pro range.
That's not the only design change rumoured though. ShrimpApplePro also suggests that the back edge of the sides of the phone will be rounded, allowing the frame to curve into the rear of the phone that "will create a really beautiful edge transition from the back to the camera bump".
9to5Mac also obtained CAD renders of the 15 Pro a while back, and since then more detailed, high-res renders, and they reveal all of the above and more. Yo can see the new titanium finish, subtle curved corners, the long-rumoured USB-C port, and an updated button design. There's also a thinner display bezel – the thinnest in any phone yet according to leaker Ice Universe, at 1.55mm.
One element that's proven a little complicated is the button design. At first many leakers thought Apple was re-designing the phones' volume buttons, as you can see in the new single volume button in the above renders, believed to use haptic tech to provide feedback.
However, that no longer looks to be happening, as we explain below. What is happening is the addition of a new button to the Pro models, a so-called 'Action' button, which may be programmable by users. You can still see that in this updated 15 Pro render from 9to5Mac, which has returned to the old volume buttons.
Finally, if you want to see the possible designs in motion, MacRumors managed to get hold of four dummy models – one for each model in the range – made by an unnamed phone case maker.
The dummies aren't real phones, and don't function. They also don't really reveal anything that we didn't already know, but are a good look at what might be coming later this year.
We also managed to get a hold of some rumour concerning the colour of the upcoming iPhones. Once again we are expecting Apple to distinguish between its Pro and standard lineups with their colours – namely, their saturation. Standard models are again getting nice, vibrant shades, while Pro models go for rather muted, toned-down colours.
There are also rumours that standard models of iPhone 15 will feature a frosted glass backs – a feature that before has been reserved only to the "Pro" tier. There is no concrete evidence of it, but it would make for a nice, consistent look along the whole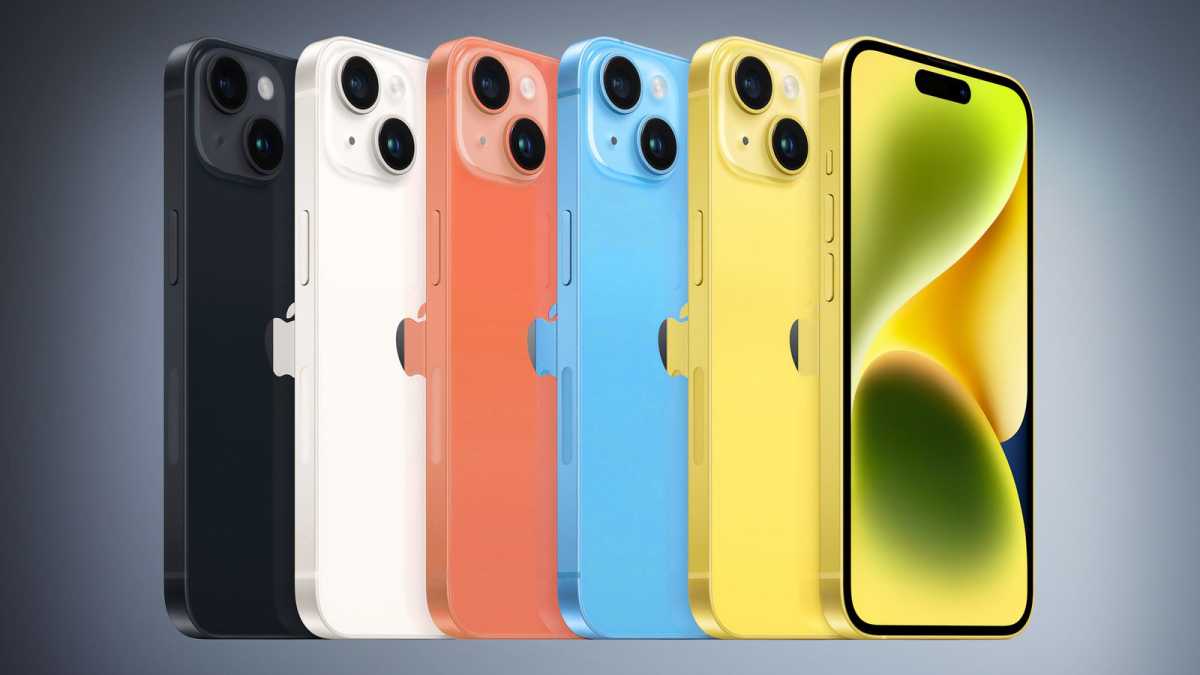 MacRumors
We are expecting 5 or 6 standard colours (there is no information so far on the Product RED version), as well as 4 Pro versions.
Standard:
Black
White
Coral
Blue
Yellow
Product Red?
Pro:
Space Black
Titanium
Silver-Gray
Dark Blue
MacRumors
In addition to these colours, there is one more nice detail that Apple is going to implement this year. Following its own example from iMacs and MacBook Airs, Apple is going to add a nice visual flair to its smartphones, which is colour-matched cables! This news comes from an X (formerly Twitter) user Majin Bu, who shared that info along with a picture of the expected colours of these cables.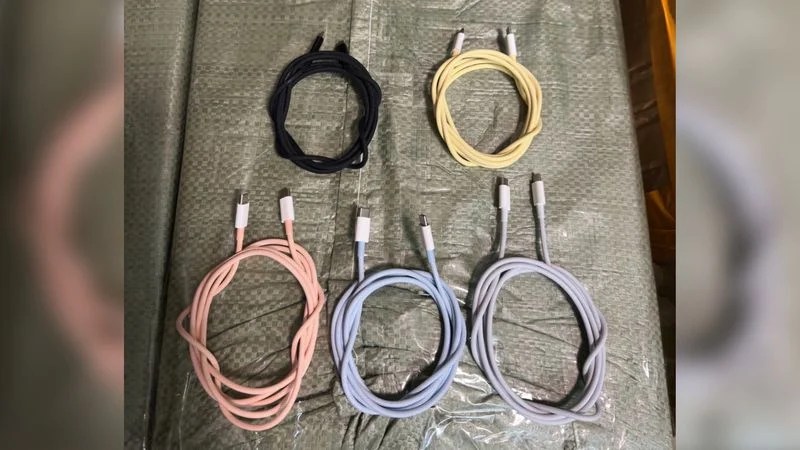 Twitter
According to MacRumors, after all these cables will only come with Pro and Pro Max models, and these more colourful options are optional accessories for the standard models. Nevertheless, it's nice to see some more colour in Apple's ecosystem.
What's going on with the buttons?
So what's going on with those volume buttons then? Leakers have long agreed that Apple was introducing new solid-state volume buttons on the 15 Pro and Pro Max, which would provide haptic feedback to users instead of actual moving parts.
However, the ever-reliable analyst Ming-Chi Kuo has thrown some water over those particular flames. He wrote in April 2023 that due to "unresolved technical issues" the solid-state buttons were being ditched, and that the Pro models will ship with the same old physical buttons we know and love.
That's been all but confirmed by a shareholder letter from Cirrus Logic, the company long believed to be supplying the haptic hardware. The company told investors that "a new product that we mentioned in previous shareholder letters as being scheduled for introduction this fall is no longer expected to come to market as planned," which seems an awful lot like a veiled reference to the iPhone 15 line. The phones are still coming of course, but now without the Cirrus tech inside.
If that's true, Apple can hopefully refine the tech and introduce it with the iPhone 16 series next time around.
Note that this only applies to the new haptic volume buttons. Leaks still suggest that the iPhone 15 Pro models will be getting a whole new 'Action' button above the two volume controls.
This button, sadly, will only appear in the Pro lineup. iPhone 15 and 15 Max will – reportedly – still receive the old-fashioned mute switch, so if you're a fan of that tech there's still some hope for you in the upcoming iPhones.
The Action button is likely to be programmable, and owners should be able to use it to turn on their most used functions or open favourite apps. We're expecting it to have a set of predetermined functions, as well as provide you with different actions for a single press, two presses, and a long press, or maybe even more.
Dynamic Island for all
The Dynamic Island – that is, the redesigned Face ID cut-out – of the iPhone 14 Pro is easily one of its stand-out features, but it might not be a Pro exclusive for long.
According to display industry insider Ross Young, Apple intends to bring the redesigned Dynamic Island system to the entire iPhone 15 range next year.
We can see that in CAD renders for the phones shared by 9to5Mac. Here it is seen in the regular iPhone 15, though the site also shows it in the larger 15 Plus.
9to5Mac
Replying to a tweet on the subject in September 2022, Young states that "Dynamic Island expected on standard models on the 15," though those hoping for a jump to 120Hz may be disappointed, as he claimed that the "supply chain can't support it."
Instead, Young expects the 120Hz LTPO display tech to make an appearance on the standard models in 2024, presumably with the iPhone 16.
Young has provided an impressive number of display-related leaks over the past few years – he was among the first to tease three sizes of Apple Watch, and was on the money with Apple's Dynamic Island the first time around – so he's certainly a source worth paying attention to.
It's also worth noting that Apple leaker Mark Gurman agrees with Young's prediction, noting in a January 2023 edition of his Power Up! newsletter that both standard models of iPhone 15 are set to get the Dynamic Island upgrade later this year.
Leaker ShrimpApplePro believes in Dynamic Island for all too, also adding that all the phones in the series will get a slightly curved bezel around the screen – so while the display itself will be flat, the very edges will have a slight curvature.
There may be other upgrades in store for the Pro models, with leaker @chunvn8888 reporting that those phones are in development with new Samsung M13 panels – though with no indication of what specs those screens might have, it doesn't give us a whole lot to go on.
The switch to USB-C
Apple has fought off switching to USB-C on its iPhone range for years despite doing so across its iPad range, though with mounting pressure from the EU with a new law that'll force smartphone makers to switch to USB-C by 27 December 2024, it seems Apple is finally giving in, though it's not particularly happy about it.
Discussing the new law in an interview with the Wall Street Journal in October 2022, Greg Joswiak, senior VP of worldwide marketing at Apple, conceded defeat.
"Governments get to do what they're going to do and obviously we'll have to comply, we have no choice," he said when asked about the new ruling.
Though Joswiak declined to comment on exactly when the iPhone would make the switch, the renders above suggest that Apple is ready to move over to the new port this year.
We think we've now seen photographic evidence of that, thanks to the below photo originally shared (but since deleted) by URedditor on Twitter. We see what's clearly a USB-C port built into a brushed metal frame – and the leaker adds that they believe USB-C will be found on every iPhone 15 model, and not just the Pros.
There is speculation that Apple could only ship USB-C-enabled models to countries in the EU – it sells an e-SIM-specific variant of the iPhone 14 in the US, so it's not an alien concept – but it's likely that it'll simply make the switch worldwide to prevent charging confusion among different models.
Ming-Chi Kuo has reported that he believes all of this year's new iPhones will adopt USB-C (suggesting the same approach worldwide) but adds a fun wrinkle: only the Pro and Max will support high speed data transfer equivalent to USB 3.2 or faster, with the two regular models restricted to the same USB 2.0 speeds that Lightning was limited to. Most people won't be moving enough data over USB-C to notice, but it's an odd spec to skimp on.
What's interesting is the cables that new iPhones are going to ship with. According to Majin Bu on Twitter (X), these cables will only support USB 2 transfer speeds, regardless of your model. So even if you get an iPhone 15 Pro or Pro Max, you'll need to buy a separate cable to transfer your files at full speed.
Along similar lines, one report on Chinese social media Weibo suggests that Apple will build an authenticator chip into the iPhones' USB-C ports which could be used to limit performance or restrict functionality with USB-C cables and devices that haven't themselves been certified by Apple.
That wouldn't be unheard of, as the company basically already does the same thing with Lightning – but that was before the EU ruling. In fact, German newspaper Die Zeit reports that EU Industry Commissioner Thierry Breton has already warned Apple that any attempt to artificially restrict USB-C performance would not meet the requirements of the new law, and that such devices "will not be allowed on the EU market."
We've also heard some rumours about the charging speeds on new iPhones. 9to5Mac is sure that the change to USB-C with current Apple technology would allow new iPhones to charge with up to 35W of power, an improvement over 27W on iPhone 14 Pro Max. We do not know yet if these speeds are going to be implemented and, if so, whether they'll reach only the Pro line-up or standard models too.
Improved cameras
While the iPhone 14 Pro and iPhone 14 Pro Max saw significant gains in the camera department with the introduction of a new 48 MP sensor, the vanilla iPhone 14 shipped with the same 12 MP snapper as the iPhone 13. That's all set to change with the iPhone 15 if rumours are to be believed.
According to analyst Jeff Pu, Apple is planning to introduce the same main 48 MP sensor as the iPhone 14 Pro range to the standard iPhone 15 and 15 Plus. Considering the new main lens also brought with it quad-pixel tech, second-gen sensor-shift OIS, and impressive gains in low-light photography, it's a welcome addition to the standard iPhone 15.
Of course, the Pro models need upgrades of their own. So far we've heard about a few key hardware upgrades here, though both seem to apply only to the Pro Max, with the camera likely to be where Apple creates differentiation between the two models.
The first comes from the usually reliable Ice Universe, who claims the Pro Max will adopt a new IMX903 image sensor for its main camera. This is apparently a 1/1.14in sensor, making it the largest used yet in any iPhone. That should mean much better light capture, improving dynamic range in all photos but especially helping low-light.
Then again, rival leaker Tech_Reve has hinted that the new sensor won't arrive until the 16 Pro Max, following up with a report that the 15 Pro Max will use the same IMX803 as the previous generation, so who knows?
We've heard a little more about the Max Pro's telephoto. Tech_Reve is again one of the players here, claiming the top iPhone 15 will have a telephoto with "variable zoom", another first for iPhones.
Ming-Chi Kuo, analysts at TrendForce, and leaker URedditor have meanwhile all claimed the phone will be the only iPhone with a periscope zoom. TrendForce says this could go up to 10x zoom, though Kuo predicts a more moderate 6x zoom using a 12 MP sensor – still double the magnification of the current iPhone 14 Pro models.
This was later backed up by The Elec in January 2023, suggesting that Apple is sourcing OIS actuators for the periscope lens from LG Innotek and Jahwa Electronics.
SIM-free
The iPhone 14 series launched in the US with a surprise omission: SIM card trays. The phones went eSIM-only for the American market, and speculation is now rife that the rest of the world will follow soon.
We don't know what's coming for sure, but French site iGen has reported that the iPhone 15 models will release in France without a physical SIM slot. And if that's true, it will almost certainly be the same in the UK and the rest of Europe.
That doesn't necessarily mean it will be true globally. While eSIM adoption is growing in the US and Europe, it's been slower in some other markets, so it's likely that Apple will stick with physical SIM trays in some regions for at least another year or two.
Faster wireless charging – everywhere
One small but significant change has been reported regarding the iPhone 15 series' wireless charging.
According to the report, the new phones will support 15W wireless speeds – even on chargers that aren't MagSafe-certified.
The current models charge at 7.5W speeds on most Qi chargers, but will only ramp up to 15W on official MagSafe devices. Apparently going forward, the phones will be able to hit the max speed on any official Qi charger that's capable of delivering 15W of power.
The move might sound a little un-Apple, but it makes sense when you consider that the company is one of the contributors to the next-generation Qi standard, which is partly based on Apple's MagSafe tech.